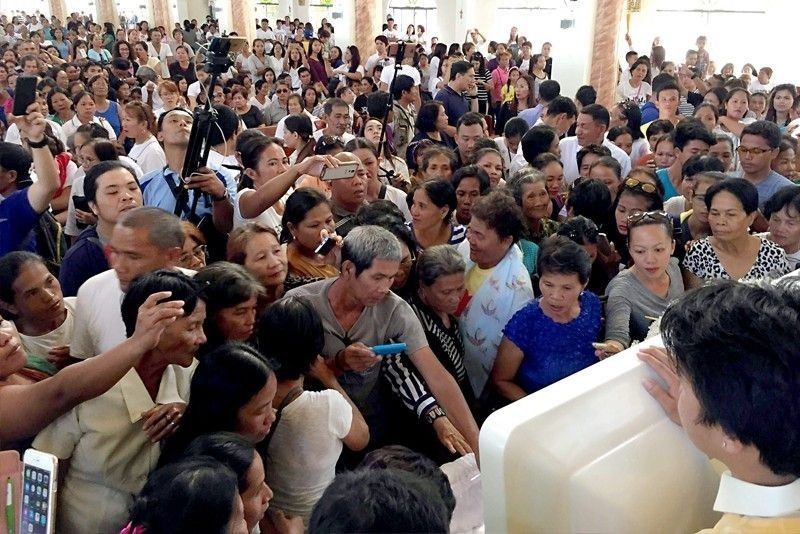 Yesterday, the Philippine Overseas Employment Administration (POEA) issued a resolution imposing a total ban on sending overseas Filipino workers (OFWs) to Kuwait.
The STAR/Jennifer Rendon, File
Philippines imposes total deployment ban to Kuwait
MANILA, Philippines — The Philippines is halting deployment of all workers to Kuwait weeks after the brutal killing of 26-year-old Filipino domestic helper Jeanelyn Villavende.
Yesterday, the Philippine Overseas Employment Administration (POEA) issued a resolution imposing a total ban on sending overseas Filipino workers (OFWs) to Kuwait.
The POEA governing board approved the total deployment ban upon the recommendation of Labor Secretary Silvestre Bello III.
Under the resolution, all types and categories of workers are covered by the deployment ban, although an exemption may be provided upon the determination of the labor secretary.
Filipino workers already in Kuwait will be allowed to finish their contracts, but will no longer be allowed to return after going back to the Philippines. Only highly skilled OFWs will be allowed to return to their jobs in Kuwait.
During yesterday's Kapihan sa Manila Bay, Justice Secretary Menardo Guevarra had supported the deployment ban, because Kuwait had failed to protect Villavende.
Villavende reportedly died at the hands of her employer's wife last Dec. 28. Both her employer and his wife are now in prison in Kuwait.
He explained that he is in favor of imposing the ban because of Villavende's case, a clear sign that there was a breach of the bilateral agreement between the two countries.
A previous incident of an OFW being brutally killed was that of 29-year-old Joanna Demafelis, whose body was found inside a freezer of an abandoned apartment in Kuwait, and which led to the signing of the bilateral agreement between the Philippine and Kuwaiti governments in May 2018.
The agreement covers protections and rights – such as health provisions, protection from abuse and repatriation when necessary, among others – of all Filipino domestic and skilled workers in the Gulf country.
But Kuwait had failed to live up to its end of the agreement because of Villavende's death and Guevarra said this should prompt OFWs to look for employment in other countries.
"This happened and now we would see how the government of Kuwait would react to this development. We already have a clear agreement with them. So, if they do not comply with their undertaking or responsibilities, government-to-government, in my opinion our OFWS can find work in other countries," said Guevarra.
"If there are other places where they could work, then why go to a country where you are disrespected, where you are abused?" he added.
'An eye for an eye'
Foreign Affairs Secretary Teodoro Locsin Jr. does not favor using the murder of Villavende as leverage to get Kuwait to sign on to labor standards, saying it is an "eye for an eye" and "Kuwaiti lives for a Filipino life."
"POEA wants to use torture/murder of OFW Jeanalyn Villavende as leverage to get Kuwait to sign on to labor standards. Signing on doesn't mean observing in Middle East. I will not use Jeanalyn as leverage. I want an eye for an eye, 2, 3 Kuwaiti lives for a Filipino life, that's all," Locsin tweeted.
"Once a total ban is declared, Kuwait will live with it and Jeanalyn will be unavenged and all we'll have is a piece of paper that Filipino recruiters in connivance with Filipino officials will treat exactly as that: a piece of paper. Sick of standards. I want blood," Locsin said.
The Department of Foreign Affairs (DFA) has commissioned a top-notch criminal lawyer in Kuwait to pursue the case against the employers of Villavende.
Locsin summoned Kuwaiti Ambassador Musaed Saleh Ahmad Althwaikh to protest "the seeming lack of protection of our domestic workers at the hands of their employers" and called for "complete transparency" in the investigation of the case and the "swift prosecution of the perpetrators to the fullest extent of the law."
The DFA said the continuing incidents of violence and abuse of Filipino domestic workers in Kuwait violate the spirit of the 2018 bilateral agreement that seeks to promote and protect their welfare.
"We take 'em all home and send them where they will be respected. But no Filipino recruiter will have a hand in their redeployment nor any Filipino agency we know are in league with recruiters. It will be government to government – clean and transparently," Locsin said.
Autopsy report
The National Bureau of Investigation (NBI) sent Villavende's autopsy report to the DOJ secretary on Tuesday evening, which showed that the victim died from multiple, severe, traumatic injuries.
"The autopsy results from Kuwait and the NBI are essentially the same. They have the same cause of death, Villavende was mauled to death. It is just that the NBI came out with other findings that were not seen in the Kuwaiti report. But the cause of death was the same due to trauma, injury due to infliction of injuries to the body," Guevarra said.
The NBI also noted in its autopsy report that the brain, heart and stomach were missing, which might have been the result of the fact that Villavende was previously autopsied before her cadaver was returned to the Philippines and examined by the NBI.
The report also took note that Villavende's cranial vault was devoid of brain. Instead it was stuffed with five pieces of cloth soaked in blood and one surgical glove.
But Guevarra said this report is still inconclusive since they are still waiting for the laboratory results on Villavende.
"The autopsy report is a factual report but we cannot yet conclusively say that she was raped or sodomized until we see the laboratory reports. But the autopsy report showed laceration in both the genitalia and in the anal region, so there are indications of sodomy," he added. – With Evelyn Macairan, Pia Lee-Brago