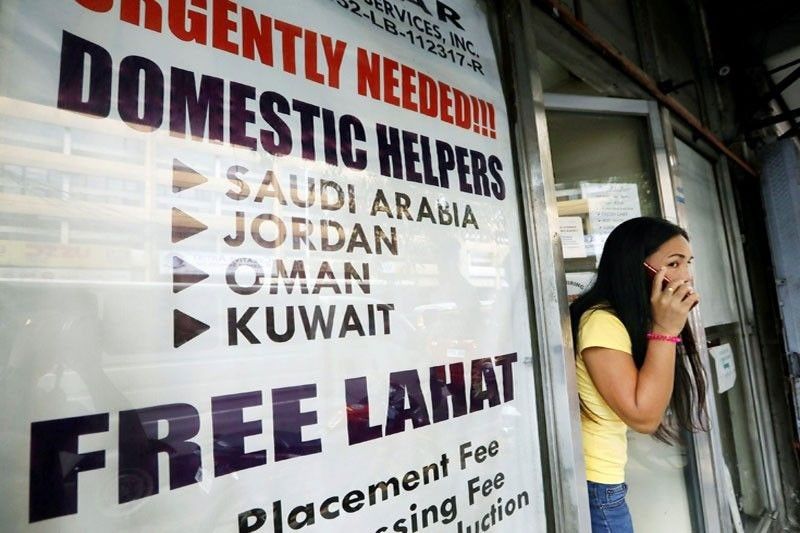 Trade Union Congress of the Philippines president Raymond Mendoza said the Philippine government should impose a total deployment ban for the protection of Filipino HSWs.
Edd Gumban
Labor group presses for total HSW ban on Kuwait
MANILA, Philippines — As the remains of slain Filipina domestic helper Jeanelyn Villavende return home today, the country's largest labor group has pressed the government for a total ban on the deployment of Filipino household service workers (HSWs) to Kuwait.
Trade Union Congress of the Philippines (TUCP) president Raymond Mendoza said the Philippine government should impose a total deployment ban for the protection of Filipino HSWs.
"We should stop the deployment of the most vulnerable sector, we should just develop local jobs so our workers won't be forced to seek employment overseas," Mendoza stressed.
Mendoza noted that 200 Filipino workers have died in Kuwait in the last four years, including Joanna Demafelis, whose body was found stuffed inside a freezer in 2018.
"Currently, there are 280 runaway Filipina workers staying in the embassy shelter in Kuwait," Mendoza further disclosed.
Louie Corral, TUCP president, said there are also 30 unresolved cases in Kuwait of Filipina workers who allegedly committed suicide or died of unknown causes.
Following Villavende's death, Labor Secretary Silvestre Bello III ordered a partial ban on deployment of HSWs to Kuwait.
Bello said the government would only lift the partial deployment ban if the Kuwaiti government can fully serve justice for the death of Villavende. Based on initial investigation, Villavende was maltreated by her employers and was beaten to death. Her employers are now detained.
A certificate of embalmment from Kuwait showed that she died due to heart and respiratory failure brought by multiple injuries of the vascular system, Bello bared.
Villavende's body, according to the Department of Labor and Employment (DOLE), is set to arrive from Kuwait at the Ninoy Aquino International Airport (NAIA) at 4:30 p.m. today and would immediately be flown to her home in General Santos.
Bello said the Overseas Workers Welfare Administration (OWWA) is extending airport and other necessary assistance to Villavende's bereaved family.
The labor chief said he asked the National Bureau of Investigation to conduct an autopsy on Villavende's remains to validate the findings from Kuwait.
The family of the Filipina worker met Bello at his office yesterday afternoon. Bello said the Philippine government is giving the Kuwaiti government time to file an appropriate case against the employers of Villavende.
Corral said the filing of charges would not bring back Villavende, but the government can still protect other HSWs by imposing a total deployment ban to Kuwait.
For its part, the Blas Ople Policy Center said the government should look into the failure of some recruitment agencies to monitor the workers they have deployed abroad.
It noted that there are numerous welfare cases involving Filipino HSWs in Kuwait. There are 257,000 Filipinos employed in Kuwait. Of the number, more than half or 59 percent are HSWs.