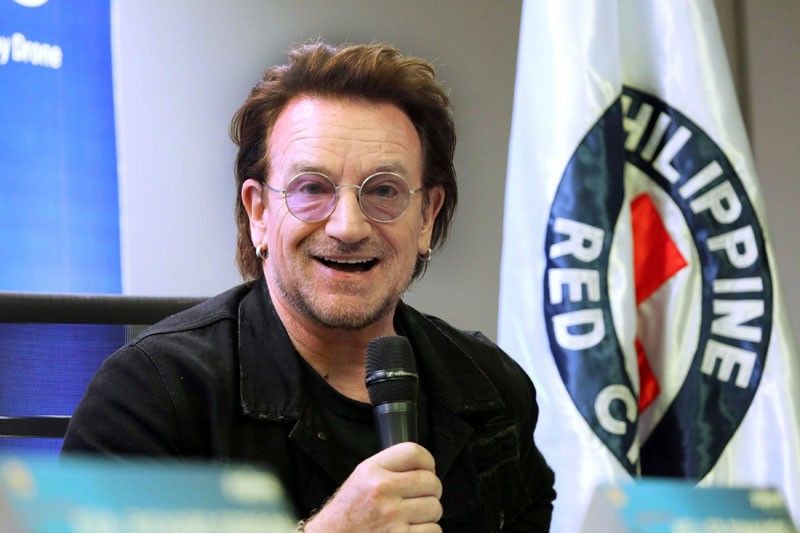 U2 lead singer Bono speaks during the launching of the first blood by drone delivery service in the country at the Philippine Red Cross headquarters in Mandaluyong yesterday. Bono is in the country for a concert tonight with his band U2 as part of 'The Joshua Tree Tour.'
Boy Santos
Bono teams up with Red Cross to deliver blood using drones
Scott Garceau
(The Philippine Star) - December 11, 2019 - 12:00am
MANILA, Philippines — U2 – the band named after a spy plane during the 1950s is pushing drone technology to save lives. Or, at least, its lead singer Bono is.
As board member of Zipline, a US company that makes drones that can deliver blood and medical supplies to far-flung regions, Bono was here denim jacket, sunglasses and all – for a ceremonial signing held at Philippine Red Cross national headquarters on EDSA yesterday, with Red Cross chairman Sen. Richard Gordon, US Ambassador Sung Kim and Zipline CEO Keller Rinaudo explaining how drones can make a "transformative" change in how lifesaving medical supplies are delivered.
"I have a little bit of background in global health, HIV in particular," the singer noted. "I saw what it was to not get access to lifesaving drugs. I felt that ache, that space between the need and the supply of that need. And I agree 100 percent with Keller (Rinaudo) that where you live should not decide whether you live."
The U2 frontman delivered the news that the Philippines would become the base for the largest drone delivery operation for blood and medical supplies in the Asia-Pacific region through Zipline, starting with a distribution center in the Visayas region, followed by two more in eastern Visayas and Mindanao.
The service is expected to launch in the summer of 2020, and will eventually run 24 hours a day, seven days a week. It's expected to make hundreds of deliveries per day, reaching millions of patients per year. In addition to blood, delivery will eventually expand to include over 150 critical medical products.
The drones are fully autonomous robots that can carry loads of up to 1.8 kilos, fly up to 145 kms per hour and travel a total of 160 kilometers in high winds and rain (about 80 kms back and forth with blood supplies). The devices won't land with medical supplies, but will drop them over target areas using parachutes directly above hospitals as far away as Western Visayas and Mindanao.
"Geography and Mother Nature can get in the way of reaching the most vulnerable, making it difficult for them to get access to blood and medical supplies," said Sen. Gordon. "We are excited to bring the newest technology in fulfilling our mission. The Philippine Red Cross will soon be able to reach patients at hospitals across the country on-demand and within minutes."
Zipline, a San Francisco-based robotics and artificial intelligence company, began delivering blood and medical supplies to 21 hospitals in Rwanda in 2016 using drones, and now transports 70 percent of the country's medical blood. It is now expanding to Ghana and soon India, working with the US Defense Department and Australian government to enhance those efforts.
The Philippines is the first Southeast Asian country to launch Zipline operations, working with the Red Cross and Department of Health.
Rinaudo, who recently got married to a Filipina, praised Gordon and his seatmates at the signing ceremony. "Of all the 192 Red Cross chapters in the world, I think this one is the bravest and has the hardest time of any chapters," he said. "We were particularly inspired by how the team is utilizing technology, taking risks and trying different things – that's what it will take. Obviously, the Philippines is an amazing country with amazing challenges when it comes to disaster response. It's what inspired us to come here in the first place."
He noted US Ambassador Kim's "vision and leadership" in helping to put the collaboration in place, and said Bono's work battling HIV and global hunger, particularly in Africa, was an inspiration. "Zipline wouldn't exist if it wasn't for Bono. The only thing that gave us the audacity to try some of the things we're doing is some of the things you've done in Africa," Rinaudo told the U2 singer.
Some two billion people in the world lack access to medical supplies because of transport difficulties. Characteristically, Bono was all-in with this effort to bring needed medical relief. He noted this is the only company on which he serves as board member. "Music is my passion, but Zipline is where all my other passions come together, which is the idea that commerce should serve people, not people serve commerce; the idea that the brightest minds shine brighter when they work for vulnerable lives; and for all of us, that our intellect serves our ideals," the singer said.
"It is a difficult not impossible dream to achieve, technically," he added. "It takes a lot of buy-in from government, local volunteers, at every level. So wherever we find that, Zipline can really be of service to the community. And that can go all over the world." – Sheila Crisostomo