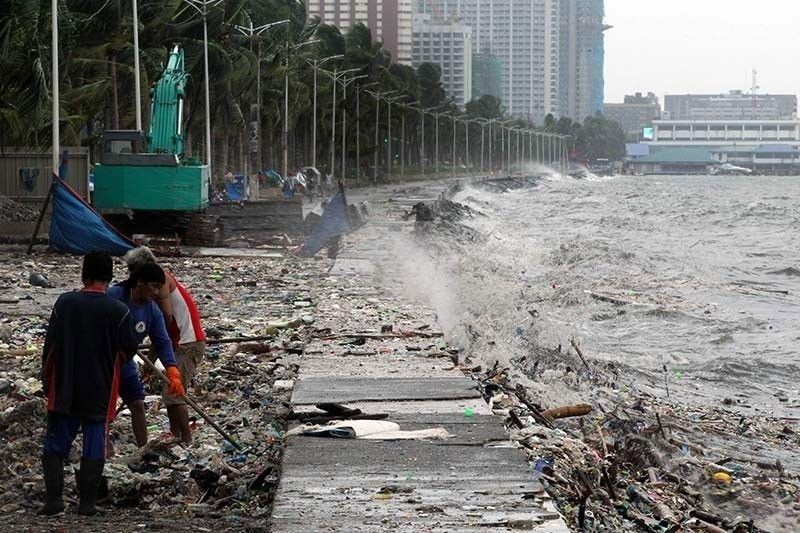 Environment Secretary Roy Cimatu earlier said the country, particularly Metro Manila, "is in the middle of a garbage crisis."
The STAR/KJ Rosales, File
DENR calls for concerted efforts to end garbage crisis
Helen Flores
(The Philippine Star) - December 9, 2019 - 12:00am
MANILA, Philippines — The Department of Environment and Natural Resources (DENR) yesterday called for cooperation among all stakeholders and the public in solving the country's perennial garbage problem, especially in Metro Manila.
"Solid waste management is not the government's responsibility alone, it is everyone's business," DENR Undersecretary for Solid Waste Management and Local Government Units Concerns Benny Antiporda said.
Environment Secretary Roy Cimatu earlier said the country, particularly Metro Manila, "is in the middle of a garbage crisis."
Without concerted efforts, the situation threatens to get worse, said Antiporda, who also chairs the National Solid Waste Management Commission.
"We shouldn't wait for the time when there is more trash than fish in the ocean," he added.
Antiporda said the local government units (LGUs) play a crucial role in solid waste management, having been tasked to ensure proper waste segregation and disposal under Republic Act 9003 or the Ecological Solid Waste Management Act of 2000.
The law requires LGUs to come up with their respective 10-year Solid Waste Management Plan (SWMP) and convert open dumpsites into sanitary landfills.
The NSWMC, Antiporda said, had fast-tracked the approval of SWMPs of hundreds of LGUs nationwide, while the DENR shut down some open dumpsites and filed criminal and administrative charges against local officials allowing the operation of these dumpsites that pose serious threat to the environment and public health.
He said citizens could also help in solving the garbage problem by observing proper waste segregation and disposal, and not throwing rubbish anywhere.
"If we do not properly manage our waste, it can end up in drains and rivers, and eventually make its way to the sea," the DENR official said.
Cimatu's declaration comes amid government efforts to revive the heavily polluted Manila Bay, which is the repository of trash and untreated sewage from households and businesses in Metro Manila and nearby provinces.
Antiporda said efforts to rehabilitate Manila Bay would be futile if there is no effective implementation of solid waste management in the localities surrounding the historic body of water.
The DENR earlier said the waste generated in Metro Manila in the first half of 2019 was pegged at over 66,000 cubic meters, surpassing the year's target of 58,112.31 cubic meters.
"If we continue to act only for our independent interests, continue to spoil our water bodies and fail to responsibly manage our wastes, we will not be able to sustain our efforts on this campaign," Cimatu said.