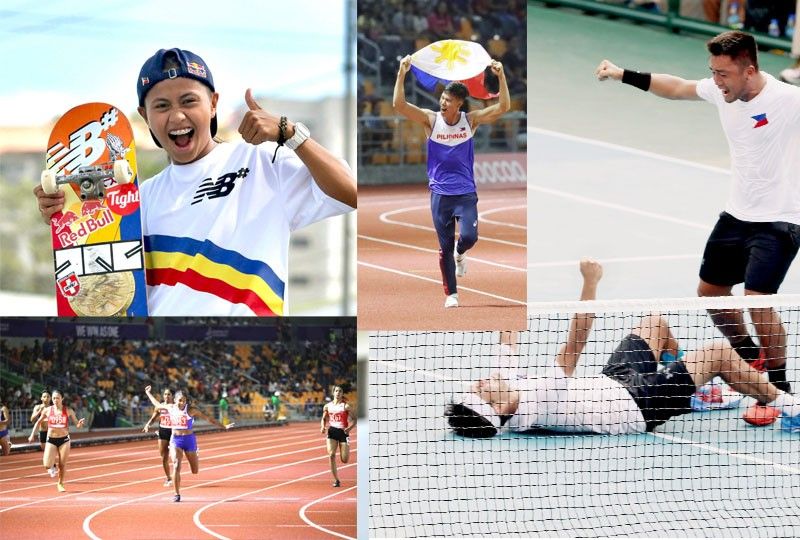 GOLD RUSH: Fil-Am sprinter Kristina Knott crosses the finish line in the 200m dash to shatter the SEA Games record; Daniela Reggie dela Pisa performs in the ribbon category of rhythmic gymnastics before bagging the gold in the hoop event; pole vaulter EJ Obiena carries the Philippine flag after winning the gold and setting a new Games record; Margielyn Didal gives the thumbs-up sign after topping the skateboarding street final; and netters Casey Alcantara and Jeson Patrombon celebrate after winning the men's doubles at the Rizal Memorial tennis courts.
Team Philippine rips marks, sustains gold drive
MANILA, Philippines — Done with its tasks in the gyms, dance floor, hard courts and obstacle courses, Team Philippines shifted its stance towards the sea, capturing three gold medals in rowing and canoe early on Day 7 of the 30th Southeast Asian Games (SEAG) yesterday.
Then it was back to the gym.
The Pinoy jins raked in four of the eight golds staked in poomsae and took the rest of the silver medals in a remarkable show of form in taekwondo at the Ninoy Aquino Stadium, more than doubling their two-gold, three-silver output in the 2017 Games in Malaysia while anchoring a big 17-gold blast by the hosts.
Gymnastics, skateboarding, tennis, karatedo, fencing, billiards and soft tennis put in one gold each as the fired-up Filipino bets resumed their gold medal spree after slowing down with seven on Friday.
Delivering were gymnast Daniela Reggie dela Pisa in women's hoop final, Asian Games gold medalist Margielyn Didal in street final in Tagaytay City, netters Casey Alcantara and Jeson Patrombon in men's doubles at the Rizal Memorial tennis courts, karateka Junna Tsukii at the World Trade Center (WTC), the women's epee team also at WTC, billiards ace Chezka Centeno in 10-ball singles at the Manila Hotel Tent and soft netter Bien Zoleta also at Rizal Memorial courts.
Over at the New Clark City stadium in Capas, Tarlac, athletics produced two, including one in smashing fashion as Fil-Am Kristina Knott literally blew away the opposition with a record-breaking feat in the 200m dash before an appreciative crowd.
Olympic-bound EJ Obiena also lived up to the hype as he bagged the pole vault gold with a 5.45m feat, also a new record.
Sailing produced a gold in Subic as Troy Tayong and Emerson Villena ruled the International 470 event for men.
Team Phl thus staved off the expected charge of its pursuers on a day when 62 gold medals were disputed in various sports in cluster venues, although 223 golds will still be up for grabs in the last four days, including a high of 91 today, 12 in centerpiece athletics at the sprawling New Clark City stadium in Tarlac and nine more in taekwondo.
But with its 17-gold blast, its second best after an opening 22, Team Phl posted an 89-63-65 (gold-silver-bronze) tally (as of 8 p.m.), still 35 golds ahead of Indonesia, which bagged 10 golds to hike its mark to 50-48-53, while Vietnam settled for five gold medals for a 43-48-61 count.
Thailand, overall winner in 2013 and 2015, finally made its move with a 16-gold haul as it improved to fourth with 39-53-57 while Singapore dropped to fourth with 37-30-41, followed by Malaysia (35-28-40), Myanmar (3-11-31), Cambodia (2-4-18), Brunei (1-5-5) and Laos (0-3-13).
Timor Leste, egged on by the Filipino fans, remained medal-less after a week of battle in all fronts.
In Capas, Knott clocked 23.01 seconds to beat Vietnam's Tu Chiunh Le (23.45) and Singapore's Veronica Shanti (23.77) and claim the second gold in athletics after Christine Hallasgo upended Olympiad Mary Joy Tabal in marathon on Thursday.
Earlier, Knott also shattered the 18-year-old SEAG mark of 23.30 set by Thai Supavadee Khawpeag in Kuala Lumpur with a 23.07-second run while smashing the national record of 23.16 seconds posted by Zion Corales-Nelson in US NCAA last May.
The Corales-Nelson feat had earlier surpassed the 33-year-old record by former Asian track queen Lydia de Vega-Mercado (23.50).
"My coach told me to just relax but I kind of tightened up," said Knott. "But it's OK, I won the gold."
Filipino rowers sparked the gold rush with two victories in Subic as SEAG rookie Cris Nievarez bucked the odds and ruled the 2000m men's lightweight singles sculls event by the slimmest of margins at the ACEA Beach Resort.
Joanie Delgaco and Jen Caballero then took the women's lightweight doubles sculls gold and Hermie Macaranas reigned in the men's 200m singles in canoe at the Malawaan Park, also in Subic.
The jins then took the spotlight with their near impeccable performance in defense-and-attack motions as two-time SEAG gold medalist Rodolfo Reyes Jr. and Jocelyn Ninobla claimed the individual golds in their respective divisions, Jeordan Dominguez topped the individual freestyle and the troika of Jacob Mella, Enrico Mella and Reyes ruled the team event.
"It's an amazing feeling. All the hard work and sacrifices we've had were really worth it," said Reyes.
The Philippines also bagged the silvers in freestyle mixed team, mixed pair, freestyle individual and women's team with the jins looking to match or surpass their 6-5-1 (gold-silver-bronze) feat in 2005 as action in kyorugi (sparring) starts today.
At the Rizal Memorial gym, De la Pisa scored a total of 17.750 points to beat Malaysians Izzah Amzan (16.500) and Amy Kwan (15.900) for the gold in women's hoop and bagged the bronze in ball and clubs, while Didal performed pressure-free before a big crowd at the Tagaytay City Extreme Sports Complex that included her parents and led a 1-2 finish in street final with 12.7 points.
Nicole Means took the silver with 7.3 while Indonesia's Kyandra Susanto got the bronze with 4 points.
"No pressure. I just had fun and was inspired because my family was here," said Didal, urging the Filipinos to support the athletes vying in other sports.
She later vowed to focus on her new tricks in her buildup for the Tokyo Olympics next year.
Back at WTC, Tsukii defeated Vietnam's Dinh Thi Huong, 1-0, to snare the -50kg kumite gold before a roaring crowd but compatriot Norman Montalvo bowed to Malaysia Kumar Selvam, 1-6, and settled for silver in men's -55kg kumite.
The fencing squad of Harlene Raguin, Hanniel Abella and Anna Estimada trampled their Singaporean rivals, 45-36, to pocket the team epee gold, although its men's counterpart yielded a 40-45 decision to Thailand in the semifinals.
Tennis actually delivered the first gold as early as Friday as the pairs of Casey Alcantara-Jeson Patrombon and Treat Huey-Ruben Gonzales Jr. forged an all-Filipino final after easing out their respective Vietnamese rivals in the men's doubles semifinals. Patrombon and Alcantara took the gold with a 7-6, 7-5 victory.
Bien Zoleta, former lawn tennis standout, later held off Indonesia's Anadeleyda Kawengian, 4-2, to clinch the gold in soft tennis.
"I'm so happy. This win is for the team," said Zoleta, who came through with big adjustments to thwart Kawengian.
"At first, I just played a counter game but I adjusted since she hits heavy," she said. "So I stepped up my offense and started to get the points."
In Tarlac, gold medalist Bianca Pagdanganan and Asian Games gold medal teammate Lois Kaye Go disposed of Indonesia, 1.5-.5, to seal a gold medal clash with Malaysia in team golf competitions at the Luisita Golf and Country Club.
The Malaysians surprised the fancied Thais in a playoff to earn a crack at the gold while Thailand, which routed the Phl, 3-0, and Indonesia, which ripped Singapore, 1.5-.5, will dispute the men's gold.