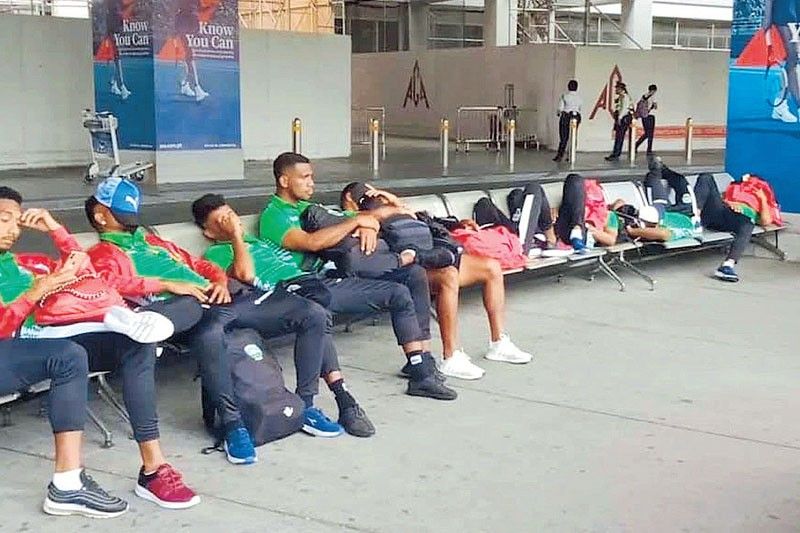 Members of Timor-Leste's football team wait at the Ninoy Aquino International Airport on Saturday morning for a shuttle to take them to their hotel. After waiting for three hours, organizers of the Southeast Asian Games took them to the wrong hotel.
Image courtesy of Asean Football News.
Missteps mar SEA Games athletes' arrival
MANILA, Philippines — Talk about starting the 30th Southeast Asian Games on the wrong foot.
Even as officials kept vouching for the country's readiness to host the 30th SEA Games, events leading to Saturday's inaugurals revealed a logistical snafu that drew criticism just days before the competition starts.
Athletes have started arriving in Manila ahead of the opening on Nov. 30, but for Cambodia and East Timor's football squads, the arrival wasn't what they were expecting.
"We had to wait maybe like eight, nine hours to get to our hotel," coach Felix Dalmas of Cambodia told a press conference yesterday, adding they had also waited hours for the shuttle service.
East Timor's team was driven to the wrong hotel, complicating their arrival and training schedules.
"All nations deserve respect and what happened yesterday was not so beautiful," East Timor's coach Fabiano Flora told reporters.
The Cambodians complained they waited for eight to nine hours for their hotel accommodation and were photographed sleeping on floor, while the East Timorese grumbled about being shuttled to the wrong hotel and the Burmese protested about having to ride a cramped e-jeep to get to their hotel.
Defending champion Thailand also had some inconvenience as delays in acquisition of IDs and heavy traffic from hotel to the training site forced the team to cancel its practice yesterday.
Even the Philippine women's football squad Malditas weren't spared from the logistical problem that marred the hosting early.
Myanmar's football team also waited for long hours at the airport then later complained that the bus, which it referred to as a "mini-bus," that hauled them wasn't comfortable enough.
"This bus looks like a mini-bus and is not as good as even the car that we're using as truck in Myanmar villages," said a contingent member in a Myanmar post.
The Thai contingent also whined over lack of rooms, saying they had to squeeze in three people in each room that can only accommodate two.
Malaysia, hounded by traffic upon arrival, was forced to leave for training as soon as it checked into its assigned hotel and its football team still had to endure a two-hour journey to reach the training venue in Biñan, Laguna.
Malaysian U-23 football coach Ong Kim Swee later hinted at making a request to have their practice at the Rizal football stadium, a 10-minute walk from Century Park where they are billeted.
Also at the same hotel, the Thais had to cancel their scheduled training in Laguna yesterday because of the traffic gridlock, particularly in Alabang, with football action set to fire off today in both venues. Football games traditionally start ahead of opening ceremonies.
Amid the backlash, the Philippine Southeast Asian Games Organizing Committee (PHISGOC) quickly issued an apology particularly to the Cambodians, Burmese and Timorese.
"We sincerely apologize to our athlete-guests from Timor-Leste, Myanmar and Cambodia for the inconvenience caused to them by the confusion regarding their transportation and hotel arrangements," PHISGOC CEO Ramon Suzara said.
PHISGOC explained there was confusion with Timor Leste as some members were initially brought to Century Hotel along with the rest of the team.
However, the Timor-Leste coordinator pointed out that some were actually billeted at the nearby Hotel Jen.
PHISGOC officials stressed that it was able to arrange the delegates' shuttle to the other hotel.
"I hope for the future, it cannot happen again. So I think all nations deserve respect and what happened yesterday was not so beautiful… but it's okay... it's finished and now we just focus on games," Timor-Leste's coach Flora said.
"We know that things are not perfect especially when you are not (in your) home country, but things happen and yeah we just had to wait a few hours before we got picked up. It wasn't ideal," Cambodia's Dalmás said.
Suzara said the snafu was a wakeup call for them.
"These incidents remain a constant reminder for us as organizers to be more diligent. We owe it to our guests and our countrymen," he said.
No excuses
Malacañang yesterday offered its apologies to the athletes for the problems they encountered upon arrival in Manila.
"As host country, we apologize for the unintentional inconvenience suffered by our athlete-guests," presidential spokesman Salvador Panelo said.
"We can no longer undo what has been done. The Office of the President will not offer any excuses," he added.
Panelo vowed the Philippines, as the host of the SEAG, would make sure that such incidents will not happen again.
"We understand that the PHISGOC has already apologized to our athlete-guests from Timor-Leste, Myanmar and Cambodia for the inconvenience they experienced when they arrived in the country," Panelo said.
"What is more important and more pressing is PHISGOC has committed to do better in ensuring proper coordination from the arrival of the athletes to their transportation and hotel accommodations," he added.
Malacañang though noted there are no reports of any of the athletes and officials under threat on their safety and health.
"We are not promising that the games will run without a hitch, given the countless athletes who will participate and represent their respective countries, but we will exercise due diligence in making sure everyone will have a pleasant, productive and memorable stay in the Philippines," Panelo said.
Panelo also extended Malacañang's full support to all participants.
"We wish all the participating athletes good luck and look forward to their excellent and hopefully world record breaking performances," Panelo said.
Vice President Leni Robredo rallied support for Filipino athletes amid controversies surrounding the country's hosting of the 30th SEAG.
"I don't want to comment on the controversies because our focus right now should be on our athletes. They will carry the flag of the Philippines. They need our support," she said.
Sen. Christopher Go rallied his compatriots to support Filipino athletes, saying they have to take home court advantage.
"We were 6th overall in the last SEA Games. Now we have the home court advantage. Let's aim for one of the top three positions. Let's help each other, " Go said.
The SEAG, last hosted by the Philippines in 2005, are expected to draw thousands of athletes, journalists and dignitaries over the next two weeks.
Smooth functioning logistics will be key to the success of the 56 sports spread across dozens of venues in and around Metro Manila. - With AFP