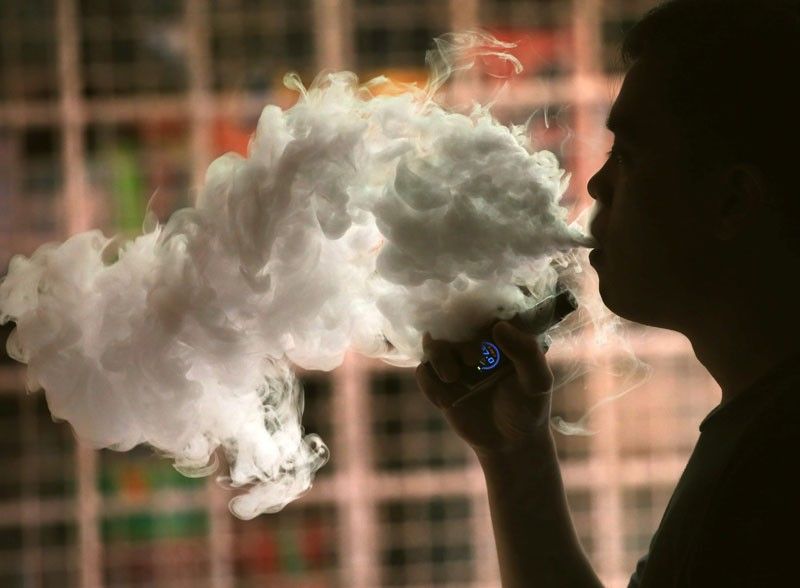 A vape shop owner takes a puff in Manila yesterday. President Duterte ordered a ban on the importation of e-cigarettes and similar products and the arrest of those using them in public.
Edd Gumban
PNP begins enforcing vape ban; Duterte warns courts
MANILA,Philippines — Confusion marked the reaction of the public and the police to President Duterte's order on Tuesday to arrest those found vaping in public.
In a memorandum signed by Philippine National Police (PNP) officer-in-charge Lt. Gen. Archie Gamboa yesterday, the police are under orders to arrest violators of the vape ban based on the President's orders.
There is currently no law covering e-cigarettes, however, and the basis for any arrest is unclear.
Ferdinand Rodrigo, president of Vapers Alliance Philippines, told "The Chiefs" last night on Cignal TV's One News that they wanted to seek clarification from Malacañang on the basis for the ban and its parameters.
Rodrigo said their members across the country reported having police teams entering vape shops yesterday and telling them to shut down, which was not how they understood Duterte's order.
In another speech last night, Duterte warned judicial courts not to issue injunctions against his ban, as they have done in the attempt of the Food and Drug Administration (FDA) to regulate vaping.
"Judges, I know that you can determine whether vaping is good or not, but unfortunately, also your indolence does not inspire confidence," Duterte said during the anniversary of the defense department at Camp Aguinaldo. "It takes you too long to decide and so do not interfere in this."
The FDA was stopped by Judges Ira Fritzie Cruz Rojo and Teresa Soriaso of the regional trial courts of Pasig and Manila, respectively.
"Judges, I warn you: do not issue restraining orders to the Customs, to the Coast Guard. I will not obey your order because of the peculiar situation this country finds (itself in)," Duterte said.
Police units were directed to enforce the directive and "ensure that all violators will be arrested and properly recorded," the memorandum read.
It also said confiscated items were to be accounted for and disposed of appropriately.
PNP spokesman Brig. Gen. Bernard Banac explained that while violators would be apprehended, they would be released immediately after the incident is recorded in the police blotter.
"Released immediately after recording in blotter. No need to stay any longer," he said. There were no reports of arrest as of 6:30 p.m. yesterday.
Banac said the latest instruction of the President is in line with Executive Order No. 26 S-2017 that provides for the establishment of smoke-free public spaces.
He noted that no charges would be filed against those arrested as apprehension would be based on the violation of the ban.
"No charges. Arrest is based on the violation of ban on use of vapes in public spaces. However, penalties imposed by local ordinances may apply," he explained.
Lawmakers issued contrasting opinions on the presidential order.
Deputy majority leader and Biñan, Laguna Rep. Marlyn Alonte supported the prohibition policy, claiming that vapes are more dangerous than combustible cigarettes.
"Health experts say vaporized liquid nicotine is much more potent as an addictive substance than the nicotine from lighting cigarettes. Add the other chemicals mixed in with the nicotine, the threat level to people, especially the youth, increases much more. This is why vaping is more dangerous than cigarette smoking," she said in a statement.
Muntinlupa Rep. Ruffy Biazon also voiced support for the President's order, calling it "a decisive, firm and strong stand against vapes" and "a logical stand to take for a leader concerned about the health of his people."
But Biazon, who earlier filed a bill seeking to regulate vaping, stressed that the implementation of the ban through an executive order is "not an institutionalized policy, unlike if it was adopted via legislation."
On the other hand, Surigao del Norte Rep. Robert Ace Barbers believed otherwise and said that regulation should be pursued instead of a total ban.
"It has been proven conclusively that tobacco is harmful. Yet no government in the world has banned it, even as it has cost governments billions of dollars in resources trying to treat the affected people," he said.
Barbers, chair of the House committee on dangerous drugs, cautioned the Department of Health (DOH) against advising President Duterte on vapes "without the proper information."
Barbers called on the DOH to be more circumspect and arm itself with scientific studies done in the United Kingdom and other advanced countries.
Sen. Francis Tolentino backed Duterte's directive to ban vapes as he prodded the DOH to intensify its push against vape products.
"The decision of the President to ban the use of vapes is very timely and consistent with what medical science studies currently recommend," Tolentino said.
Senate President Pro Tempore Ralph Recto, however, warned such a ban could affect the revenue proceeds from the latest Sin Tax Bill pending in the chamber that taxes vapes and e-cigarettes.
Recto said there are studies that showed e-cigarettes are less harmful than regular smoked tobacco products.
Health advocates also welcomed the presidential order. "We are happy with the ban on vaping in public and their importation... We are not afraid of its tax implication because the health expenditures (from vaping) is actually higher than the taxes," Health Undersecretary Eric Domingo said at the Kapihan sa Manila Bay at the Cafe Adriatico in Manila.
"We are also against advertising, especially those that are geared toward children. We want to restrict the flavor – like there are strawberry and bubble gum flavors – because they can attract the youth to smoke but it is also addicting," he said.
For Action on Smoking and Health (ASH) executive director Maricar Limpin, the ban is "welcome" as "we are now seeing toxic effects of electronic cigarettes."
"We also know that vape cloud or smoke contains toxic and irritating chemicals including cancer-causing agents," she added.
Sin Tax Coalition co-convenor Anthony Leachon said he believes the President "wants to 'nip it in the bud' while vaping is in the early stage of marketing and development in the country."
With the President's order, the House of Representatives is dropping tax measures on e-cigarette and vaping products following the decision to ban their importation and public use.
Albay Rep. Joey Salceda, chairman of the ways and means committee, revealed yesterday that Congress is moving for the repeal of existing law imposing excise tax on electronic nicotine delivery system (ENDS) products and for the withdrawal of a pending bill increasing it.
"In the bicameral conference, we will seek the repeal of Section 2 of Republic Act 11346 (law increasing tax on tobacco products) to implement the position of the President to ban vape and heated tobacco products," he told reporters.
"We will not tax vapes anymore, just as we don't tax prostitution," Salceda stressed. – Paolo Romero, Sheila Crisostomo