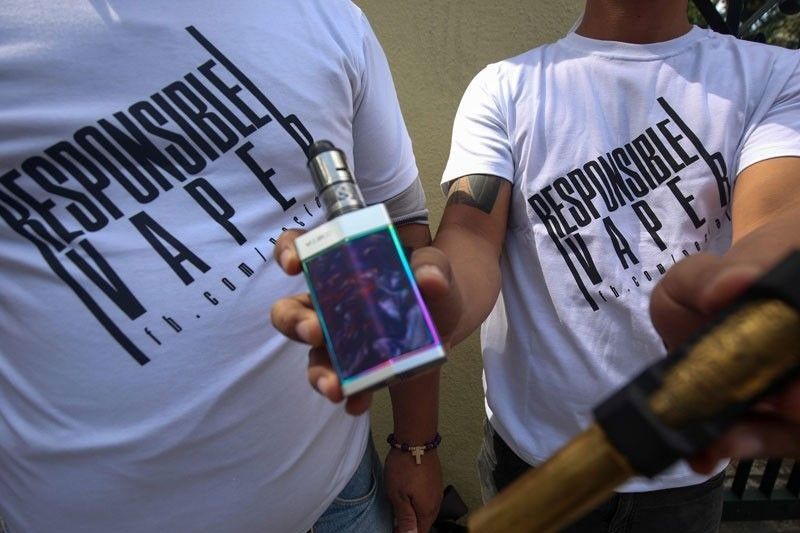 The senator reiterated his call to exclude vapes among the products to be imposed higher "sin taxes" as such can be considered illegal, the country having neither law nor regulation yet on nicotine delivery devices.
KJ Rosales
Senators seek ban on vapes
MANILA, Philippines — Senators are pushing for a ban on e-cigarettes (e-cigs) or vapor products, commonly called vapes, which they said are not covered by any legal framework and could be tampered with so users can take illegal substances.
Sen. Francis Tolentino warned that vapes could be tampered with and its nicotine content replaced with methamphetamine hydrochloride or shabu, and other illegal drugs.
The senator reiterated his call to exclude vapes among the products to be imposed higher "sin taxes" as such can be considered illegal, the country having neither law nor regulation yet on nicotine delivery devices.
"What I'm afraid of is that there might be some skillful drug lords who would put shabu in those vapes," Tolentino said.
He added that many vaping products contain tetrahydrocannabinol (THC) or the mind-altering chemical in the marijuana plant that gives users a high.
"We are ingenious and good in breaking apart things, like vape, you can separate its components, and liquefy whatever you want to put in and it could be worse than (THC)," he said.
The senator noted that vape products come in so many enticing flavors that make them attractive to the young and even those who have not yet smoked.
Tolentino said 33 countries, including Australia, China and the United States, have banned or are moving to prohibit vapes due to the serious harm to the health of users. He added that 39 have died in the US from August to November alone, attributed to vape use.
"If (vape) is really harmful, why will we allow it to enter the Philippines? Why should we legalize this?" he said.
Senate President Vicente Sotto III had earlier said vape users prepare the content of their usage and can mix together chemicals and solutions to ensure these will emit thick smoke when used.
"When you mix in illegal things as well, such as marijuana, cocaine or whatever juices, the effects change and become dangerous. Then when you say it's candy, raspberry, strawberry (flavored), it attracts minors," Sotto said.
Sen. Bong Go had also said he would recommend to President Duterte to issue an executive order regulating the manufacture, distribution, sale and use of all types of e-cigs in the absence of a law.
Sin Tax Coalition co-convenor Dr. Anthony Leachon also pushed for a ban on vape and urged the Department of Health (DOH) to officially issue medical findings on the harm of its use.
In the meantime, Congress can immediately pass the bill seeking to raise taxes on vapes and other e-cigs, according to Leachon.
"This is a cause for great concern, and we hope that the government steps up and protects the public from the harmful effects of the use of e-cigarettes and vape before this becomes a large-scale epidemic," he added.
Last week, the DOH said it documented a 16-year-old girl in Central Visayas as the country's first case of e-cigarette- or vape-associated lung injury (EVALI). It clarified, however, that the case has not been confirmed yet as an EVALI as the patient was found to be a smoker of traditional cigarettes, too.
Leachon reiterated the coalition's support for Senate Bill 1074 sponsored by Senate ways and means committee chairperson Sen. Pia Cayetano, which seeks to significantly increase taxes on heated tobacco products and vape.
The measure was certified as urgent by Duterte last Tuesday.
"Raising taxes has proven to be an effective tool in curbing the consumption of sin products, and Senator Cayetano's bill has already been certified as a priority measure by the Office of the President. Once again, we urge our legislators to act on the call of the President, and approve Senate Bill 1074 before the year ends," Leachon said.
Inter-agency body pushed
Meanwhile, lawmakers at the House are pushing for the creation of an inter-agency body to regulate the sale and use of e-cigs and vaping products in the country.
After participating in the United Kingdom-Asia Harm Tobacco Reduction Dialogue, they proposed that the regulatory power over electronic nicotine delivery system (ENDS) products should not be exclusive to the Food and Drug Administration (FDA).
Manila Fifth District Rep. Cristal Bagatsing explained that a body composed of the Departments of Health, Trade and Industry, and Finance should be created to regulate ENDS – just as the government did on illegal drugs.
"As it is a tobacco substitute, ENDS should be strictly regulated, especially the self-refillable types. An inter-agency body should be created to determine the safety of these ENDS products before they are sold to the public through more research and studies," Bagatsing said.
The country currently has no standing regulation on ENDS. The FDA issued a policy, but it was stopped by courts as it classified e-cigarettes and vapes under "cosmetics" regulatory standards.
Surigao del Norte Rep. Ace Barbers and Anakalusugan party-list Rep. Mike Defensor both proposed that the Philippines adopt the regulatory policy of the UK which considers e-cigarettes and vapes as an effective harm reduction method on smoking.
Barbers, chair of the House committee on dangerous drugs, said that since the Philippines still has millions of smokers, a total ban on ENDS as proposed by the DOH may have backlash and economic repercussions.
"I personally do not endorse e-cigs and the DOH is correct to say that 'non-smokers should not even try it,' but let us not forget that a large population of our people are addicted to smoking, and therefore, we should look into global harm reduction strategies and implement it in our country. We should follow best practices of nations such as the UK to reduce the harm brought about by tobacco smoking," he said.