DOH records Philippines first vape-related injury
November 15, 2019 | 12:00am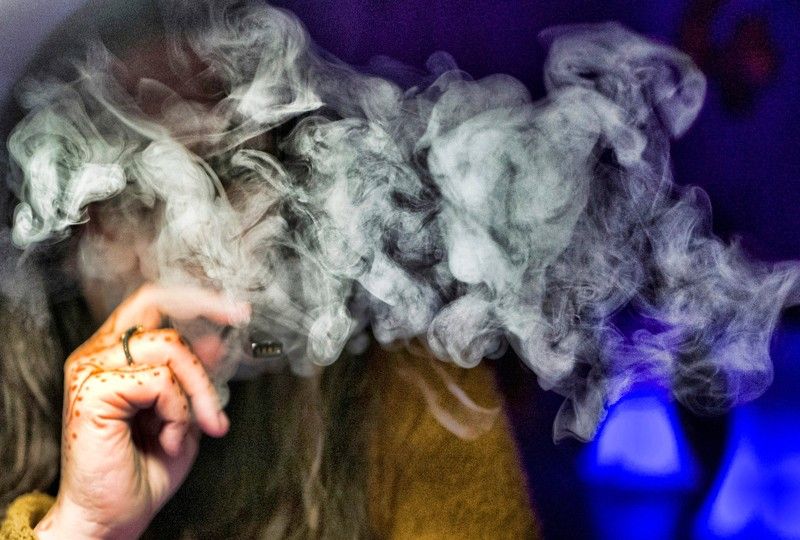 MANILA, Philippines —The first case of an illness related to vaping or use of electronic cigarettes in the Philippines has been documented in Central Visayas, the Department of Health (DOH) confirmed yesterday.
A 16-year-old girl, who started smoking in March, has acquired electronic cigarette or vaping-associated lung injury (EVALI), according to the DOH.
Health Secretary Francisco Duque III said the girl used flavored liquid e-cigarettes daily for around three to four months and later combined this with regular cigarettes.
The patient is non-asthmatic and there was no report that she was into drugs, Duque said.
He said the girl has been diagnosed with EVALI based on the guidelines set by the Atlanta-based Centers for Disease Control.
The girl was first given treatment by a private pediatric pulmonologist, who reported her case to the DOH.
Duque said the patient was hospitalized last month due to "sudden onset of severe shortness of breath."
She was confined at the intensive care unit and required oxygen supplementation.
Upon confinement, the DOH said the girl's case was initially considered to be infectious in nature based on her "clinical impression."
The girl stopped smoking after she was discharged from hospital.
Last August, the DOH and Food and Drug Administration (FDA) ordered all government hospitals to report lung injuries related to the use of e-cigarettes and vapes amid the reported rising cases of EVALI-related deaths in the United States.
'Quit smoking'
Health officials warned the public against using e-cigarettes and vaping products.
"If you are currently using electronic cigarettes, you are at high risk for EVALI. Ask your doctor about the best ways to quit and stay away from its aerosol emissions," Health Undersecretary and FDA officer-in-charge Eric Domingo said.
Domingo said e-cigarettes and vapes should not be accessible to children and adolescents because they are more susceptible to the harmful effects of nicotine.
He advised the public not to try vaping products because of their addictive components.
E-cigarettes are devices that vaporize a solution that users inhale. It does not use tobacco leaves, unlike regular cigarettes. Vapes became popular among Filipinos, particularly the youth, as a supposedly healthier alternative for those who want to quit smoking.
The DOH has called for an outright ban on vaping as it warned Filipinos that e-cigarettes are not a proven nicotine replacement therapy and can cause lung disease.
Preliminary injunction
Amid the confirmation of the first case of vaping-related lung injury in the country, the government is battling preliminary injunction orders issued by the Pasig and Manila courts against the administrative order (AO) of the FDA.
Under the AO, the FDA requires manufacturers of e-cigarettes and vapes to remove harmful substances such as cinnamaldehyde and diacetyl from their products.
Cinnamaldehyde, which is a component for the cinnamon flavor, prevents the lungs from removing toxins. Diacetyl gives a butter-like flavor in the electronic cigarettes.
The AO was supposed to take effect on Oct 24.
Higher taxes
The Sin Tax Coalition has called for the immediate passage of measures which seek to increase taxes on e-cigarettes and vapes.
"We hope that the government would take action to protect the public from the harmful effects of using e-cigarettes and vapes before this becomes a large-scale epidemic," said coalition co-convener Anthony Leachon.
He said tax increase "has proven to be an effective tool in curbing the consumption of sin products."
E-cigarette summit
At the 7th annual E-Cigarette Summit in London, lawmakers have supported the move to regulate e-cigarettes and vaping products, contrary to the proposal of the DOH for a total ban on cigarette alternatives in the market.
House members pushed for legislative measures that would regulate the use, sale and distribution of electronic nicotine delivery system (ENDS) products, which are being promoted to reduce harm caused by tobacco products and for smoking cessation.
Party-list Reps. Sharon Garin of AAMBIS-OWA, Bem Noel of An Waray, Mike Defensor of Anakalusugan and Rep. Cristal Bagatsing of Manila 5th district believe that regulation of ENDS products would address concerns on the use of e-cigarettes.
Garin said instead of banning e-cigarettes and vapes in the country, the government should instead increase taxes on these products.
Last August, the House approved a measure seeking to increase excise tax on vaping products.
Under House Bill 1026, specific tax on vapor products with nicotine salts will increase to P30 in 2020 from P10 per milliliter, with an incremental P5 yearly increase to P45 by 2023.
The measure aims to generate additional revenue for the government to fund the Universal Health Care program and to reduce consumption of tobacco products.
"We have approved on third reading the taxation of ENDS. For me, if we tax it, we should regulate it," Garin explained.
Garin filed her own bill for regulation of e-cigarettes and supported a proposal to ban sale and use to minors.
She also sought the imposition of minimum labeling requirements in packaging of ENDS to comply with the Consumers Act.
"While there is a need to introduce safer alternatives to smoking tobacco, it must also be regulated to protect all the stakeholders involved," Garin said.
Noel filed a similar bill and cited the need to come up with safety standards on ENDS to protect consumers.
Defensor, for his part, agreed that sale and use of ENDS should be banned for minors or those below 18 years old.
He also proposed that nicotine levels of e-cigarettes and vapes should be controlled and kept to a minimum.
"In order to protect our local tobacco industry, we can impose that nicotine from tobacco should be locally sourced," he said.
Bagatsing cited the need for Congress to act on the issue as ENDS products have remained unregulated in the country.
"Regulating e-cigarettes must be seriously considered. But as to how to go about it, it will still be subject to debates," Bagatsing said.
Other lawmakers who attended the London summit were Deputy Speaker and Basilan Rep. Mujib Hataman, Reps. Ace Barbers of Surigao del Norte, Bernadette Herrera of Bagong Henerasyon party-list and Cheryl Deloso-Montalla of Zambales.
Several bills have been filed in the lower chamber seeking regulation of ENDS products, including House Bill 40 of Muntinlupa Rep. Ruffy Biazon.
Biazon rejected the outright ban on e-cigarettes, saying there is no conclusive study yet showing grave effects of ENDS products to users.