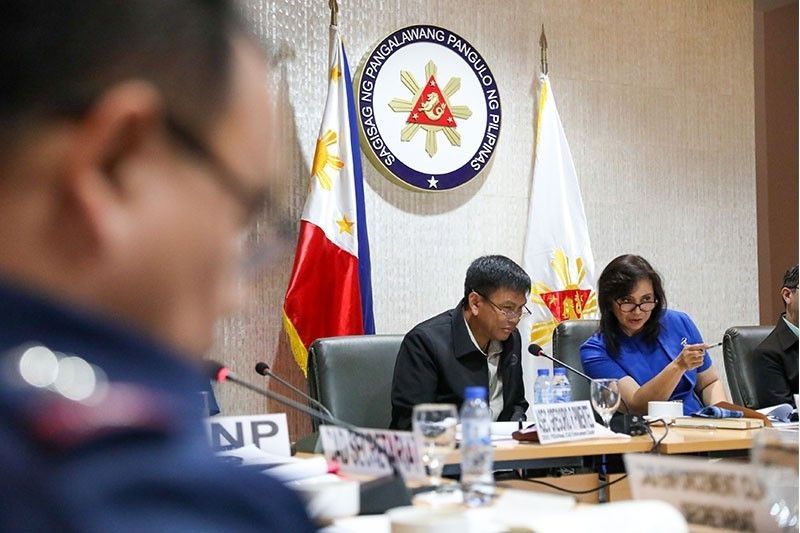 Vice President Leni Robredo was a known critic of the President Rodrigo Duterte administration's deadly war against illegal drugs prior to her designation as co-chair of the interagency body.
OVP/Charlie Villegas
Robredo, PNP agree to rethink 'Tokhang'
Janvic Mateo
(The Philippine Star) - November 15, 2019 - 12:00am
A "rethinking" of Oplan Tokhang is in order, as newly minted anti-drug boss Vice President Leni Robredo and the Philippine National Police (PNP) agreed on the need for improvement in the drug war known by the term now associated with thousands of deaths and police abuse.
"I reiterated my suggestion for them to rethink the campaign, especially Tokhang," Robredo said in Filipino after meeting yesterday with the law enforcement cluster of the Interagency Committee on Anti-Illegal Drugs (ICAD), which she co-chairs. "They agreed and they promised to assess and come up… with an improved version of what we already have."
She also said authorities should look deeper into reports that the bulk of illegal drugs seized or circulating in the country came from China, to which the Duterte administration has shown much favor.
Robredo was a known critic of the Duterte administration's deadly war against illegal drugs prior to her designation as co-chair of the interagency body.
She has repeatedly called for a reassessment of the campaign, noting the rising number of suspects killed allegedly after they fought back during police operations.
During her meeting with PNP officials, the Vice President noted the negative connotation of the term Tokhang, which is from the Cebuano words tuktok and hangyo, which mean knock and plead, respectively.
"In fact, it is now used as a verb. When you say na-tokhang, it does not have a good connotation," she added.
The Vice President also noted the gaps in the implementation of Project Double Barrel, which is also part of the campaign against illegal drugs.
"If you read Project Double Barrel, you will see that it is laid out well. But obviously, there are gaps because there were abuses on how it was implemented," said Robredo.
"That was what I raised to them and they agreed that it is time to reassess… so that the campaign would evoke that this is not a campaign against the people, but a campaign of the people," she pointed out.
Robredo said she has also requested data on drug-related killings and other deaths under investigation, but stressed that she is not doing it to "ghost hunt" but rather just to know where to start.
"The leadership was very cooperative," said Robredo. "They reiterated their support, they reiterated that if there are things that we need to clarify or data that we need, they are open to providing that."
On her call for an end to the senseless killings, the Vice President said the police assured her that they are doing their best to address the matter, including through internal cleansing and holding those behind the killings accountable.
"We trust that the leadership will make good on their promise to take care of the institution because we don't want to waste time by ghost hunting," she added.
China hand
Robredo also said she intended to gather more information on reports that mainland China is a major if not the biggest source of illegal drugs being peddled in the Philippines.
"I want to gather more data because the report that we have now shows that most of the supply coming in are from China," Robredo said after her ICAD meeting.
"Even those who have been arrested that are operating here in the Philippines, many of them are Chinese nationals or Filipino-Chinese nationals. So it is something that we should look into," she added.
Asked if she would meet Chinese embassy officials to discuss the illegal drug problem, the Vice President said they would first have to determine relevant information they need to get from Beijing and other government partners.
"From what I know, even before I was appointed, there have been a lot of information exchanges with the Chinese government, with many governments," she said.
"It can be any of the countries, not just those that we have partnerships with, [but also those] that have also been helping us in the past as far as the campaign against illegal drugs is concerned," she added.
Robredo underscored the need for international cooperation, stressing that the illegal drug trade is a transnational problem that has to be addressed beyond borders.
Among the concerns, she said, are the "evolving" strategies of drug syndicates, including tapping online transactions and sending illegal drugs through mail and parcel.
She also noted the link between illegal drugs and money laundering, citing the booming offshore gaming industry in the country that is dominated by the Chinese.
"We would be needing a lot of help from other countries so we can cooperate because most of these [crimes] are transnational," she said. "My intent is not just talk to the US, not just talk to the UN, but also to other countries that we think can help us."
Robredo, who accepted the designation to lead the government's anti-illegal drug campaign last week, met with representatives from the US and the UN earlier this week to discuss the anti-illegal drug campaign.
She said US officials have committed to expand their support for the country's anti-illegal drug campaign.
The Vice President also met with Philippine Drug Enforcement Agency (PDEA) deputy director general Gregorio Pimentel, Dangerous Drugs Board (DDB) executive director Earl Saavedra and Department of the Interior and Local Government (DILG) assistant secretary Ricojudge Echiverri.
She stressed the need for equipment such as x-rays for law enforcement agencies, as well as capacity-building in barangays for community rehabilitation.
Robredo said she plans to meet with other agencies separately next week, including the Department of Health, DDB and DILG, to discuss rehabilitation and other aspects of the anti-illegal drug campaign.
The Vice President underscored the importance of having baseline data on the government's campaign against illegal drugs.
These would include the list of those who surrendered and were arrested since 2016, as well as the status of cases and those recommended for rehabilitation.
"It is difficult to get it because there are a lot of agencies that each have their own lists. There are lists in the barangays, in some local government units, PDEA and PNP," she said.
"Gathering, harmonizing and vetting these take a lot of time already. But for me, it is really about time we have a common baseline… because it is different to measure (the status of the campaign) if we are talking about different lists," she added.
Robredo said they hope to have the baseline data about the drug war, as well as inventory of available equipment, by the end of the year.