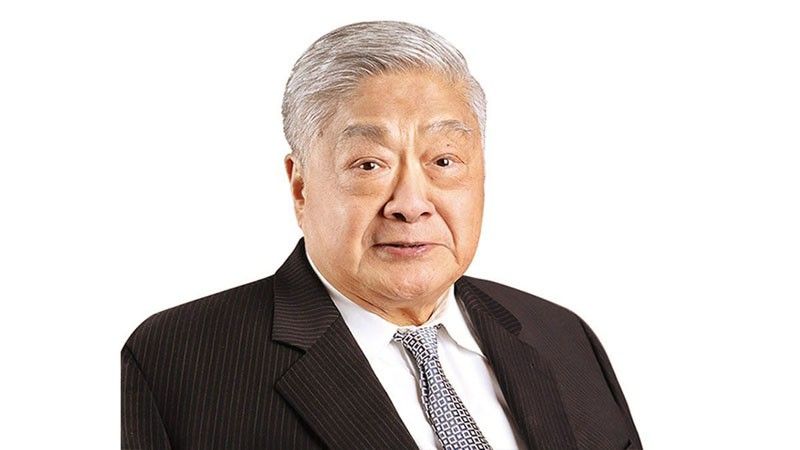 Iris Gonzales
(The Philippine Star) - November 11, 2019 - 12:00am
MANILA, Philippines — He was Mr. John or, to some, Big John – and it wasn't just because of his hefty, imposing presence.
John Gokongwei Jr. was big in many ways, certainly a titan in industry, having founded and – for many years – run a conglomerate that spanned the areas of property development, food and beverage, retail, air transport, power, media and petrochemicals.
His son Lance announced his passing early Sunday morning at age 93.
"Our beloved husband, father and grandfather, John Gokongwei Jr., passed away peacefully 11:41 p.m. on Nov. 9 at the Manila Doctors Hospital surrounded by his loved ones," Lance said on behalf of the Gokongweis.
The taipan was often described as Big John not so much for his size – although he once admitted he got so fat he had no choice but to fly business class – but because his achievements are larger than life.
He built an empire from scratch.
Founder of the listed conglomerate JG Summit Holdings Inc., Gokongwei is the third richest man in the country with a net worth of $5.3 billion, according to Forbes.
Throughout his successes, Gokongwei stayed true to his roots and kept the values that guided and propelled him on his phenomenal journey from a one-man buy-and-sell business to probably the biggest and most diversified conglomerate in the country.
He believed in hard work, a trait his children, colleagues and employees followed because he himself lived and practiced it. He valued education, and at age 80, donated a large part of his holding to the Gokongwei Brothers Foundation to fund scholarships and other educational philanthropies.
He never flaunted his wealth and shunned ostentation. He wore a jacket from the Greenhills tiangge or flea market as easily as a bespoke one (that his children insisted he should have).
He is mostly credited for disrupting established markets and industries, boldly putting up budget airline Cebu Pacific in 1988 to enable Filipinos to travel at much cheaper ticket prices.
In 2017, he was bestowed the Management Man of the Year by the Management Association of the Philippines for "his unquestioned distinction in the practice of management and for contributing to the country's progress."
"We have never been afraid to enter competitive markets but we always think of innovative products to introduce. For example, both C2 and Great Taste White shook up the consumer beverage and coffee markets when they were introduced. Sun Cellular and Cebu Pacific also shook up the telecom and airline businesses by providing choices to many Filipinos, thus improving their lives," Gokongwei had said during his acceptance speech.
He listed JG Summit in 1993, enabling the conglomerate to raise capital to expand in ASEAN and beyond. "It has allowed us to plant the Philippine flag in Thailand, Indonesia, Malaysia, Singapore, China, Cambodia and Laos, where Universal Robina is now a major player, and in Oceania, where we have acquired leading snack food companies in Australia and New Zealand."
He thanked the conglomerate's employees and shareholders for JG Summit's success.
Most of all, he thanked the customers for believing in him.
"To our customers, from those who bought the thread, soap and candles I sold in the palengke (marketplace) when I was 15 years old to support my family, to those who buy branded goods from our Robinsons Supermarkets today, thank you for your patronage. We hope to continue serving your needs as the Philippine economy continue to grow from strength to strength," he had also said.
Long before he died, Gokongwei had already passed on to his brother, James Go, and his children, led by Lance, the reins of his empire.
But while his boldness was reflected in the businesses that he put up, he was also known for his unparalleled grit and fearlessness when he handled the 1981 kidnapping of his daughter Robina, together with her cousin.
Lance remembers his father so stressed at the time. He didn't eat much except crackers and bananas but took all the calls from the kidnappers and was a tough negotiator.
"You'd better return them to us in the exact same state as they were when you took them. If not, then don't bother returning them at all. I have four other daughters anyway," Gokongwei said as recalled by Lance in the book Lessons from Dad.
Sen. Panfilo Lacson, then a lieutenant colonel with the defunct Philippine Constabulary Metropolitan Command, rescued Robina and her cousin a week after the kidnapping.
?On Twitter, he said: "In 1981, I instructed him not to sound intimidated while negotiating for Robina's ransom, snapped at her kidnappers, 'P10M? Do you know how long it'll take me to count that much money? You can have my daughter!' I said, not too bold either Mr. John…"
Gokongwei was born in Xiamen, China on Aug. 11, 1926 but grew up in Cebu where his father built his business.
He was not born poor but his father, who was a businessman in Cebu, died when he was only 13 years old.
For the family to survive, Gokongwei and his mother opened a small stall in the market, selling a wide array of goods—soap, candles, thread and some peanuts.
In 1957, at age 31, he ventured into cornstarch manufacturing which would become the foundation for JG Summit Holdings Inc.
In an official statement, JG Summit said: "We mourn the peaceful passing of our Founder and Chairman Emeritus John L. Gokongwei Jr., on November 9, 2019. He was 93. We, the 75,000-strong employees of JG Summit Holdings and Robinsons Retail Holdings, join the nation in paying tribute to the founder of the first Philippine multinational conglomerate, a philanthropist with a passion for education. Mr. John, as we fondly called him, was a visionary. He was an inspiration to entrepreneurs and businessmen around the nation, with his pioneering ideas, his strong work ethic, his passion, and perseverance. Today, the Gokongwei Group is one of the country's largest and most diversified conglomerates with interests in air transportation, telecommunications, banking, food, power, property, hospitality, retail, and petrochemicals."
Gokongwei is survived by his wife Elizabeth and children Lance, Robina, Lisa, Faith, Hope and Marcia.
The wake will be from today to Thursday (from noon to 10 p.m.) at the Heritage Park in Taguig City. Daily masses will be held every 7 p.m. and the funeral mass will be on Friday at 8 a.m.
In lieu of flowers, the Gokongwei family requests donations to your favorite charity instead.
Condolences
Malacañang yesterday condoled with the family of the late businessman and praised him for the love he gave to his work and for country.
Presidential spokesman Salvador Panelo described him as "a visionary and pillar of the Philippine economy." ??"Our people recognize Mr. Gokongwei's amazing journey as a self-made industrialist, respected business leader, and generous philanthropist. A grateful nation respects the man for the indelible legacy he made in the fields of business, entrepreneurship and philanthropy," his statement read in part. ??"Mr. Gokongwei was an exceptional and ideal Filipino. He exemplified the traits that should endow us: industrious, disciplined, indefatigable, creative, generous, always hungry for knowledge, grateful and never forgetting his origins, and most of all, a loving person to his family and his country," it added.??Panelo noted that Gokongwei had also established the Gokongwei Brothers Foundation, which funded student scholarships and faculty research and built learning facilities like the continuing schools for young engineers, pre-school buildings and children libraries. ??"Mr. John Gokongwei Jr. left a legacy to the Filipino nation and the coming generation worth emulating. His favorite advice: 'never stop learning.' He always said: 'I really loved my work. I loved being an entrepreneur,'" the president's spokesman said. ??Vice President Leni Robredo, in her Twitter account, posted "Our deepest condolences to the family and loved ones of Mr. John Gokongwei Jr. We will remember his many contributions not only to the business community, but to helping our fellow Filipinos in need."
Senators also expressed sadness over the passing of the business tycoon even as they cited his contributions to the country.
Senate President Pro Tempore Ralph Recto described him as "a national flag carrier who planted Filipino greatness in other lands and in the minds of his people that yes, a poor promdi (from the province) like him can."
"We can tally the jobs his business created, the taxes paid, and the earnings it generated, but the inspiration he gave our young was the most important bottom line that was hard to quantify," Recto said in a statement. "For leaving the world better than you found it, daghang salamat (thank you very much), Mr. John."
The senator said the late tycoon pushed the envelope and challenged convention in everything he did "because this summa cum laude of the university of hard knocks" believed that excellence can only be achieved by human talent pushed to the limit.
He said Gokongwei "started a phone company because he believed that the Filipino consumer has the right to 'unlichoices'; launched a Filipino airline because he believed that 'sky is the limit' for the Filipino entrepreneurial spirit; and created his own coffee brand because he believed that the rich aroma of success can waft from one's own brew.
"But this taipan was also a colossus of generosity. Sans fanfare, he funded schools and scholarships, so that poverty will not interrupt schooling the way it did his. He spoke softly but wrote large checks," Recto said.
"RIP John Gokongwei, a man who always tried to provide value to Philippine consumers," Sen. Sonny Angara said on Twitter.
Sen. Francis Pangilinan offered his deepest condolences to Gokongwei's family and friends.
"His legendary zest for learning and his boldness in trying out new things and his love of work and creating—regardless of his age or appearance—have been a guidepost for how to live," Pangilinan said in a statement.
The Trade Union Congress of the Philippines, the country's largest labor group, also expressed its deep sorrow over his passing, saying workers best remember the man for his constant dialogues with laborers.
"Mr. Gokongwei showed particular interest on the wellbeing of employees. The workers of the Gokongwei-owned companies will certainly miss these boss-and-subordinates conversations," said TUCP president Raymond Mendoza. – With Alexis Romero, Helen Flores, Paolo Romero, Mayen Jaymalin