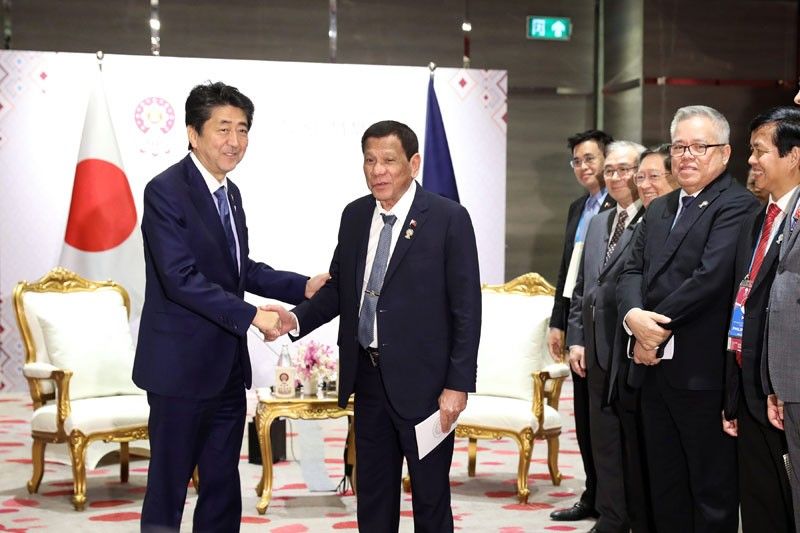 President Duterte and Japanese Prime Minister Shinzo Abe shake hands during a bilateral meeting on the sidelines of the Asean summit in Thailand yesterday. Duterte apologized to Abe for cutting short his recent visit to Tokyo for the enthronement of the emperor.
Duterte apologizes to Abe for cutting short Japan trip
BANGKOK – President Duterte yesterday apologized to Japanese Prime Minister Shinzo Abe for cutting short his trip to Tokyo for the enthronement of Emperor Naruhito on Oct. 22.
"Your excellency, let me start the talks by telling you and your countrymen that it was my honor to be there during the enthronement of the Emperor. I regret that I had to cut short (my visit). I was not able to attend your gala dinner because I had to attend to some pressing matters back home," the President told Abe during their bilateral talks on the sidelines of the 35th ASEAN Leaders Meeting at the Impact Exhibit and Convention Center in Nonthaburi.
He and Abe had talks a few minutes before the ASEAN-Japan dialogue which started at 5 p.m.
Abe, on the other hand, told Duterte he understood why the President had to cut short his trip.
"With regard to the ceremony of the enthronement at the Seiden State Hall in Japan, that was an extremely important occasion for Japan and the Japanese people," Abe said.
"I am truly grateful for Mr. President's participation in the ceremony and I understand that because of the pressing issues that you had to go back to the Philippines. You have to shorten your visit," he said.
Back in Manila
Duterte flew back to Manila last night after spending four days in Bangkok for the ASEAN summit.
He attended the summit but also joined other ASEAN leaders in boycotting the meeting with US officials supposed to be held yesterday morning.
He was joined by his long-term partner Honeylet Avanceña in several activities, including the gala dinner Sunday night.