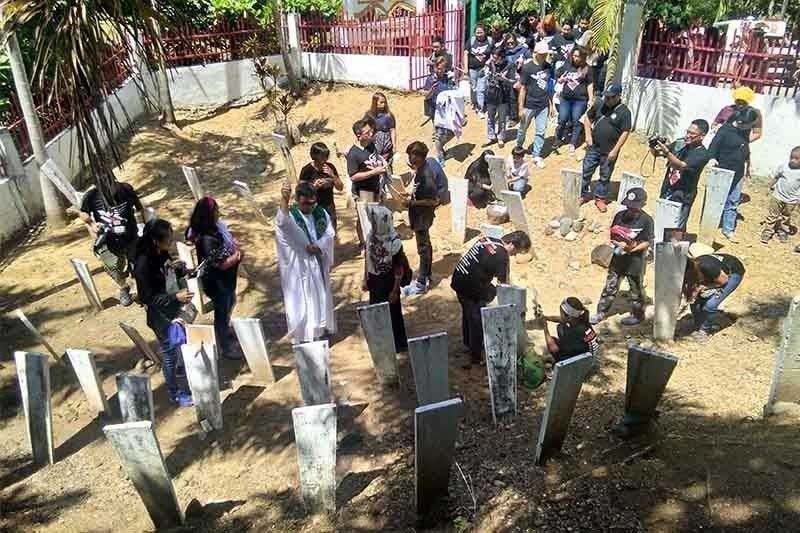 In this file photo taken November 2018, families and journalists gather in Ampatuan, Maguindanao to mark the ninth year since the massacre.
Philstar.com, file
Ampatuan massacre remembered as 10th anniversary nears
MANILA, Philippines — Media practitioners and students on Wednesday held a forum and candle-lighting protest at the University of the Philippines Diliman College of Mass Communication in anticipation of the 10th commemoration of the Ampatuan Massacre next month.
The National Union of Journalists of the Philippines has been holding a monthly "countdown" candle lighting protest—the first was on January 23 at the Bantayog ng mga Bayani in Quezon City—leading up to the 10th anniversary of the massacre, which is considered both the deadliest attack against journalists and the worst case of election-related violence in Philippine history.
Of the 58 victims of the November 23, 2009 massacre, 32 were journalists.
The victims were part of a convoy led by Genalyn Mangudadatu, wife of then-Buluan vice mayor and now Maguindanao Rep. Esmael Mangudadatu.
They were covering Genalyn's filing of the certificate of candidacy of her husband at the provincial capitol in Shariff Aguak when they were stopped and murdered by more than 100 armed men.
READ: Massacre witness stands by testimony vs Ampatuan
Andal "Datu Unsay" Ampatuan Jr. is the primary accused in the case pending before the sala of Judge Jocelyn Solis-Reyes of Quezon City Regional Trial Court Branch 221, and which has been submitted for resolution.
He is among the 197 suspects charged over the massacre. Other members of the Ampatuan clan—including its patriarch Andal Sr. who died in 2015—were charged with 58 counts of murder.
Presidential spokesman Salvador Panelo is a former lawyer of the Ampatuans and it was found in September that Panelo met with Datu Saudi Ampatuan Jr., one of the suspects in the killing and who remains at large, in August.
"They were asking for advice on what they should do. I said you should surrender your husband," Panelo said then.
Panelo also said that a member of the Ampatuan family had met with Duterte in an event in Davao City, where he said "the President said 'I heard him – wait for the judgment of the court."
RELATED: Media groups mark ninth year since Ampatuan massacre
Remembering November 23
Former NUJP chairperson Rowena Paraan recalled the moment when reports of missing media workers began streaming in.
"It was actually after lunch when I started receiving text messages...Na sa (at the) office. Text messages started coming. Sabi may mga nawawalang (They said there were some missing) media," Paraan said.
Tasked to monitor attacks against the media, she recounted the shock and confusion in confirming the official death count since there were so many bodies and reports.
"Una lima, tapos anim, tapos dose, tapos 24. So parang hindi ka na makatrabaho kasi masyado nang disturbing. When we tried to verify, hindi rin alam ng iba kung ano yung mga tamang data," Paraan said.
(At first, there was one, then six, then 12, then 24. So you could no longer focus on work because the events were too disturbing. When we tried to verify, it wasn't clear what the correct data was.)
"Tapos mamaya maririnig mo yung may kamaganak na naghahanap, tapos umiiyak, tapos pinipigilan."
(You would hear relatives searching for the victims... they were crying and trying not to.)
RELATED: As Ampatuan case nears end, massacre victims' kin forge on with tempered hope
'We could have been among the victims'
Photojournalist Jes Aznar, who covered the massacre, said he and his colleagues narrowly avoided being part of the massacre.
"We could've been there and the persons who were [supposed to] be going with us could have been there as well. Parang natakasan lang naman natin si Kamatayan (We barely escaped Death)," he said.
Aznar said the massacre marked a permanent change in the media landscape and proved that journalists could be targeted and killed.
"My Press ID used to have power. Pag pinakita mo yung Press ID mo, alam mong ligtas ka...Anong nangyari doon sa power nung media ID nung mga taong nandoon?," Aznar said.
(My Press ID used to have power. If you show your Press ID, you know you are safe... What happens to the power of the media ID [to protect journalists] of the people there?)
Although journalists in the field acknowledge that there are risks that come with their work, they are non-partisan and are non-combatants.
"Hindi na kinikilala yung propesyon mo. Hindi na kinikilala yung tungkulin mo doon sa lipunan. Fair game ka na. Kasama ka na sa pinapatay."
(They no longer recognize your profession. They no longer recognize your role and duty in society. You are fair game. You are among the targets)
Beyond the numbers
UP Journalism professor Danilo Arao said a culture of impunity is in place in the country, where the "irony" is that journalists covering human rights become the victims themselves.
"Inaasahan natin na ang mga peryodista ay talagang maiipit. Kung hindi man maipit sa gitna, sila ay magiging biktima rin ng harassment and intimidation," Arao said.
(We foresee that journalists will really be put in peril. If they are not caught in the middle, they themselves can be victims of harassment and intimidation.)
Arao said that beyond the number of victims, the massacre holds large, qualitative implications on journalists' working conditions in the Philippines.
There have been 13 journalists killed in relation to their work since President Rodrigo Duterte took office and the government has filed cases against online news site Rappler, which has come out with stories and reports critical of the president's policies like the government's "war on drugs."
The Palace has also accused members of the media of conspiring to discredit the Duterte administration.
According to media watchdog Reporters Without Borders (Reporters Sans Frontières, RSF) in April, the Philippines was 134th of 180 countries on its World Press Freedom Index.
In 2018, the Philippines ranked 133rd, which was six notches lower than the country's 2017 ranking 127th spot.
The government has said that the administration uphlds press freedom and that Duterte has set up a task force to look into media killings and into threats against journalists.
RELATED: How the Presidential Task Force on Media Security works
"May kasabihan sa social science research, 'numbers numb.' Pwedeng magmukhang normal ang isang bagay, lalo na kung numero lang yung ating tinatandaan," Arao said.
(There's a saying in social science research, 'numbers numb.' This could normalize the phenomenon if you reduce it to numbers.)
UP CMC Student Council chairperson Gab Ramos also said that is crucial to make the Ampatuan massacre part of the public conversation even 10 years after the tragedy.