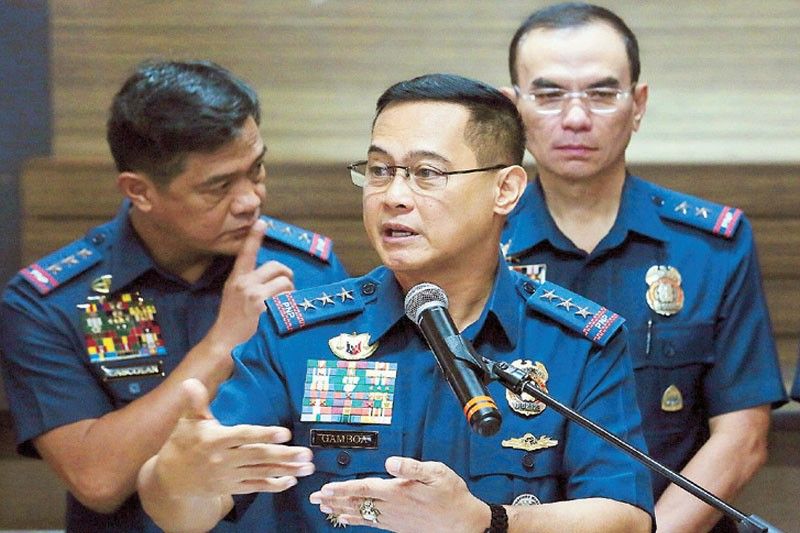 Philippine National Police OIC Lt. Gen. Archie Francisco Gamboa answers questions about the reshuffle of key PNP officials during a press conference at Camp Crame yesterday. With him are Lt. Gen. Camilo Cascolan and Maj. Gen. Guillermo Eleazar who, along with Gamboa, are the top contenders for the post of PNP chief.
Michael Varcas
PNP chief welcomes chance for due process
MANILA, Philippines — Former Philippine National Police (PNP) chief Gen. Oscar Albayalde yesterday welcomed the filing of charges against him in connection with a controversial drug raid in Pampanga in 2013.
"At least I will be accorded due process now," Albayalde said in a Viber message.
The PNP Criminal Investigation and Detection Group (CIDG) has included Albayalde in the complaint that initially charged 13 policemen.
The CIDG charged Albayalde with violation of Republic Act 3019 or the Anti-Graft and Corrupt Practices Act as well as RA 9165 or the Comprehensive Dangerous Drugs Act.
With just weeks before his compulsory retirement, Albayalde stepped down from his post amid allegations that he protected the 13 "ninja cops" or police officers involved in recycling and selling of the drugs that were seized in Mexico, Pampanga. Albayalde was then provincial director of the Pampanga police.
Despite the controversies hounding the PNP, Sen. Christopher Go said President Duterte remains supportive of the police force.
Go urged all concerned to wait for the completion of the investigation of the Department of Justice. "For me, all those responsible (PNP officials into drugs) should be charged. Those who should be dismissed, be removed from the service so they won't infect others," Go said. Asked if legislation is needed to reform the PNP, the senator said he would wait for the recommendation of the Department of the Interior and Local Government (DILG).
"If I will make a recommendation to the DILG, the Internal Affairs Service of the PNP must be given teeth," he said. Senate Minority Leader Franklin Drilon backed the recommendation of the Blue Ribbon committee for the authorities to file graft and drug charges against Albayalde and the ninja cops.
"The Senate investigation yielded substantial evidence to support at least a probable cause or prima facie case to warrant the filing of a criminal case vs Albayalde et al," Drilon said. Drilon said he will reserve comment and judgment on the PNP's seriousness in pursuing the case.
"I agree with the PNP's assertion that General Albayalde et al are presumed innocent until proven guilty. How I wish, however, that the same principle was applied to the more than 5,000 tokhang victims," Drilon said, referring to those killed in the drug war. With Paolo Romero