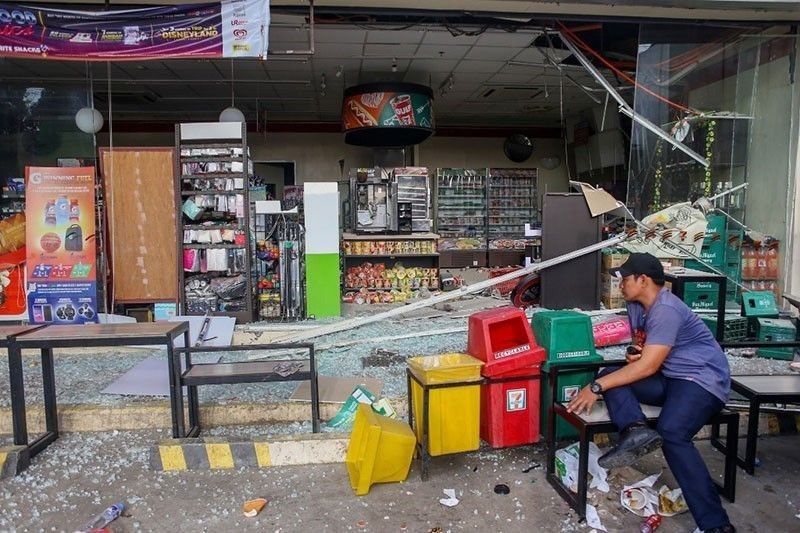 Most of the schools that reported damage were in Region XII with 26, followed by the Bangsamoro Autonomous Region in Muslim Mindanao (BARMM) with 11 and Region XI with three, data from the DepEd showed.
AFP/Manman Dejeto
40 schools damaged in Mindanao quake
MANILA, Philippines – At least 40 schools from three regions have sustained damage from the magnitude 6.3 earthquake that hit parts of Mindanao on Wednesday night, according to the Department of Education (DepEd).
At least two towns have declared a state of calamity as a result of the earthquake.
Most of the schools that reported damage were in Region XII with 26, followed by the Bangsamoro Autonomous Region in Muslim Mindanao (BARMM) with 11 and Region XI with three, data from the DepEd showed.
Classes in all levels were suspended in the three regions on Thursday, but some schools resumed classes yesterday.
Education Secretary Leonor Briones earlier ordered the inspection of all schools in affected areas to ensure the safety of students, teachers and other school personnel.
There are almost two million public elementary and high school students in the regions.
The number of persons reported injured by the strong quake increased from 53 the other day to 89 yesterday with the number of fatalities still at five, according to the National Disaster Risk Reduction and Management Council (NDRRMC).
About 613 families or 3,068 individuals were affected in the Davao region and in Central Mindanao.
The NDRRMC also reported a total of 144 damaged infrastructure from the two regions and those in the BARMM.
"As of yesterday morning a total of 497 aftershocks were recorded, of which 233 were plotted and eight were felt ranging from 1.5 to 5.5 magnitude and intensity of one of seven," NDRRMC executive director and Office of Civil Defense (OCD) administrator Ricardo Jalad said in a report.
Strongest in recent years
The Department of Science and Technology (DOST) said the earthquake was the strongest felt in Soccskargen and Davao regions in recent years.
"In recent history this was the strongest felt in Southern Mindanao," DOST Undersecretary Renato Solidum Jr., who is also officer-in-charge of the Philippine Institute of Volcanology and Seismology (Phivolcs), said in a television interview.
Presidential daughter and Davao City Mayor Sara Duterte said it was the strongest tremor she experienced in her lifetime.
In 1976, a magnitude 7.9 hit Southern Mindanao, triggering a tsunami that killed 8,000, Solidum said.
Phivolcs has sent its quick response team in North Cotabato to check on the ground effects of the earthquake and impacts on structures.
The NDRRMC said that while affected families in Central Mindanao have already returned to the houses they had abandoned during the quake, the affected families in Davao are still staying with relatives.
The quake has left five fatalities – three from Magsaysay, Davao region, one from M'lang, North Cotabato in Central Mindanao and another from Maguindanao of the BARMM.
Of the 89 injured, 21 came from the landslide-stricken Magsaysay village in Davao del Sur, while 68 were from the towns of M'lang with three, three from Kidapawan City, 21 from Makilala, four in Tulunan, one from President Roxas all in North Cotabato and 29 from South Cotabato and seven from General Santos City.
State of calamity
The strong quake prompted Makilala town government to place the town under a state of calamity due to the damage the quake brought through the town council's Resolution No. 2019-46 to pave the way for the use of calamity funds to help affected residents.
Makilala sits near the epicenter of the tremor.
Chapels, school buildings, municipal and village halls, over a hundred houses and other structures were damaged, according to the municipal government.
Magsaysay town in Davao del Sur also declared a state of calamity with infrastructure damage worth P200 million, according to the municipal government.
Magsaysay Mayor Arthur Davin said the local government will prioritize allocating funds for the food and basic needs of evacuees and the repair of 204 destroyed houses and 1,400 others that were "partially and slightly" damaged.
Meanwhile, all the injured individuals in Central Mindanao and Davao are confined in various hospitals, although some of them have already been discharged.
As per initial audit report of damage structures in the three quake-ravaged regions, 143 public and private establishments, mostly school buildings, were found to have need of repairs.
These damaged structures include 40 houses, 70 school buildings, seven health facilities, 13 public buildings, two houses of worship, 10 commercial establishments and a spillway bridge.
Classes resume
Meanwhile, due to highly improved conditions, several schools from 40 areas in Davao region, Central Mindanao and BARRM that declared suspension of classes on all levels Thursday resumed classes yesterday.
The NDRRMC said school operations and activities have resumed in General Santos City, Kabacan and Magpet in North Cotabato, Alabel in Sarangani; Isulan and Tacurong City in Sultan Kudarat; Tupi and Noralla in South Cotabato and Cotabato City.
The agency likewise directed all Disaster Response and Management Bureaus in the affected regions to closely coordinate with the local Department of Social Welfare and Development-Field Offices (DSWD-FO) for their respective disaster response updates.
Over in landslide-stricken Magsaysay town in Davao Oriental, the DSWD-FO is continuously coordinating with local disaster officials for possible augmentation of support to the affected families.
Following the widespread power outages Wednesday evening during the quake, electricity has been restored in General Santos, Koronadal City, Luntayan, Sultan Kudarat and Kidapawan, North Cotabato.