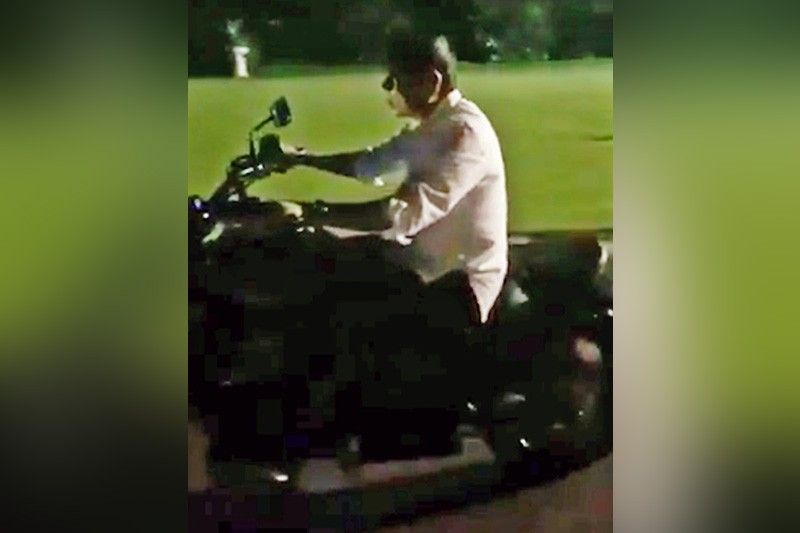 Screen grab from a video clip provided by Sen. Bong Go shows President Duterte riding a 650cc big bike at the compound of the Presidential Security Group within the Malacañang complex the other night.
Duterte slightly hurt in big bike spill
MANILA, Philippines – President Duterte suffered slight injuries in a fall from a motorcycle at the Presidential Security Group compound at Malacañang Wednesday night, Sen. Christopher "Bong" Go said yesterday.
But the 74-year-old Duterte, a fan of big bikes, was recovering well in his official residence at the Bahay Pagbabago, according to the senator and close aide.
A previous accident left him with permanent nerve damage in his neck and frequent migraines, among numerous other ailments.
He also attributed his "perpetual pain" to his spinal injury, which prompted him to take Fentanyl in the past. Fentanyl is often prescribed for cancer pain and other chronic ailments.
Duterte's disappearances from the public eye are often the subject of speculation.
"I would like to assure the nation that the President is safe, in good hands and in good health," Duterte's spokesman and legal counsel, Salvador Panelo, told a regular news conference.
Sources said the President suffered bruises on his left leg and left arm and that he may have to skip some of his activities today.
The President is expected to receive Indian President Ram Nath Kovind at a state banquet at Malacañang today.
Duterte was riding around the PSG compound late Wednesday and fell while trying to reach his shoe, causing light bruises and scratches on his elbow and knee, Panelo said.
Go told reporters the President had fallen while trying to turn the bike around, leaving him with an injured hip.
Duterte's allies played down concern about his health earlier this month after he told the Filipino community in Russia that he was suffering from a chronic neuromuscular disorder that causes one of his eyelids to droop.
His office routinely dismisses concerns about his health but critics say the administration is not being open about the extent of his problems, which include back pain, a throat illness and another disease that affects circulation.
Months after taking office in 2016, Duterte spoke of his sadness at having to let go his passion for motorcycles – upon his security staff's instructions.
He has boasted of having reached speeds of 180 km per hour (112 mph) and of owning a Yamaha, a Honda and a Harley Davidson. The President continues to ride his bike whenever he is in Davao City.
PSG commander Brig. Gen. Jose Eriel Niembra said the incident should not be a cause for alarm as the President was not seriously injured.
Earlier yesterday, Duterte was at the switch-on of the 500-megawatt power station of the San Buenaventura Power Co. in Bonifacio Global City and visited the wake for the father of celebrity sisters Gretchen and Claudine Barreto in Heritage Park.
Niembra said the President stopped his bike to reach for something on the ground – a shoe, according to Panelo – when he lost his balance, causing the bike to fall to its side. He said presidential guards immediately rushed to help the President.
2 accidents
Niembra said the President – after returning from his official events last Wednesday – first tried a motorcycle with two front wheels and one on the rear. While maneuvering out of a garage, the vehicle hit a rock, causing it to make a sudden stop.
"There was somewhat an impact because of the sudden stop," Niembra said, adding that the President proceeded anyway with his ride before returning to the garage to check on his 650-cc Kawasaki motorcycle. It was the Kawasaki motorbike that figured in the second accident.
Niembra said the President rarely rides his motorcycles even within Malacañang complex.
"Na-miss niya siguro ang pag mo-motor… in fact, this is the first time nagamit niya sa PSG," he said. There is a speed limit of 30 kph at the PSG compound but riders are required to remove their helmets for security reasons.
Citing information from Duterte's longtime partner, Honeylet Avanceña, Panelo said the President had some scratches because of the accident.
"There was an accident, we confirmed that, last night. He rode his motorcycle but when he was, after he parked his motorcycle, his shoes… naipit so he was trying to reach for it, natumba siya. So, he had slight bruise in the elbow and in the knee. OK na siya, OK naman siya," Panelo said.
"His recovery entails no major medical procedure," he emphasized. "While it is true that the President roamed around with his motorcycle, the incident occurred when he had already parked his motorcycle at the compound of the Presidential Security Group," he said.
"The President was reaching for his shoe when he fell off his motorcycle that resulted in a minor injury, particularly light bruises and slight scratches, to his elbow and knee," Panelo said.
Asked to explain Go's and Niembra's conflicting stories, the Palace spokesman merely shrugged his shoulders and said what's important is Duterte is in good physical condition.
A video provided by Go only showed the President riding his big bike, while being followed closely by his close-in presidential escorts. There was no video of the President on his "three-wheeled" motorcycle.
Niembra said Duterte had never tried to "escape" from Malacañang or from his official residence using his bikes.
Palace officials claimed they did not know the brand or model of the President's big bike, but motorcycle enthusiasts claimed that based on the President's video, it was a Kawasaki Vulcan (2019 model). Based on Kawasaki's website, the bike has 14-liter capacity and is priced at around P395,000.