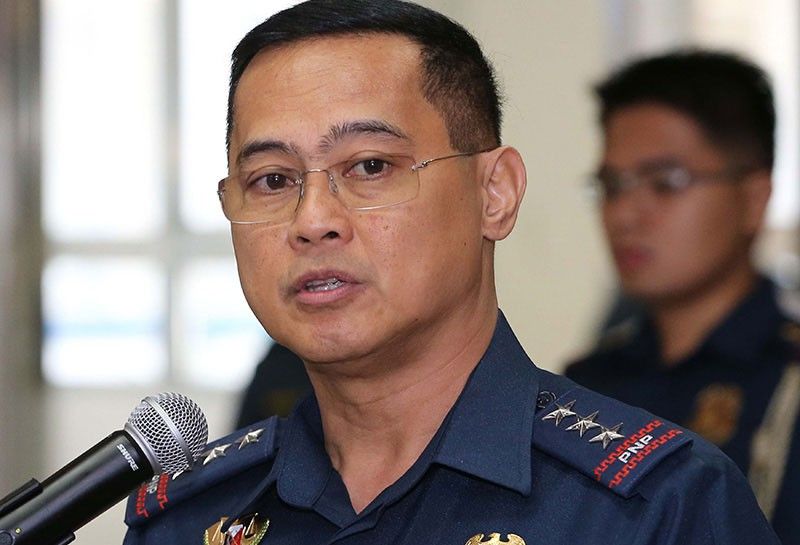 PNP officer-in-charge Lt. Gen. Archie Francisc Gamboa was appointed OIC after former PNP chief Gen. Oscar Albayalde went on leave following the controversy over his alleged protection of so-called ninja cops or erring policemen involved in selling of seized illegal drugs.
Boy Santos
PNP OIC vows to regain trust of cops
MANILA, Philippines — Amid the controversy over "ninja cops" that had forced the former Philippine National Police chief to step down from his post, PNP officer-in-charge Lt. Gen. Archie Francisco Gamboa vowed yesterday to regain the trust of the police and the public.
"Unahin muna natin sa loob, kumbinsihin ang (Let's start inside, convince) police personnel na let's not be haunted by this controversy and move on," he said.
Police officials have expressed their support for Gamboa, who presided over his first command conference with members of the command group, directorial staff, regional directors and directors of national support units.
Gamboa was appointed OIC after former PNP chief Gen. Oscar Albayalde went on leave following the controversy over his alleged protection of so-called ninja cops or erring policemen involved in selling of seized illegal drugs.
"Of course, no letup and a fair warning to all those that are involved in it," Gamboa said during his first press conference.
Gamboa said they are waiting for the deliberation of the Senate Blue Ribbon committee on the issue of ninja cops after Albayalde was linked to the erring policemen when he was still provincial director of the Pampanga police in 2013.
He said they will review the Senate's findings to see how the PNP could improve the war on illegal drugs to ensure that these problems would not be repeated.
During the command conference, Gamboa called on police officials to continue implementing the ongoing programs and operational thrusts of the PNP, including internal cleansing.
"Much has been done already in our internal cleansing program," he said.
He also expressed confidence that the police are winning the war against illegal drugs.
"The PNP is winning the drug war. This controversy that hounded us might be a temporary setback but I assure the public we can regain our stance and pursue our campaign," he said yesterday over ANC.
Latest figures from the police showed that at least 6,847 suspected drug pushers and users were killed in alleged shootouts with lawmen, while about 256,000 were arrested and 1.2 million others surrendered since President Duterte took office in July 2016.
Gamboa admitted the PNP took a hit because of the allegations hounding Albayalde, adding there are police officers who had expressed doubts on the former police chief's integrity.
"I would be honest. Yes, probably kasi merong mga taong naniniwala na ganun (there are people who believe it)," he said.
PNP spokesman Brig. Gen. Bernard Banac said the OIC has limited powers and Duterte should soon designate a new PNP chief.
Banac explained only a PNP chief could sign documents related to appointments and disbursement of funds.
He stressed it is important to have a PNP chief soonest.
Gamboa formally took over the helm of the 190,000-strong PNP amid the spate of issues faced by his predecessor, who officially retires on Nov. 8.
Interior Secretary Eduardo Año led the turnover ceremonies shortly after Albayalde announced his decision to go on non-duty status during the flag raising ceremony at PNP headquarters in Camp Crame, Quezon City last Monday.
Albayalde stepped down without the traditional retirement honors and ceremonies conferred on an outgoing PNP chief.
He will still enjoy the benefits of a four-star general as well as his retirement benefits.
Police reforms
House members yesterday pushed for reforms in the PNP to address corruption in the police force amid controversy involving recycling of seized illegal drugs.
Puwersa ng Bayaning Atleta (PBA) party-list Rep. Koko Nograles specifically proposed a measure that would remove the Internal Affairs Service (IAS) from the PNP organizational structure and make it an independent body with prosecutorial power under the Department of the Interior and Local Government (DILG).
Agusan del Norte 1st district Rep. Lawrence Fortun and AKO Bicol party-list Rep. Alfredo Garbin, on the other hand, wanted the appointment of top police officials to undergo confirmation by the Commission on Appointments (CA).
Nograles has filed House Bill 3065 seeking to amend Republic Act 8551 (PNP Reform Act) insofar as it placed the IAS under direct supervision of the PNP chief.
"Under the current setup, the IAS is not independent because it reports directly to the PNP chief and its findings are only recommendatory. We have to strengthen it and make it independent from the PNP," he explained at a press conference.
"The IAS should also have prosecutorial power and work with the Office of the Ombudsman in handling cases against erring policemen," he stressed.
Fortun and Garbin, for their part, proposed that PNP generals and colonels be subjected to deliberations of the CA.
"The Commission on Appointments has constitutional confirmation authority over the PNP generals and colonels. Not only because Republic Act 6975 (PNP Law) says so, but because that was the intent of the 1987 Constitution," explained Fortun.
Fortun said the 1987 Constitution provides that "the President shall nominate and, with the consent of the Commission on Appointments, appoint the heads of the executive departments, ambassadors, other public ministers and consuls or officers of the armed forces from the rank of colonel or naval captain."
"Right now, the PNP has no vetting process and they're not subject to CA confirmation. The DILG Act of 1990 (RA 6975) does not expressly provide for a vetting process, but there are examinations given by Napolcom and the Civil Service Commission," added Garbin, vice chairman of the House justice committee. – With Edu Punay