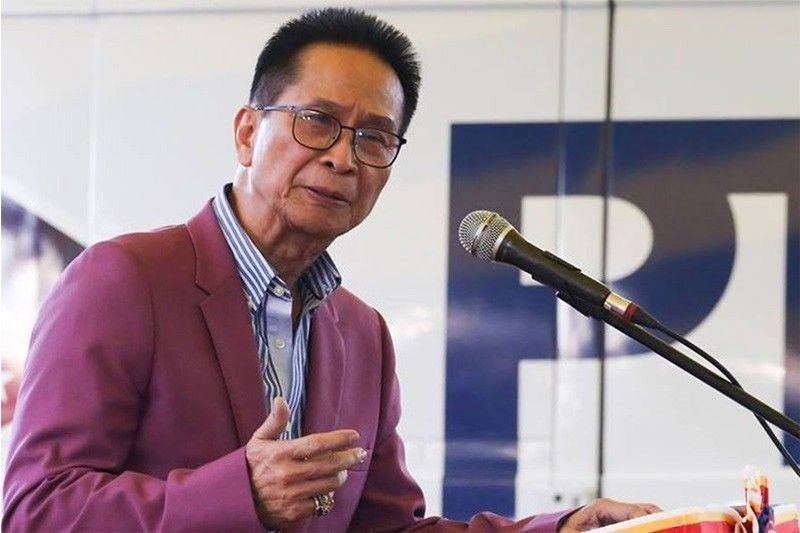 According to Presidential spokesman Salvador Panelo, he had been taking public transport even before he received flak for saying there is no mass transport crisis in Metro Manila.
PCOO
Panelo wants no fanfare during commute challenge
MANILA, Philippines — Presidential spokesman Salvador Panelo may have accepted the challenge but does not want any coverage of his adventure today commuting from his residence to work at Malacañang.
"I don't want media coverage because I could become a public spectacle. I'm sure anybody can recognize me anyway," Panelo said yesterday.
According to Panelo, he had been taking public transport even before he received flak for saying there is no mass transport crisis in Metro Manila.
He said if people see him commuting, "I guess they would take photos surreptitiously or I can take a selfie of my own."
While Panelo has his own vehicle and a chauffeur, there are times he also takes a cab to appointments. He said he also usually leaves earlier than usual to arrive promptly at his destination.
"I have my driver but sometimes, he is sleeping, so what would I do if I am in a hurry? So I commute either by hailing a taxi or sometimes ride a jeepney first to get on a taxi," he said.
Panelo said it has been two months since he last took a cab, which he considers as commuting.
Following his statements, the militant group Anakbayan dared Panelo to take public transport to see for himself how hard it is for an ordinary commuter to get a ride in Metro Manila.
Anakbayan also challenged President Duterte, Transportation Secretary Arthur Tugade and Metropolitan Manila Development Authority spokesperson Celine Pialago to take public transport to work.
Tugade joined Panelo in the commute challenge, also less the spectacle.
Panelo, for his part, said the challenge was silly, but he accepted.
"It's a silly acceptance... When you share the suffering of other people in a different way it's not a waste of time, it's sharing," Panelo said.
Despite getting flak for being unsympathetic to the plight of commuters, Panelo maintained that there is no mass transport crisis.
"Whether you are a motorist, you're a commuter, you suffer the same... All of us are affected by it so that crisis is in the suffering of all, not paralysis," he said.
The government's key departments are presently improving public transportation, he added.
Like everybody else, Panelo said he also experiences problems during his daily trips to work, especially in going to his appointments.
"That's why I said there is no crisis, because (there is no) paralysis (in the transport system).
All of us suffer from crisis; we are suffering from it. May crisis in the management of the LRT (Light Railway Transit). Even the bus (transport), those are in crisis," he said.
"But the transport system itself, as a means of transportation, there is no paralysis, no crisis. It doesn't mean we do not suffer. We are all suffering," Panelo said.
Be with you
Renato Reyes, leader of the militant group Bagong Alyansang Makabayan (Bayan), said he is willing to commute with Panelo all the way to Malacañang today.
Reyes said he wanted to witness how Panelo will survive the ordeal without any special treatment.
"No hawi boys. No bodyguards. No special treatment. No waiting cars. During rush hour, like the rest of the suffering commuters. This is our response to Sal Panelo," he said.
"I would like to use the commute time with Panelo to take up with him the problems of the mass transport system. The waiting time at the LRT may be long so perhaps we can use that productively by discussing long-term solutions to the worsening crisis of mass transport. I'm very much interested in exchanging views with the Palace official during our time together on the jeep and the train," he said.
Foreign Affairs Secretary Teodoro Locsin Jr. said he would be honored to accompany Panelo in commuting.
"No problem for him. I'd be honored to accompany the only guy who defends the President," Locsin said in a tweet.
"He was just saying there is no 'transport' crisis, there are enough rides; in fact too many but there are too many who need rides but that's not a transport problem – that''s the traffic problem," Locsin said.
Tugade, for his part, said he can demonstrate his empathy to thousands of Filipino commuters without accepting any challenges that are "media-oriented."
"I can demonstrate my empathy without accepting challenges that are basically media-oriented, or psyche-oriented. I will accept the challenge, I will do it on my own time, in my own way, which I have been doing anyway," Tugade said.
He said he does not have to prove anything since he has been taking mass transportation as part of his job as secretary of the Department of Transportation (DOTr).
According to Tugade, he has been taking the Metro Rail Transit-3 incognito and on several occasions during the Holy Week and test runs of the trains procured by the government from China.
Just like ordinary commuters, Tugade said he also had his share of problems when riding the mass transport system and the same traffic problem in his daily travel to work.
Tugade said he is not getting any "VIP treatment" and is not getting escorts when he is reporting for work as Cabinet secretary.
On the other hand, Samar Rep. Edgar Mary Sarmiento, chairman of the committee on transportation of the House of Representatives, reminded Tugade that the country's decades-old light rail transit systems should be regularly maintained and should undergo preventive maintenance so as not to make the helpless commuters suffer.
"Our commuters deserve better in life," Sarmiento told stakeholders of the public transport sector at a hearing held Wednesday.
He noted that LRT-1 (Baclaran-Monumento) is government-owned but run by a private consortium (Ayala and MVP group), LRT-2 (Marikina-Divisoria) is fully owned and operated by government while MRT-3 (EDSA) is government-run but privately owned (Sobrepeña).
Sarmiento described the commuter train system as "chopsuey," referring to the dish of mixed vegetables.
"Please take note of the rolling stock. And we have three train systems that have different brands and from different countries – China, Europe, Germany, etcetera," Sarmiento said. "We can't even inter-connect them, they have different tracks.
"We cannot even use our Dalian trains from China because they don't fit," said Sarmiento, a civil engineer by profession.
"These problems have to end," he stressed. "We are now in the middle of a serious crisis and we must all work together to get out of this situation. I am a little bit emotional because I can see the never-ending suffering of our constituents." – Robertzon Ramirez, Rhodina Villanueva, Delon Porcalla, Alexis Romero, Pia Lee-Brago, Mayen Jaymalin