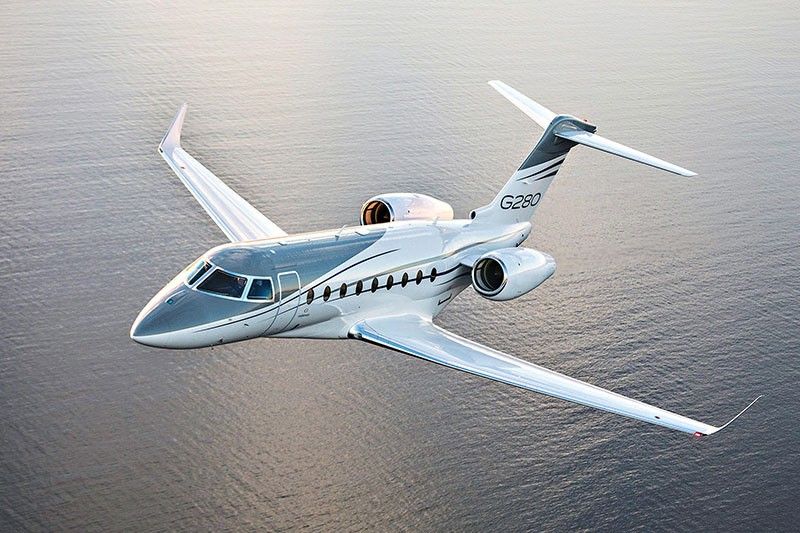 Photo from the Gulfstream Aerospace Corp. website shows the Gulfstream G280 jet, which the Philippine Air Force has purchased to primarily transport senior defense officials and military commanders during crisis situations.
Duterte, military VIPs to have luxury jet
MANILA, Philippines — President Duterte and other senior government and military officials will soon enjoy the luxury of riding a $36.999-million twin-engine command and control jet procured from the United States.
Arsenio Andolong, Department of National Defense (DND) spokesman, confirmed yesterday that the Philippine Air Force (PAF) has bought two aircraft – a C295 and a G280.
He said the Gulfstream G280 is brand new and "will primarily serve as platform to carry our senior leaders and commanders in the event of, for example, crisis situation."
"It can be used by the chief of staff, the secretary of National Defense, our major service commanders and the President," he added.
According to the official, the status of the procurement of the C295 command and control aircraft and the G280 are already in the contract implementation phase.
"In fact, the C295 is set to be delivered within the year and the G280 will be delivered sometime next year, in about August, and both aircraft will perform the functions of command control," Andolong explained.
He said the C295 has a longer range and is suitable for maritime patrol missions as well as for transporting supplies and troops. The G280 is a smaller aircraft that does not carry as many personnel but flies faster and can be used as an airborne command post.
Andolong said it is unfair to brand the G280 as a VIP or luxury aircraft "because the purpose of the aircraft is for command and control."
He admitted, though, that the G280 is "a little more appointed than your average aircraft. But it will carry senior leaders so, of course, it's designed to be a little more comfortable."
"But like what I said a while ago, its premium is its speed, capability to land on short runways which cannot be done by our other aircraft at the moment," he stressed.
Andolong said the C295 underwent public bidding while the G280 falls under the Foreign Military Sales (FMS) "which is our usual mode if a platform is being purchased or acquired from the United States."
According to the DND, Defense Secretary Delfin Lorenzana signed the P2-billion contract for the G280 in November 2018.