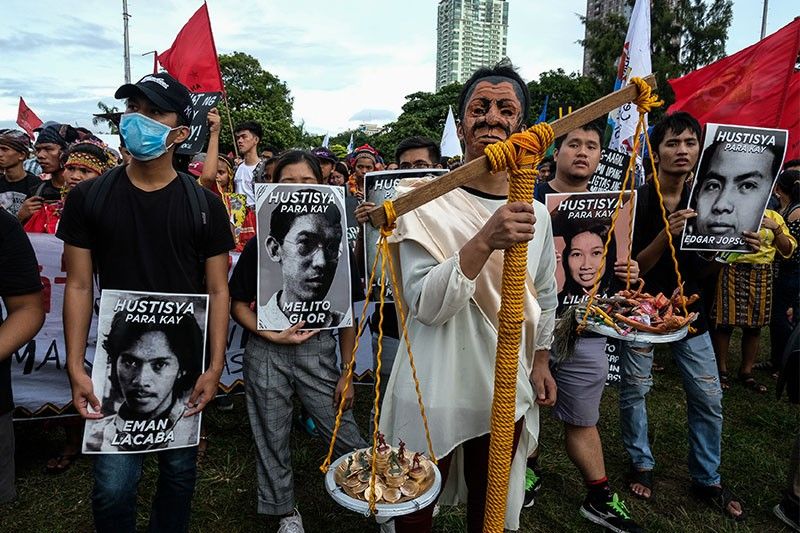 Protesters gather at Luneta Park on the eve of the 47th anniversary of the declaration of Martial Law by the late Philippine dictator Ferdinand Marcos while holding photos of people who went missing during Marcos's rule, in Manila on September 20, 2019. In 1972 Marcos declared martial law, claiming he needed to enforce extreme security measures to contain communism. The late dictator was able to continue manipulating the political system and his US backers until a 1986 uprising, when millions took to the streets and key military figures turned against him.
AFP/Maria Tan
No, it is not unconstitutional to say 'never again' to Marcos atrocities
MANILA, Philippines — "Never again" has been the resounding call of Filipinos against the horrors of the Marcos dictatorship characterized by corruption and human rights violations.
As the Philippines recalled the 47th anniversary the declaration of Martial Law by ousted dictator Ferdinand Marcos, one question was raised — the constitutionality of uttering the slogan "never again."
San Beda Graduate School of Law Dean Father Ranhilio Aquino, previously a member of President Rodrigo Duterte's constitutional commission, claimed that it is unconstitutional to say "never again."
"If by 'Never again,' you mean 'never again to martial law,' that is simply unconstitutional," Aquino said in a Facebook post Saturday.
Aquino, who is not a lawyer, pointed out that both the 1935 and 1987 Constitutions gave the president authority to declare martial law.
"To say 'never again' to Martial Law is to deprive the President of one of his most potent emergency powers — and to make it more enticing to the Commander-in-Chief, who is pressed by necessity and circumstance — to simply sweep the constitution aside and rule as a strong man," Aquino said.
It is true that under the 1987 Constitution the president as commander-in-chief of the Armed Forces of the Philippines may declare martial law in case of invasion or rebellion.
What Aquino missed is that the 1987 Constitution was framed to ensure that there would never be a repeat of authoritarian rule.
Lawyers Raphael Lorenzo Pangalangan, Gemmo Fernandez and Ruby Rosselle Tugade pointed this out in a paper titled "Marcosian Atrocities: Historical Revisionism and the Legal Constraints on Forgetting."
Ranhilio Aquino says it's unconstitutional to utter "never again". In the paper I co-authored with R. Pangalangan and G. Fernandez, we present an argument for the regulation of speech that will tend to normalize Marcosian atrocities. Shoot me an e-mail for a copy. #NeverAgain pic.twitter.com/nqINSKprmK

— ross (@rosselle) September 22, 2019
This paper published in the Asia-Pacific Journal on Human Rights on the Law sought to propose a memory law that would prohibit the denial of Marcosian atrocities within the Philippine Constitutional framework. Germany's Holocaust Denial laws served as a guide in the paper.
"Applying that same rationale to the Philippine context, the authors submit that there exists a clear and present danger to justify a content-based regulations of free expression on Marcosian Atrocities," Pangalangan, Fernandez and Tugade said.
The "Marcosian Atrocities" paper noted that the 1987 Constitution was drafted to make sure that "never again will the Filipino people undergo the harrowing experiences of a dictatorship" and that "never again will [the Constitution be trampled upon and desecrated by men of evil design."
The authors clarified that is not martial law itself that is censured but military rule in "Marcosian fashion."
In his Facebook post, Aquino also asked how much of the evils perpetrated during martial law can be attributed to Marcos. This has already been ruled upon by local and international courts, as pointed out by the law journal article on Marcos atrocities.
READ: Money Trail: The Marcos Billions
An example is the US District Court of Hawaii's decision on a class action suit, which found Marcos "personally liable for, inter alia, instigating acts of torture, summary execution, enforced disappearances, arbitrary detention."
"Under the principle of command responsibility, the Court held Marcos liable for 'human rights abuses which occurred and which he knew about and failed to use his power to prevent,'" the paper read.
While the 1987 Constitution guarantees Filipinos' right to freedom of expression, the lawyers argued that a statement denying historical atrocities, such as those committed under the Marcos regime, would not fall under the ambit of protected speech.
"In the fact-opinion dichotomy, historical atrocities would categorically fall within the former. Its denial would therefore be the easy subject of regulation," it said.
Marcos himself declared spreading false news and information as a criminal offense under the now-defunct Presidential Decree 90.
The Revised Penal Code, however, criminalizes "unlawful means of publication."
"Indeed, as it stands, both the denial and glorification of the Marcosian atrocities may be punished under Philippine criminal law," Pangalangan, Fernandez and Tugade wrote.
Article 154 of the Revised Penal Code penalizes "(a)ny person who by means of printing, lithography or any other means of publication, shall maliciously publish as news any false news which may endanger the public order or cause damage to the interest or credit of the State."
The authors, however, lamented how the resounding "never again" call against Marcos atrocities have been undermined since the ousted dictator had been buried at the Libingan ng mga Bayani in November 2016.
President Rodrigo Duterte had also declared martial law in Mindanao following an armed confrontation between government troops and ISIS-inspired local terrorists. The declaration has been in place in Mindanao since May 2017, its extension having been approved by Congress.
There is no move yet in the Philippine Congress to come up with a memory law that would penalize the denial of Marcos atrocities but academic institutions have made efforts to combat historical revisionism.
University of the Philippines will soon offer a general subject "Philippine Studies 21: Wika, Panitikan, at Kultura sa Ilalim ng Batas Militar," which would tackle the martial law era. A martial law museum will also rise within the UP Diliman campus by 2020, which will show the horrors brought about by the Marcos regime.