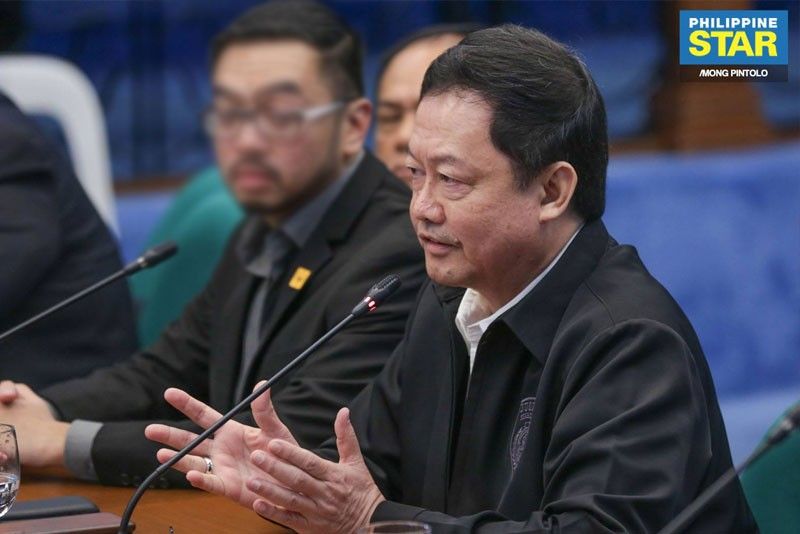 "After Sept. 19 and they refuse, we have already taken this position since under the law and existing jurisprudence, you have not completed the service of your sentence and it is your duty to serve it to the fullest," Justice Secretary Menardo Guevarra said.
File
Freed convicts face warrantless arrest after September 19
MANILA, Philippines — After Sept. 19, the government will start making warrantless arrests of convicts earlier released through the controversial Good Conduct Time Allowance (GCTA) law who have failed to follow the orders of President Duterte to surrender. Justice Secretary Menardo Guevarra said yesterday.
"After Sept. 19 and they refuse, we have already taken this position since under the law and existing jurisprudence, you have not completed the service of your sentence and it is your duty to serve it to the fullest," Guevarra said.
"We gave you notice, we gave you a grace period of 15 days… you refused without justifiable reason, then in effect you are committing the offense of evasion of sentence," he added.
Last Sept. 4, Duterte gave the 1,914 heinous crime convicts who were believed to have been released prematurely 15 days or until Thursday to surrender to the Bureau of Corrections (BuCor) and have their GCTA recomputed.
Department of Justice (DOJ) Undersecretary Markk Perete said that as of 9:30 a.m. yesterday, 612 convicts have surrendered to the police and jail officials and are now in the custody of BuCor.
Around 1,302 convicts freed through GCTA have not yet surrendered to authorities.
There have been doubts that some of these convicts released since 2013 were not entitled to the reduction of sentence and should not have been let out of prison.
"You have not completed your sentence so there is reason, legal basis to have you arrested because that is a continuing offense. Each minute, each hour, each day that you refuse to turn yourself in is a continuing commission of an offense and for that reason, law enforcement agencies may arrest you even without a warrant," said Guevarra.
To those who want to challenge the DOJ's position, "you may go to court and ask for any relief you wish to obtain from the court, but for now that is how we intend to (do it) and the DILG (Department of the Interior and Local Government) through the PNP (Philippine National Police) is ready to do so after the 19th."
Even if the convict would argue that it was not his fault that he was released based on wrong computation of GCTA, Guevarra said "that is beside the point. You have to go back and serve the sentence. If you want to challenge that in court then let the court decide on it."
DILG Secretary Eduardo Año also defended the actions of police officers who visit the houses of freed prisoners and invite them to their stations.
He explained this was being done not only by members of the PNP, but also by local government officials, particularly the mayors and barangay captains, who have been asked to check the BuCor's list of 1,914 freed convicts and see if they have constituents there.
Año said it is the duty of local officials and PNP to return to the BuCor any unjust beneficiary of GCTA. He gave assurance that once their GCTA are recomputed and it shows they are eligible for reduction of prison terms, they would be released.
He said since the police would merely be inviting them, there is no violation of the law. If the convict was being arrested then he should have been read his Miranda Rights. "If they do not want to come, that is OK. But after 15 days there is already an order from the President and we have to arrest them."
Guevarra and Año also signed the revised implementing rules and regulations (IRR) of the GCTA law, but they have granted the Joint DOJ-DILG committee another 60 days to review and revise the Uniform Policy and Guidelines on the computation of credits and allowances provided under Republic Act 10592, or the expanded GCTA law.
When asked if the signing of the revised IRR would lead to the lifting of suspension of the GCTA, Guevarra said that since the Joint DOJ-DILG committee has not yet finished reviewing the manual on operations, they will resume implementation of the GCTA to a certain extent, while waiting for the revision of the manual.
Palace not bothered
Malacañang was not bothered that fewer than half of the 1,914 heinous crime convicts who were released early due to GCTA have heeded President Duterte's call to surrender. ?
"The fact is there are 400 of them coming in; could be that others may not have known of the deadline. But just the same, the order of the President remains," Panelo said. ?
"As the President said when the 15-day deadline lapses, then they will be deemed to be fugitives from justice and they can be arrested," he added. ?
Duterte previously threatened to offer a P1-million bounty for each convict who refuses to surrender.
DOJ Undersecretary Deo Marco had earlier told "The Chiefs" on One News-Cignal TV that the intention of the President was for these prematurely released inmates to go back to BuCor, to be registered and subject themselves to the process of re-computation of their GCTA.
"It was not that they would be imprisoned. If I am not mistaken most of these people surrendered voluntarily. They wanted to go back to their communities and sleep at night knowing that they have been issued a release order," Marco said.
He said that those who report to the BuCor are directed to a booth where they undergo medical checkup, given food and a special place to stay but not imprisoned, while their GCTAs are recomputed.
Acting BuCor chief Melvin Ramos Buenafe ordered that the special booths be set up in all seven penal colonies in the country.
PNP records showed that 435 convicts have surrendered to various police units as of yesterday, out of the 612 inmates that yielded according to the DOJ.
Of the number, 253 were turned over to the BuCor.
Most of the convicts were found guilty of murder and rape with 140 and 130, respectively.
Forty-two were convicted of robbery with homicide and 29 for homicide.
Nineteen others who surrendered were convicted of drug-related offenses.
Nine convicts released through the GCTA have also surrendered over the weekend in different police units in Negros Island.
Negros Occidental provincial police spokesman Maj. Edison Garcia said six of the convicts surrendered in several local police stations while three others yielded in Negros Oriental.
The Philippine Medical Association (PMA) warned yesterday doctors that those issuing fake medical certificates to patients face possible revocation of their licenses.
PMA president Jose Santiago Jr. said they could recommend to the Professional Regulation Commission (PRC) the cancellation of the licenses of doctors who make fake diagnosis of patients.
The statement was made amid allegations that medical officers at the NBP hospital were involved in "hospital pass for sale" for moneyed inmates. This allows them to stay in hospital although their health conditions do not warrant it.
According to Santiago, PMA will investigate this report but have not received any request or complaint from the BuCor or any government institution. – With Alexis Romero, Emmanuel Tupas, Sheila Crisostomo, Gilbert Bayoran