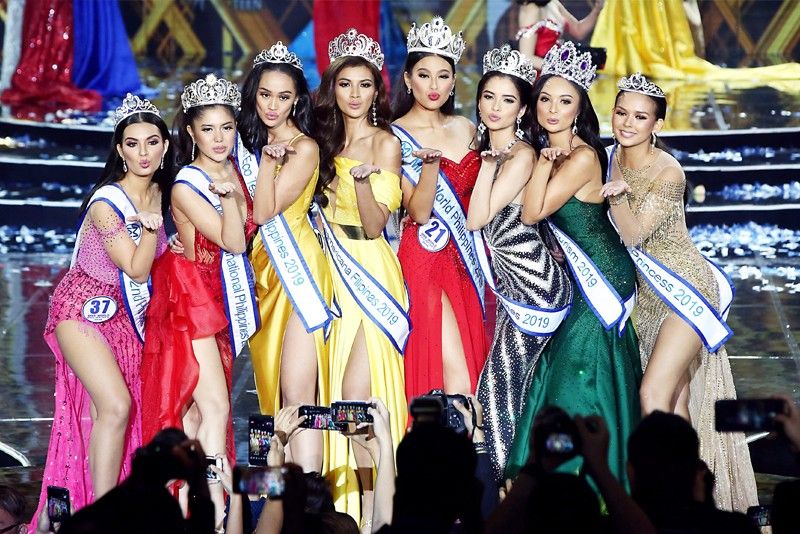 Michelle Marquez Dee(4th from right) joins other winners, from left, 2nd princess Casie Banks, Miss Multinational Philippines Isabelle de Leon, Miss Eco Teen Philippines Vanessa Mae Walters, Reina Hispanoamericana Filipinas Katrina Llegado, Miss Eco Philippines Kelley Day, Miss Tourism Philippines Glyssa Leiann Perez and 1st princess Shannon Christie Kerver.
Miguel De Guzman
Miss World Philippines follows mom Melanie Marquez's footsteps
Ricky Lo
(The Philippine Star) - September 17, 2019 - 12:00am
MANILA, Philippines — The morning after she was crowned 2019 Miss World Philippines Sunday night at the Smart Araneta Coliseum, Michelle Marquez Dee was taking a late-morning shower when it started to sink in.
"I thought I was only dreaming," Michelle told The STAR. "I got stuck. I was crying under the shower, reviewing the events the day before."
Michelle, 24, beat 39 aspirants for the major title among six at stake. Her court included Glyssa Perez, Miss Philippines Tourism; Vanessa Mae Walters, Miss Eco Teen Philippines; Isabelle de Leon, Miss Multinational Philippines; Kelley Day, Miss Eco Philippines; Katrina Llegado, Reina Hispanoamericana Filipinas; Shannon Christie Kerver, first runner-up, and Cassie Banks, second runner-up.
A crowd favorite (who won several special awards), Michelle was crowned by Manila Mayor Isko Moreno, who served as chairman of the board of judges, which included actress Sunshine Cruz and Regal Films producer Roselle Monteverde.
It was Michelle's first time to join a pageant, 40 years after her mother, actress Melanie Marquez was crowned Miss International in 1979.
But Michelle, a GMA contract star, doesn't ascribe her victory to first-timer luck, although she admitted having jitters since she had a lot of expectations.
"I had the right type of training for all the aspects of the pageant," she said. "I was quite confident that I would be able to execute everything properly every step of the way. I felt that being an artista helped me in terms of being in front of a crowd with all eyes on me."
Asked what pointers she got from her mom, Michelle shared, "She told me just to be myself, to shine, be confident, to pray and ultimately just to have fun," adding with a laugh, "kelangan i-bakla mo rin yan (just play it cool)."
It helped that her mom was in the audience cheering for her, together with her dad actor-producer Derek Dee, her stepfather Adam Lawyer (who is really a lawyer), half siblings who flew in from the States to support her and other members of the Dee clan.
Also around as co-host of the event was Michelle's cousin Teresita Sen "Winwyn" Marquez, daughter of Joey Marquez, 2017 Reina Hispanoamericana Filipinas (and that year's Reina Hispanoamericana winner, the first Filipina/Asian to win in the Latina-dominated pageant held in Bolivia).
"Backstage when we were lining up for the opening number, Winwyn reminded me also just to have fun. My hands were freezing since I was excited and nervous at the same time."
A Psychology graduate, Michelle grew up in Utah ("The Mormon State," she noted) where she was brought by Melanie (separated from Michelle's biological dad) when she married Lawyer.
"I was three years old at that time," recalled Michelle. "I grew up in a ranch. We had no maids so I helped with the household chores. It was there where I learned how to ride a horse… and to herd horses. It was a simple life, very far from the city. I learned a lot of values from my mom. When I needed something, I had to work for it, I had to earn it. Those are the same values on which I will raise my own children."
But she admitted being different from her mom in some ways.
"When my mom is onstage, she shines in a different light, she exudes a different kind of personality, she's all-around classy."
Between now and Dec. 14 when she competes in the 2019 Miss World pageant in London, Michelle will focus on further preparation.
"I was told that Miss World is different from its local counterpart," she said. "I want to know the rules and regulations, including the guidelines so I will be fully prepared."