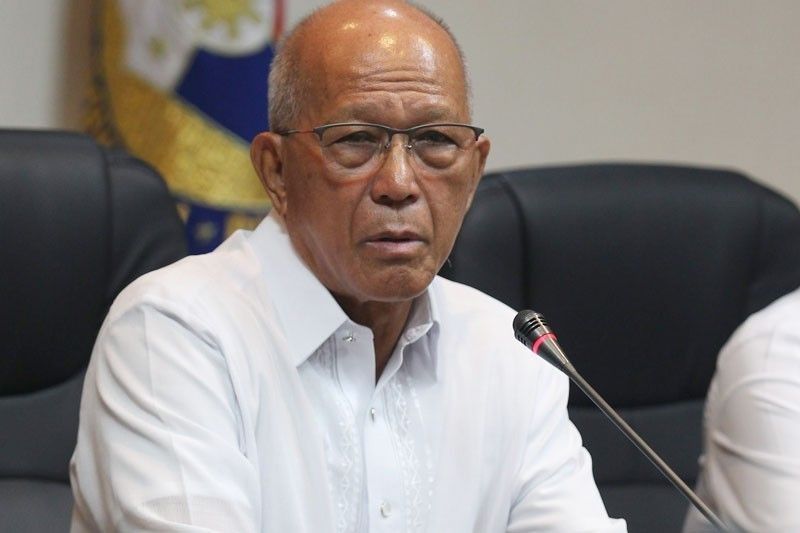 Presidential spokesman Salvador Panelo said Defense Secretary Delfin Lorenzana would look into the agreement signed last Wednesday by the Armed Forces of the Philippines and Dito Telecommunity, formerly Mislatel.
Michael Varcas/File
DND chief unaware of telecom project in military camps
Alexis Romero
(The Philippine Star) - September 17, 2019 - 12:00am
MANILA, Philippines — Defense Secretary Delfin Lorenzana was not aware of the signing of an agreement that would allow a China-backed telecommunications firm to build its communication facilities inside Philippine military camps, Malacañang said yesterday.
Presidential spokesman Salvador Panelo said Lorenzana would look into the agreement signed last Wednesday by the Armed Forces of the Philippines and Dito Telecommunity, formerly Mislatel.
Lorenzana, on official travel abroad, said AFP chief Gen. Benjamin Madrigal Jr. had told him that the memorandum of agreement (MOA) on the project "is going to my office for my approval."
"So now I am aware of it and I will scrutinize it carefully before giving my approval. I'll be back in Manila on the 20th (of September)," he said.
Dito Telecommunity is a consortium led by Dennis Uy, a Davao-based businessman and a major campaign contributor of President Duterte. It is composed of China Telecom, Chelsea Logistics and Infrastructure Holdings Corp.
"The DND (Department of National Defense) secretary texted me about it and said he doesn't know anything about it and he is going to investigate and ask the concerned people involved in the deal. So, we will wait for his findings," Panelo said at a press briefing.
Asked if the military can drop the deal given concerns raised about its possible impact on national security, Panelo replied: "Certainly, if it involves national security then this government can do something about it."
Under the deal, the military will identify areas where Dito can put up its facilities "without undermining the operations of affected units."
Armed Forces deputy chief for communications, electronics and information systems Maj. Gen. Adrian Sanchez and Dito chief administrative officer Adel Tamano signed the deal in behalf of their respective entities.
"This partnership gives Mislatel a fair chance to compete with the other networks, given that the AFP also has similar partnership with Globe and Smart," Sanchez said after the signing of the MOA.
Under the MOA, Mislatel also "guarantees that the devices, equipment and/or structures installed at the site provided by the AFP shall not be used to obtain classified information" as a measure to prevent electronic espionage.
The agreement drew flak from senators who warned that allowing such facilities inside military camps could lead to interference and electronic espionage.
Sen. Francis Pangilinan said Chinese firms are required by Beijing to spy for their government.
The senator cited two laws that require Chinese firms to "cooperate in gathering of intelligence information by the state."
"There is a national security concern. China has the National Intelligence Law of 2017 and the Counter-Espionage Law of 2014. And in both laws, private organizations and citizens should cooperate in gathering of intelligence information by the state," the senator told ANC.
"China Telecom is an organization. It is a Chinese company. What if the Chinese government says, 'You have access there. You are mandated to turn over information to us because we have the Counter-Espionage Law and we have the National Intelligence Law,'" he said.
He stressed that the security risk is not speculation, citing the case of Cathay Pacific in the Hong Kong protests.
"This Chinese telco's involvement in our military camps is no joke," Pangilinan said.
"The concern is the Chinese government will use the information that passes through their system to advance China's interests," he said.
Panelo said Lorenzana and National Security Adviser Hermogenes Esperon Jr. would be undertaking measures to address the senators' concerns.
AFP Public Affairs Office chief Col. Noel Detoyato said the military leadership welcomes any investigation.
Asked if the AFP sees the proposed communication facilities as a threat to security, he said: "Those are just relay stations (and reflectors) that will co-locate within military areas that would mean structures like antennae or communication towers on top of mountains like the ones in Tagaytay."
President Duterte's policy of appeasement toward China has not stopped the Asian giant from militarizing the West Philippine Sea and bullying Filipino fishermen in Philippine waters.
It has ruled out complying with a ruling by an international arbitral court that invalidated its massive South China Sea claim and upheld the Philippines' maritime entitlements.