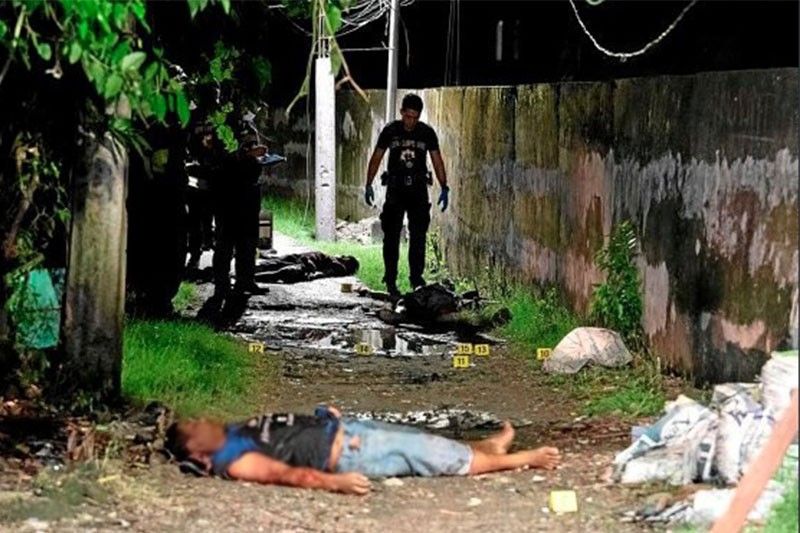 This photo taken on July 19, 2019, shows police officers investigating the scene of a shootout with police along an alley in Manila, where three suspects were shot dead after they allegedly opened fire on the officers.
AFP/Noel Celis
Police numbers underreport drug war killings — think tank
MANILA, Philippines — Figures from the police are a "gross underestimation" of the killings linked to President Rodrigo Duterte's so-called war on drugs, according to a New York-based think tank.
A report from the Columbia Journalism School's Toni Stabile Center for Investigative Journalism found that police numbers "do not give a true picture of the human cost" of the crackdown against illegal drugs.
The study published July 2019 was based on drug-related killings in Manila, Caloocan and Quezon City from July 2016 to December 2017.
While the police recorded a total of 764 killings in these three cities during the first 18 months of the drug war, the center documented 1,111 police killings based on both police and non-police sources.
"Furthermore, we estimate that by taking into consideration the dark figure of undocumented killings, the true number is approximately 1,254," the report read.
The "dark figure" is the undocumented number of killings, which the think tank estimated through a statistical technique called multiple systems estimation.
The think tank also observed a "more extreme" underreporting on drug-related killings committed by unidentified assailants.
Data from the police showed 201 drug-related killings but the sources used in the report documented 1,201 killings. The estimated number of killings by unidentified assailants, including the dark figure, is at 1,587 victims.
"The findings of this report are limited to only three cities for the first 18 months of the anti-drug campaign, but they raise questions about the accuracy and completeness of the police data on drug-linked killings," the report read.
The data used in this report was from more than 20 different sources in the Philippines, including police reports, news, churches and parishes, non-governmental organizations and human rights groups, and the Commission on Human Rights, among others.
The data set of the Stabile Center noted that 80% of the 2,320 homicides recorded in the same time period were reported in police documents, 60% reported in the news while a small number has been recorded by churches and human rights groups.
Earlier this year, rights watchdog Human Rights Watch warned that the human rights crisis in the Philippines has "deepened" during Duterte's second year in office.
In its annual report issued last January, HRW noted that the drug war has expanded to areas outside Metro Manila. As of November 2018, the government's tally of drug-related deaths rose to 5,050.
In a report last July, London-based Amnesty International said the epicenter of the Philippines' drug has shifted to Bulacan province, where 827 drug-related killings were observed from July 2016 to February 2019.

Amnesty attributed the rise in killings in Bulacan to the transfer of police commanders previously based in Metro Manila to the province.

"A closer looks shows that several commanders who previously held posts in Metro Manila when it was the region where most drug-related killings were reported have been promoted and are now at the helm in various positions in Bulacan and the wider Central Luzon," the Amnesty report read. — with reports from Gaea Katreena Cabico