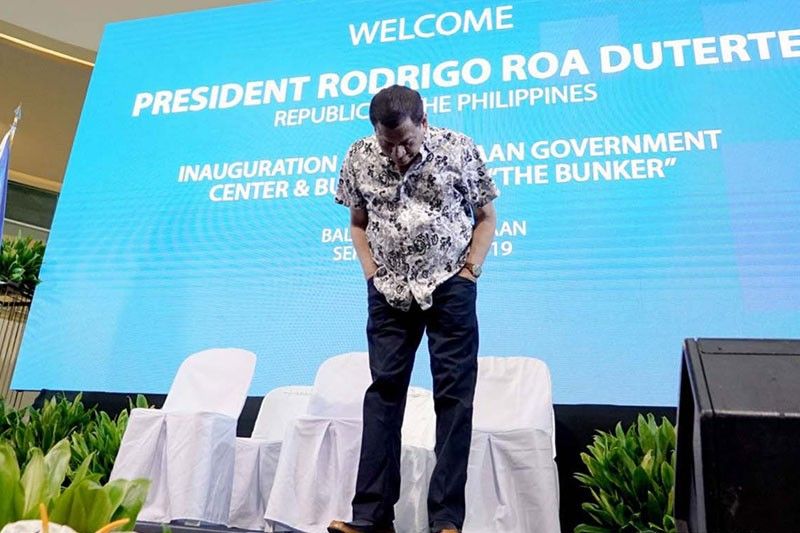 President Rodrigo Duterte takes a bow as he takes center stage during the inauguration of the Bataan Government Center and Business Hub "The Bunker" in Balanga City, Bataan on Sept. 12, 2019.
Presidential Photo/King Rodriguez
Duterte has no authority to 'set aside' arbitral award — Carpio
MANILA, Philippines — Under Philippine law, President Rodrigo Duterte does not have the authority to "set aside" the July 2016 ruling issued by the Permanent Court of Arbitration, Supreme Court Senior Associate Antonio Carpio said.
Earlier this week, Duterte said the Philippines would "ignore" the arbitral award covering the country's exclusive economic zone in able to pursue "economic activity" in the area.
"However, even if the President has no authority under Philippine law to set aside the arbitral ruling, the unilateral declaration by the President that he was 'setting aside' the arbitral ruling could bind the Philippines under international law under the doctrine of unilateral declarations," Carpio said in a statement released Friday.
Carpio, part of the Philippine delegation in the arbitration against China, commended Foreign Affairs Secretary Teodoro Locsin for clarifying the matter.
The senior magistrate warned that Duterte's unilateral declaration on setting aside the ruling might bind the Philippines if China accepts it.
"We should be thankful to Secretary Locsin for his vigilance in preventing a waiver of our sovereign rights under the arbitral ruling," Carpio said.
Carpio also recalled the previous statement of Duterte admitting that he does not have the authority to give up or condece the country's sovereign rights in the West Philippine Sea.
President has prerogative on when to raise ruling
Despite not having the authority to set aside the arbitral award that favored the Philippines, Duterte has the prerogative when to invoke the ruling.
"Thus, the president can temporarily 'put aside' the ruling and assert it at an appropriate future time," the justice said.
While choosing to assert the ruling at a later time, the Philippines must still protest any act of China that infringe the country's sovereign rights in the West Philippine Sea.
"Any acquiescence or implied consent can result in the loss of our sovereign rights under the arbitral ruling. The Duterte administration, and the Filipino people, must always be vigilant to avoid such asquiescence or implied consent," Carpio said.
Duterte said he brought up the arbitral ruling with Chinese President Xi Jinping during their bilateral meeting in Beijing last month.
Xi, however, refused to "budge" and maintained China's position on the matter.
"You know, China is there. He holds the property under the claim of ownership. 'Yan ang sagot niya. It is ours, we will not budge," Duterte said.