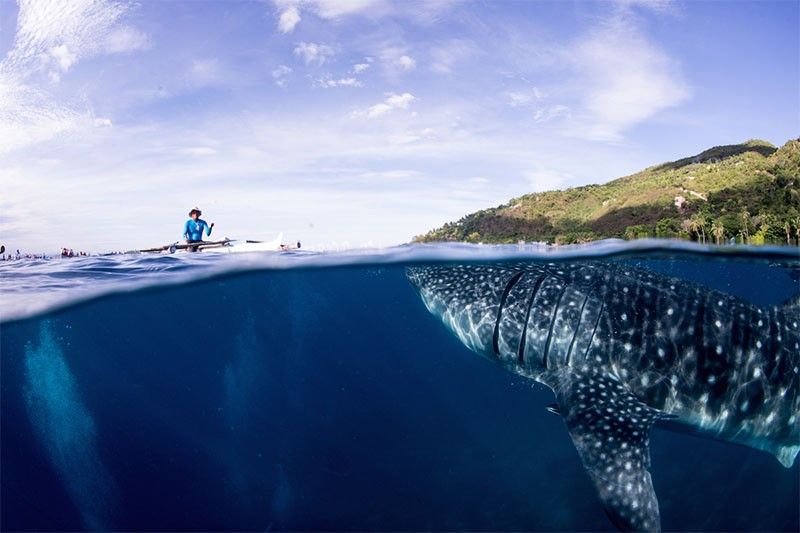 Whale shark tourism happens within 200 meters of the shore. It is the only location in the world where you can reliably see whale sharks, in clear, shallow, calm water, 364 days a year.
Andre Snoopy Montenegro
A village in Cebu discovered a win-win-win tourism formula, thanks to whale sharks
MANILA, Philippines — The "gentle giants" of southern Cebu have placed the small village of Tanawan in Oslob on the world map. Local and foreign tourists are flocking its shores to watch and swim with the endangered, harmless whale sharks more than a dozen times their size.
Tourists travel for almost four hours from Cebu City to have their encounters with the whale sharks, locally called "butanding" or "tuki," the world's largest fish species. They swim freely within 200 meters of the shore and charm thousands of tourists weekly.
These encounters are what made the local fishermen earn 30 times more than they used to. From earning less than P100 a day, the fishermen of Oslob, have collectively earned $18.4 million or P958 million in span of only six years, according to new research by Judi Lowe of Southern Cross University in Australia, Johann Tejada of the Bureau of Fishery and Aquatic Resources and Mark Meekan of the Australian Institute of Marine Science.
What fascinated the researchers about Tanawan's tourism is how it stands out not only for providing ample income to locals but for compelling them to protect the very ecosystem that would frequently get exploited in other types of tourism.
From catching fish to fishing millions
The fishermen turned their back from the town's traditional livelihood a few years ago for greener pasture—that is also found in the waters. Previously earning a meager $512 or P26,644 for an entire year, each of the fisherfolk now enjoy an income of $22,699 or P1.181 million annually—a considerable amount in a developing country and in a town far from the commercial centers.
Lowe, Tejada and Meekan, in analyzing how Oslob whale sharks connected livelihood and the marine environment, documented how the locals made the shift from being among the world's poorest fishermen to thriving community businessmen.
The P958-million earnings were recorded from tickets sales from 2012 to 2016, having attracted 751,046 visitors within the period.
In 2012, the Department of Tourism under then-Secretary Ramon Jimenez expressed support for Tanawan's tourism efforts, calling it a "sustainable tourism product."
Secretary Jimenez said there is a huge potential for whale shark interactions in providing jobs and livelihood to the municipality of Oslob.
Lowe and her team started the research in January and February 2016 and returned to the site in 2018.
The researchers took eight weeks to conduct key stakeholder interviews and three years more to analyze the data, draft four manuscripts and shepherd all four through publication in top tier marine science journals.
They found that community-based tourism makes the money from the business stay in the community, instead of flowing to larger commercial enterprises.
"There are very few economic leakages. Income does not get repatriated to home countries of the expatriates or the cities of national elites as it does when tourism is owned by outsiders," Lowe said in an interview with Philstar.com.
"Community-based tourism is really important for community development, to lift local people out of poverty," she added.
Everyone wins—fishes, too
There have been concerns over the years that whale shark tourism could be harmful to the environment and the endangered species.
The researchers found, however, that the kind of tourism Oslob has cultivated even contributes to the sustainability of the environment for the whale sharks.
A previous study by Lowe and Tejada found that whale shark tourism provides alternative livelihood for 177 fisherfolk and reduces harmful fishing. To manage community tourism, fishermen formed the Tanawan and Oslob Sea Wardens and Fishermen's Association to coordinate their efforts and propose environmentally sound policies.
"[Community tourism] recognizes the capacity of local people to care for their whale sharks and coral reef resources," Lowe said.
The municipality of Oslob is a partner in whale shark tourism. Oslob uses its share of income to pay for sea patrols by the Bantay Dagat to protect the whale sharks that tourism livelihoods are based on and enforce fishery laws to stop destructive fishing along the 42-kilometer coastline.
And despite having started without marine conservation funding or support, Oslob now finances the management of five marine reserves for biodiversity.
The mayor of Oslob said that even though the Philippines has laws to protect whale sharks, they are being slaughtered and their fins are cut off while they are alive. But in Oslob, whale shark tourism prompted heightened protection for the gentle giants through the fishers' association and Bantay Dagat.
The improved protective measures for the whale sharks and coral reefs they live in resulted in an increase in fish stocks and species of fish in Tanawan, the researchers found.
Moreover, the rate of destructive fishing with the use of dynamite and cyanide as well as fish traps and drift gill nets has dropped.
While feeding whale sharks for tourism is controversial and opposed by western environmentalists, a review of previous studies on Oslob by Meekan and Lowe found that "there is little robust evidence that feeding a small amount of krill harms the whale sharks or significantly changes their behavior."
"Livelihoods are the impetus for fishermen and local government to protect whale sharks and marine resources," Lowe told Philstar.com. "Oslob achieves results any donor-funded project would be proud of. It is a win-win for fishermen, their community and the whale sharks."
Threat of closure
While the formula of Tanawan has proven successful and sustainable, recent government pronouncements brought a shadow over the community.
President Rodrigo Duterte ordered the world-famous island Boracay to shut down last year, and threatened to make a similar move on areas whose environment deteriorated due to unhampered tourism activity.
Prompted by the fear of a similar closure, tour operators, boatmen and government agencies in Oslob further regulated tourism activities, reducing the number of tourists from 1,000 to 800 a day since October last year.
The move was largely seen as a way to balance the needs of the environment and economic gains. But recent research has shown that Tanawan's tourism efforts have been largely beneficial, and even a model for other communities to replicate.