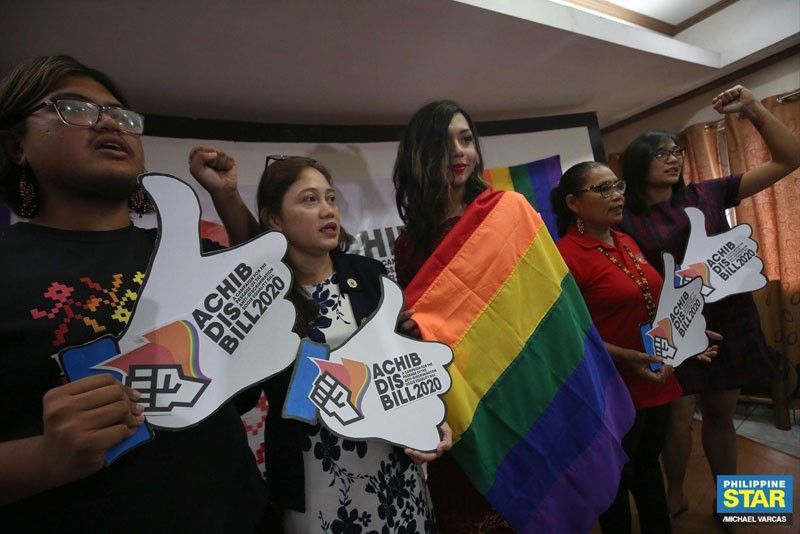 President Duterte, according to his spokesman, will not certify as urgent the Sexual Orientation, Gender Identity and Expression (SOGIE) Equality bill in Congress, preferring instead a general anti-discrimination law.
File
Duterte favors anti-discrimination law over SOGIE
MANILA, Philippines — President Duterte sees no problem enacting a law against sexual or gender discrimination.
But Duterte, according to his spokesman, will not certify as urgent the Sexual Orientation, Gender Identity and Expression (SOGIE) Equality bill in Congress, preferring instead a general anti-discrimination law.
In light of the incident involving Gretchen Diez, a transgender woman, where she was accosted for attempting to use a female restroom at a shopping mall in Quezon City, Duterte suggested a segregation of toilets for men, women, gays and lesbians. This way, he said, all genders will be able to relieve themselves in their respective restrooms.
Duterte went on to bat for equality for all – a stand explained further by presidential spokesman Salvador Panelo.
"(Duterte) was referring to an anti-discrimination bill, not SOGIE bill, much like the anti-discrimination ordinance existing in Davao that was passed when he was still the mayor there," Panelo said in a text message.
Interviewed by CNN Philippines yesterday, Panelo explained Duterte's stance that he had allowed a measure that addressed the concerns of everybody from those who have different sexual preferences to persons with disabilities (PWDs) and children with special needs.
Last Tuesday night, the Chief Executive said "yes" when asked categorically if he would certify as urgent the SOGIE bill.
"Yes, whatever would make the mechanism, what would make them happy. I want to be like Sen. (Juan Ponce) Enrile: Gusto ko, happy siya (I want her to be happy)," he said, paraphrasing Enrile's popular campaign catchphrase in past elections.
Panelo explained that lawmakers cannot "legislate for a particular class" alone.
"You are discriminating. It must be general. That's what the President doesn't like, when you discriminate against a particular class," the presidential spokesman said.
He added that Duterte won't be amenable to any form of discrimination against any particular class or person. Neither would he be issuing an executive order for a third gender restroom.
'Much better legislation'
Meanwhile, the pending anti-discrimination bill will likely be passed in the Senate as lawmakers see it as a "much better legislation" that covers all Filipinos, Senate President Vicente Sotto III said yesterday.
Sotto said he got word from Executive Secretary Salvador Medialdea, and Sen. Bong Go that Duterte was referring to the measure – not the SOGIE bill – as the one he intends to certify as urgent for passage in Congress.
"(Duterte) is supporting an anti-discrimination bill pretty much like the ordinance in Davao which is encompassing. You should not discriminate upon the elderly, upon PWDs, upon gender or whatever. It's not like the SOGIE that is focused only on gays," Sotto told reporters.
"The SOGIE (bill) is a class legislation. But (in the anti-discrimination bill), the entire population should benefit from being not discriminated upon for whatever reason," he added.
The Senate president said he would tread carefully on proposals to include provisions in the SOGIE bill into the anti-discrimination measure.
"(Including SOGIE provisions) would be difficult. If you (are) going to again transgress on religious freedom, academic freedom, women's rights, why would we include them?" Sotto said.
"The same-sex marriage might be smuggled in because based on the SOGIE bill, you cannot discriminate a person if he wants to get any kind of government license, including marriage license," he added.
Pending in the chamber is Sen. Sonny Angara's Senate Bill 137 or the proposed Comprehensive Anti-Discrimination Act of 2019, to cover as wide a range of discriminatory practices as possible.
"Discrimination remains a problem, be it for women, children, PWDs or the LGBTQ community. We are currently enjoying remarkable economic growth, but while there is still discrimination taking place, we cannot call ourselves a truly progressive nation," Angara said.
Sen. Risa Hontiveros lamented that the changing statements from Panelo showed Malacañang's "policy confusion" regarding how to address discrimination against the LGBT community.
"While an anti-discrimination measure is welcome, the SOGIE Equality bill remains the best policy tool to protect members of the LGBT community from discrimination, harassment and even violence," Hontiveros said.
The senator added that the SOGIE bill does not only define and prohibit discrimination, but also addresses stigma against persons with diverse SOGIE through programs promoting equality and diversity.
"This protective mechanism is unique to LGBTs, who experience not only discrimination but also stigma. We hope that President Duterte will seriously consider these points," she said.
The struggle for the SOGIE bill is a journey of more than two decades, according to Hontiveros.
"The LGBT community is not asking for special rights and privileges. Their only request is to be treated as equals who will be able to live in peace and not discriminated," she said.
Unnecessary
Philippine National Police (PNP) chief Gen. Oscar Albayalde yesterday has expressed his disapproval of the SOGIE bill.
For Albayalde, it is unnecessary as the Constitution provides ample protection for everyone.
"There is no need, actually, because we are already protected by the Constitution and the laws of the land equally," he said in a press briefing at Camp Crame in Quezon City.
Albayalde said he believes crafting a law for a certain individual or group will only result in demand for more legislation on anti-discrimination rights.
If that would be the case, the PNP chief said bald people like him can also seek a law that would protect them from embarrassment.
Dark-skinned people can also seek passage of legislation for anti-discrimination if the SOGIE bill becomes a law.
"Let us not make laws for a certain individual or a certain group. Otherwise, everybody will have their own laws," he said.
Albayalde said Diez's situation is more about following the law rather than discrimination.
"We do not discriminate but we have laws to follow, just the same that these people, alam naman dapat nila kung sila pupunta at lulugar," Albayalde said.
While he acknowledges the noble cause of the SOGIE Equality bill, a Catholic priest has expressed opposition to it as he believes that it will only break "societal norms and culture."
"The SOGIE bill appears to be a noble form of legislation as it is presumably against discrimination and advocates equality, but its contents say otherwise," said Father Jerome Secillano, executive secretary of the Permanent Committee on Public Affairs of the Catholic Bishops' Conference of the Philippines. – With Paolo Romero, Emmanuel Tupas, Robertzon Ramirez, Raymund Catindig