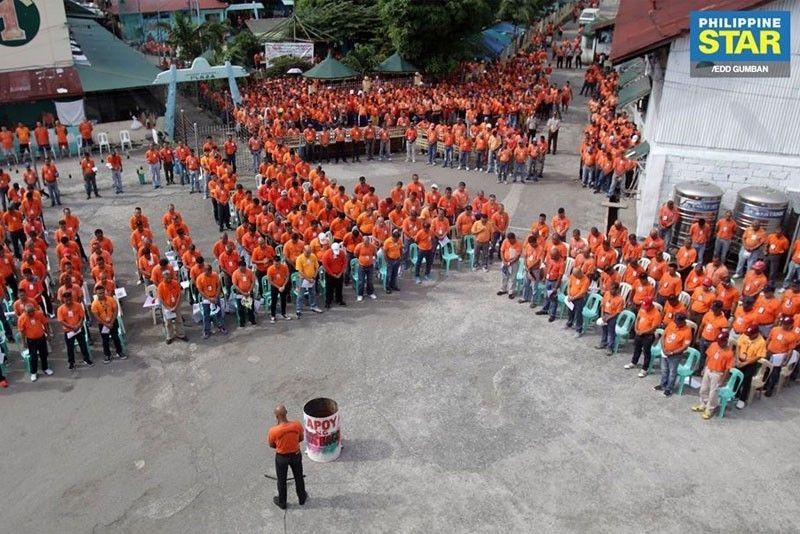 Some 65 convicts prematurely released amid the implementation of Good Conduct Time Allowance law surrendered to the police.
The STAR/Edd Gumban
76 heinous crime convicts freed under GCTA surrender ahead of deadline
MANILA, Philippines (UPDATED 2:51 p.m.) — A total of 76 heinous crime convicts, who were freed through the Good Conduct Time Allowance law, have surrendered to authorities ahead of President Rodrigo Duterte's deadline.
According to a report from The STAR, Justice Undersecretary Mark Perete said these figures were recorded Sunday midnight.
He added that the Bureau of Correction continues to receive reports from regional offices of the Philippine National Police about more freed heinous crime convicts surrendering.
Those who surrendered include Ariel Balansag and Alberto Caño, two of the convicted rapist-murderers of sisters Marijoy and Jacqueline Chiong. They surrendered to BuCor last Friday.
Meanwhile, another convicted rapist-murderer in the Chiong sisters' case, Josman Aznar, expressed his intention to surrender next week.
READ: 2 Chiong convicts surrender to BuCor
Records of the PNP released at 8 a.m. Sunday showed that 26 of those who surrendered are rape convicts while 19 of them are murder convicts. Majority of them surrendered before the PNP regional office in Cagayan Valley.
"Surrenderers are now in police custody," the PNP said Sunday.
Perete said 28 of those who surrendered in Cagayan Valley arrived at BuCor on Saturday evening. They were accompanied by cops.
Last Wednesday, Duterte warned that he is giving the almost 2,000 heinous crime convicts freed under the GCTA law at least 15 days to surrender and register themselves before the BuCor or else they would be considered fugitives.
Duterte made the order after he fired former BuCor chief Nicanor Faeldon, who allowed the release of some of the convicts with high-profile cases.
The president said he wants the BuCor to recompute the GCTA of these convicts. He added that the corrections officials will be investigated for corruption.
The president also ordered airport authorities not to let the convicts leave the country.
For his part, Justice Menardo Guevarra said he ordered the Bureau of Immigration to issue lookout bulletins for all convicts.
This order, however, does not prevent the convicts from flying overseas but only monitors their attempts to leave the country.
Only a court-issued Immigration Look-Out Bulletin Order can prevent an individual to leave the country.
Despite this, Guevarra said no convict or PDL, who was released because of GCTA, has so far been monitored at the terminal and intending to leave the country.
All of the heinous crime convicts are expected to surface by September 19. — with reports from The STAR/Evelyn Macairan