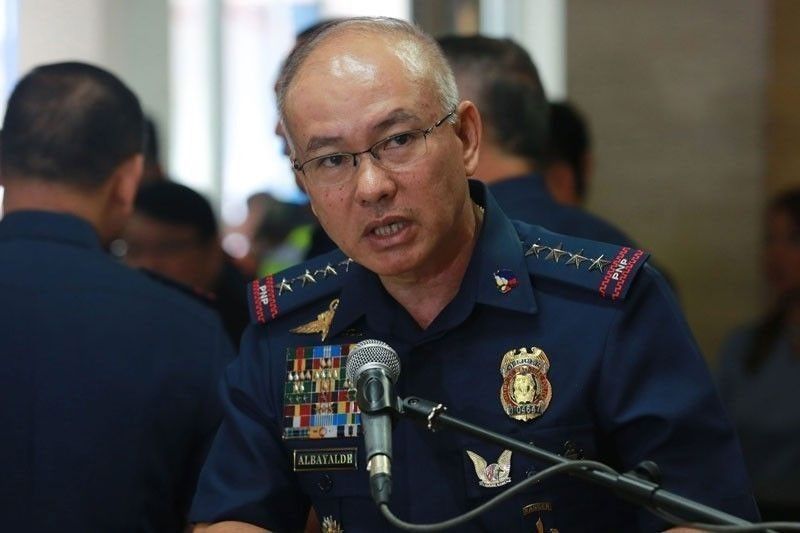 PNP chief Gen. Oscar Albayalde warned the freed convicts to surrender instead of waiting for the police to capture them through warrantless arrests, stressing lawmen would not hesitate to use force should they resist.
File
PNP-CIDG to lead convict manhunt
Ombudsman starts probe on release of heinous crime convicts
MANILA, Philippines — The Philippine National Police (PNP) has ordered its primary investigation arm, the Criminal Investigation and Detection Group (CIDG), to sniff out nearly 2,000 heinous crime convicts freed under the Good Conduct Time Allowance (GCTA) law.
PNP chief Gen. Oscar Albayalde said the CIDG will supervise tracker teams in the different police regional offices to locate the convicts who will not heed President Duterte's order to surrender within the 15-day grace period.
"Tracker teams led by the CIDG will be deployed to start locating these convicts who will be treated as fugitives if they choose not to surrender," Albayalde said yesterday.
Albayalde warned the freed convicts to surrender instead of waiting for the police to capture them through warrantless arrests, stressing lawmen would not hesitate to use force should they resist.
"I therefore call upon all concerned convicts to voluntarily surrender, turn themselves in and not allow the 15-day grace period to lapse without having themselves accounted for by the police," he said.
Albayalde also urged civilians to report any information that would lead to the convicts' arrest.
Duterte on Thursday gave at least 1,700 convicts who were freed under the GCTA law 15 days to surrender and make themselves available for investigation or they would be considered fugitives and hunted down "dead or alive."
The President said he would also put up a bounty of P1 million for each convict.
The police general defended Duterte's pronouncements, saying he only wants to emphasize the need to immediately arrest the convicts, especially those involved in heinous crimes, but this does not a mean that policemen will shoot them on sight.
The convicts were also urged by the PNP to surrender first before contesting the legality of Duterte's order in court.
"If they challenge it outside, then they will have to face arrest also," he said.
Justice Secretary Menardo Guevarra said at least 15 convicts have already surrendered following Duterte's warning.
Cebu police director Col. Rhoderick Mariano said murder convict Jesus Negro Jr., 50, turned himself in to the city police station at around 10:05 p.m.
Negro was convicted in March 1990 for eight counts of murder and frustrated murder. He served 30 years in prison before he was released on Aug. 9, 2018 based on the GCTA Law.
The Armed Forces of the Philippines has offered intelligence and manpower aid for the recapture of the freed convicts. The Department of Justice has also sought assistance from the National Bureau of Investigation (NBI).
Ombudsman begins GCTA probe
The Office of the Ombusdman has formally started looking into sacked Bureau of Corrections (BuCor) chief Nicanor Faeldon and other jail officials over the GCTA row.
Pursuant to the mandate of the Office of the Ombudsman to prioritize complaints involving grave offenses, Ombudsman Samuel Martires has directed its investigators to undertake a thorough and expeditious investigation on the matter.
"As of press time, investigators have already obtained raw data and pertinent documents from the BuCor. Meanwhile, documents are also being gathered from the Department of Justice, Senate and other relevant agencies," Martires said.
At a press conference Wednesday night, President Duterte called on the ombudsman to conduct an investigation on the incident and file the appropriate charges in court against the BuCor officials who may be found liable.
Martires also called on the Presidential Anti-Corruption Commission to defer to the jurisdiction of the ombudsman to handle the investigation "in order to avoid any possible conflicting findings" after the body expressed plans to investigate.
"Since the ombudsman has assumed jurisdiction over this case, no other agency is allowed to conduct a parallel investigation unless so authorized by the ombudsman pursuant to law," Martires said.
'Recapture anchored on jurisprudence'
Sen. Sonny Angara and Secretary Guevarra yesterday said the President's order to recapture the convicts released based on a now-invalidated interpretation of the GCTA law had legal basis, citing Supreme Court (SC) rulings.
"They are being ordered to voluntarily surrender within 15 days. If they don't, they'll be considered liable for evading sentence and that's a continuing offense that provides a venue for warrantless arrest," Guevarra explained.
The DOJ chief stressed that those who would not surrender could actually be considered fugitives.
Guevarra also cited two rulings of the SC – in City Warden of Manila City Jail vs. Estrella in 2011 and People vs Tan in 1967 – in justifying the Palace's position.
In the first case, the SC upheld the re-arrest of 22 prisoners due to incomplete service of sentences. The second case involved the wrong procedure applied in GCTA grant.
Still, Guevarra said there is also the other, more tedious option of going to court to secure arrest warrants against the released heinous convicts.
Angara said questions regarding the order of the President to rearrest the prisoners should best be taken to the SC.
Former SC spokesman Theodore Te, however, stressed that sending back heinous crime convicts to prison is "prohibited by the Constitution as an ex post facto application of law."
He added that the GCTA law, "even if applied erroneously but in good faith to unqualified inmates, cannot justify sending back to jail those who were set free."
Convicts out of country
Sen. Panfilo Lacson felt that stopping the convicts from fleeing the country should be prioritized.
"What if some of them would attempt to leave the country, of course, an HDO (hold departure order) is beyond your authority. Nobody can issue an HDO except the courts. But ILBu (Immigration Lookout Bulletin) is within your authority, have you issued?" Lacson asked Gueverra.
Guevarra assured the senator that the list of the released convicts has been sent to the Bureau of Immigration.
Asked what the government would do to convicted foreigners released early even if they are not qualified to avail themselves of GCTA, presidential spokesman Salvador Panelo said the Philippines may communicate with law enforcers from other countries.
Chinese drug traffickers were among those who walked free because of the GCTA law.
"Even if we have no extradition (treaty with that country), we can write and ask police authorities… It will be favorable to them," Panelo said in a press briefing.
GCTA hearings to continue
The hearings on the GCTA will continue, according to Senate President Vicente Sotto III, who said the DOJ and the Department of the Interior and Local Government will take action on the current Implementing Rules and Regulations of the GCTA that is "being abused."
"We have received disturbing information concerning many officials and not just a few. Our sources are willing to testify although there are some conditions that have to be met, so we will know within the day if they would want to come but in an executive session or approach the chairman of the BRC or justice," Sotto said.
Angara said there was a general impression among the senators that "there's an awful lot of discretion on the part of BuCor officials" when it comes to determining GCTA for the early release of prisoners.
He cited the existence of Department Order 953, which requires approval of the justice secretary for the release of inmates sentenced to life imprisonment or reclusion perpetua or high risk inmates recommended for release due to expired sentences.
It appears that the released prisoners did not go through this process so "there's really merit that they should not have been released."
Arguments have been raised about how the grant of GCTA cannot be revoked under Article 99 Section 3 of Republic Act 10592, but this was disputed by Angara.
Panelo, also chief presidential legal counsel, said the release of heinous crime convicts was void ab initio or void from the start because they are not covered by the GCTA law.
"The fact remains that the basis for their release has no legal justification. Hence, it is void ab initio and therefore the sentence remains and so they can be re-arrested because they have not served fully their sentence insofar as those who are disqualified from availing of the benefits of Republic Act 10592," the presidential spokesman said.
Panelo claimed there is no need to wait for the court to invalidate their release.
Separate prison
Heinous crime convicts should have a separate prison facility to keep them from influencing general population inmates and for more orderly penitentiaries, Senate Majority Leader Juan Miguel Zubiri and Sen. Gordon claimed.
"Heinous crimes," as defined by Republic Act 7659, are described as "heinous for being grievous, odious and hateful offenses and which, by reason of their inherent or manifest wickedness, viciousness, atrocity and perversity, are repugnant and outrageous to the common standards and norms of decency and morality in a just, civilized and ordered society."
Gordon said his Senate Bill 983 provides that the heinous crime penitentiary "will house the most dangerous, vicious and violent criminals."
"The well-off prisoners and leaders of syndicates continue to live a luxurious life within the confines of our prison system. Worse, others continue their nefarious and illegal activities such as drug dealing inside the prison cell, in cahoots with prison personnel. It perpetuates the belief that there are two faces of justice in the country, justice for the poor and justice for the rich," Zubiri said in his Senate Bill 1004. – With Paolo Romero, Alexis Romero, Edu Punay, Robertzon Ramirez, Jaime Laude, Romina Cabrera, Cecille Suerte Felipe