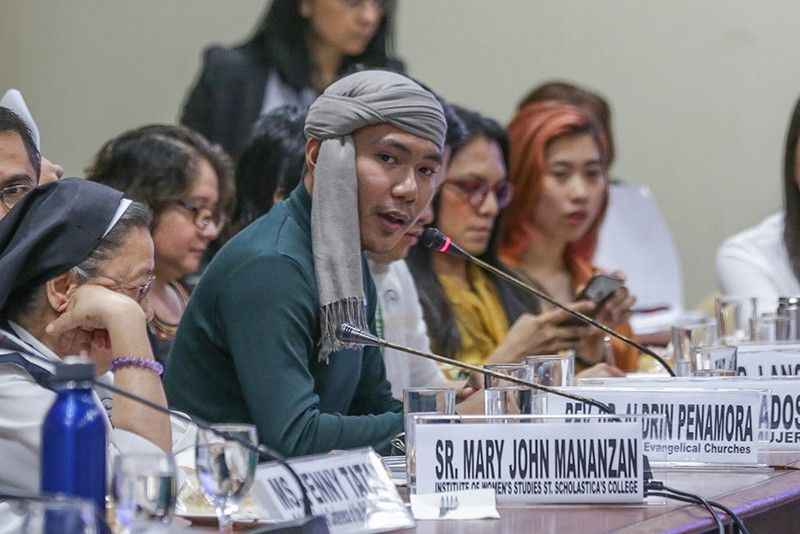 Rhadem Morados of Mindanao Pride Core attends the Women, Children, Family Relations and Gender Equality committee hearing on S. Nos. 159, 412 and 689 - Anti-Discrimination Act chaired by Sentor Risa Hontiveros in the Senate on Wednesday, September 4, 2019.
The STAR/Geremy Pintolo
'SOGIE bill to protect LGBT Muslims in Mindanao from discrimination'
MANILA, Philippines — Passing the SOGIE Equality Bill would bring attention to the plight of LGBT Muslims in Mindanao who are experiencing more extreme discrimination and would provide protection for them, a member of the Muslim community told a Senate panel Wednesday.
LGBT Filipinos still face discrimination despite seemingly high tolerance in the predominantly Catholic Philippines, prompting some lawmakers to file a bill that would penalize discrimination based on a person's SOGIE, or Sexual Orientation, Gender Identity and Expression.
At a Senate hearing on the SOGIE bill, Rhadem Morados, a member of the Mindanao Pride Core, urged senators to pass the measure to protect gay Muslims in the restive Mindanao region from discrimination.
'Discrimination worse than in Luzon'
Morados said he heard stories about LGBT Muslims in Mindanao undergoing "conversion therapy" through forced marriages and military training, adding that discrimination in Marawi City alone got worse when the principal Islamic City was attacked by terrorists last year.
He said some locals blame the growing number of LGBT Muslims for the five-month siege that flattened Marawi, putting LGBTs there on the receiving end of violence and discrimination.
"We should really put into consideration that the lives and human dignity of LGBT in Mindanao are far worse compared in Luzon," Morados said.
"And I think the SOGIE Equality Bill will help out that these communities should be protected from violence," he added.
'SOGIE bill to address commonality of religions'
Senate President Senator Vicente Sotto III — a religious conservative — had said the SOGIE bill has no chance of passing the upper chamber, arguing that the proposed measure supposedly tramples upon women's rights, academic freedom and religious freedom.
While there are city ordinances that protect the rights of the gay community, activists have expressed concern that the absence of an anti-discrimination legislation for LGBTs and stiff opposition from religious groups and conservative senators could offset any progress made at the local level.
At Wednesday's Senate hearing, Morados said the SOGIE bill would unite religions to fight discrimination.
"At the end of the day, there are religious policies of Islam that do not agree with the Christian religious policies and Christian policies that do not adhere to Islam policies and also to the indigenous policies," he said.
"But the SOGIE bill will address the commonality which is to protect everybody regardless of faith, gender and race," he added.