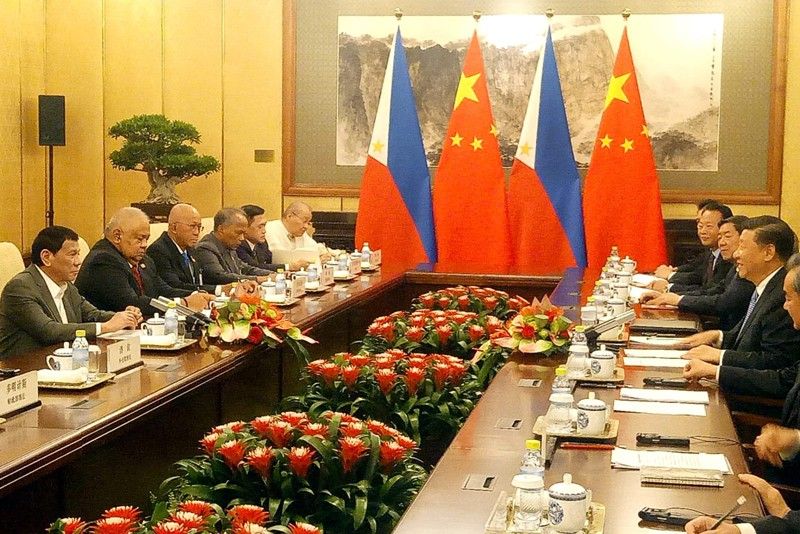 President Duterte and Chinese President Xi Jinping, seated across the table, witness the signing of bilateral agreements by their officials in Beijing last night.
'China can't dictate online gambling ban on the Philippines'
BEIJING – China cannot impose its position on online gambling on the Philippines, Manila's top diplomat here said yesterday, noting that a sweeping ban on offshore gaming could drastically affect the Philippine economy.
"They can't dictate on us. Those are sovereign decisions... That is where we stand," Ambassador Jose Santiago Sta. Romana said at a press briefing here. "He (Duterte) will say it's legal in the Philippines."
Asked if that would mean rejecting China's call to ban online gambling, the envoy replied: "No, that's not rejecting. It's explaining the difference."
China has asked the Philippines to ban online gambling, saying it fuels crimes like money laundering. It has also expressed concern over the supposed "modern day slavery" being experienced by Chinese nationals working in Philippine offshore gaming operation (POGO) hubs.
The workers are confined at certain places and are subjected to extortion, physical abuse and torture, China claimed.
He said President Duterte was ready to discuss the Philippines' position on online gambling with his Chinese counterpart Xi Jinping.
The two leaders were scheduled to meet here Thursday night.
Sta. Romana said the Philippines cannot take drastic measure against POGOs given their impact on the economy.
"For me, I think the key is for the President to be ready to explain, you know. And it will have an economic impact on us. So if we are to do it, we want a soft landing," Sta. Romana said.
"We don't want a drastic, you know, impact that will adversely affect our economy. As a matter of fact, we are already trying it. We're trying to regulate, to tighten the screws, so to speak, and to monitor," he added.
The Bangko Sentral ng Pilipinas and the Anti-Money Laundering Council are now looking into the effect of offshore gaming operations in the economy. The Bureau of Internal Revenue has also been directed to ensure that POGOs are paying the right taxes.
"All of these are meant to keep it within bounds. And then with the Chinese now taking their position, it's possible to (impact) business. We will now have to downsize to an appropriate level that will be supported by the market that is available," he added.
Online gaming operators in the Philippines employ about 130,000 Chinese nationals.
"So there are some leakages that we are trying to plug and hopefully to tax them, to regulate them, and to bring it to a reasonable level because the increase was just too much, you know, and it was concern early on for us," Sta. Romana said.
Despite Manila's and Beijing's opposite stance on online gaming, Sta. Romana said the two countries can cooperate in certain areas including law enforcement.
The ambassador said Filipino police officials met with Chinese authorities two weeks ago to discuss cooperation in cracking down on criminals targeting Chinese nationals in the Philippines. Some of the criminals are into online gambling while others are Filipino gun-for-hire syndicates.
"So both are interested to crack down on this. So that's an area of commonality. Well, the difference is that in China gambling whether online, offline, whatever, is illegal. In the Philippines, it is legal," Sta. Romana said.