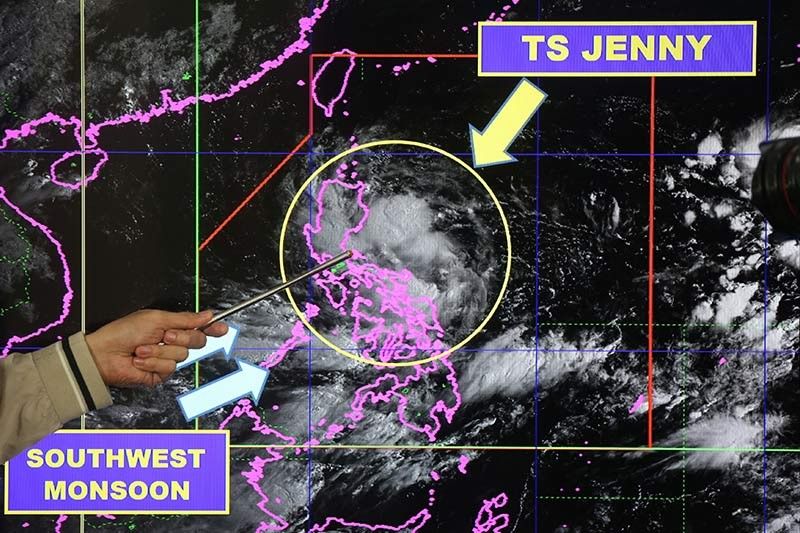 In this Aug. 27, 2019 photo, a PAGASA weather forecaster shows the position of Tropical Storm Jenny which is seen to make landfall over Aurora province Tuesday night or Wednesday morning.
The STAR/Michael Varcas
'Jenny' has made landfall over Aurora. What can affected areas expect?
MANILA, Philippines — Tropical Storm Jenny made landfall Tuesday over Casiguran, Aurora at 10:40 p.m. and has weakened into a tropical depression.
Where is 'Jenny' now?
Tropical Depression Jenny is in the vicinity Casiguran. It is now weaker than the maximum sustained winds of up to 65 kph and gustiness of up to 90 kph it had at 10 p.m. when it was still categorized as a tropical storm. It was recorded to be moving west-northwestward at 35 kph before it hit land.
Where is the most rainfall expected?
Between Tuesday night and Wednesday morning, PAGASA in its 11 p.m. severe weather bulletin forecast intermittent to frequent moderate to heavy rains over seven areas. These are Ilocos, Cordillera Administrative Region, Cagayan, Isabela, Quirino, Nueva Vizcaya and Aurora.
Moderate rainfall means between 2.5-7.5 mm of rain per hour or 2.5-7.5 liters of water per square meter per hour.
Heavy rainfall, meanwhile, means the downpour ranges between 7.5-15 mm of rain per hour or around two gallons of water per square meter per hour.
Where is the least rainfall expected?
Although up to heavy rains are also expected until Wednesday morning over Metro Manila, Calabarzon, Mimaropa, Western Visayas, Zamboanga Peninsula, and the rest of Cagayan Valley and Central Luzon, these will only be intermittent. PAGASA also forecast light to moderate rains occurring in these areas.
Where are Tropical Cyclone Wind Signals raised?
Signal No. 2 is up in 10 provinces where potentially strong winds between 61 and 120 kph in at least 24 hours may be experienced. As of 11 p.m. on Tuesday, areas under this signal warning are Isabela, Aurora, Quirino, Nueva Vizcaya, Mountain Province, Ifugao, Benguet, Ilocos Sur, La Union and Pangasinan.
Meanwhile, areas under Signal No. 1 where winds between 30 and 60 kph within 36 hours are expected include Cagayan, Apayao, Abra, Kalinga, Ilocos Norte, Nueva Ecija, Tarlac, Zambales, Bataan, Pampanga, Bulacan, Metro Manila, Rizal, northern portion of Quezon including Polillo Islands and Alabat Island, Cavite, Laguna, Camarines Norte, northeastern portion of Camarines Sur and Catanduanes. Gusty conditions may occur over areas under Signal No. 1.
PAGASA warned that sea travel remains risky over the seaboards of areas under TCWS, Batanes and Babuyan Islands due to potentially rough sea conditions.
How are areas under TCWS preparing?
The Isabela provincial government and some areas in Cagayan and Quirino have enforced a liquor ban to prevent deaths due to drowning as they anticipate that the cyclone's landfall would trigger landslides and flash floods.
The National Risk Reduction and Management Council raised a blue alert at 3 p.m. on Tuesday which means 50% of its disaster personnel must be at their posts at any time.
In Metro Manila, the National Capital Region Police Office was placed on standby to assist in rescue efforts. Metro Manila's top cop Guillermo Eleazar said they would also conduct "Libreng Sakay" operations to ferry stranded commuters to their destinations.
When will 'Jenny' exit PAR?
The tropical depression is seen to be outside the Philippine area of responsibility by Wednesday. It is forecast to be 550 km west-northwest of Iba, Zambales, outside PAR, by Wednesday evening.
By Thursday evening, it is projected to be 810 km north-northwest of Pagasa Island, Palawan.
What's the weather like after 'Jenny' leaves PAR?
Between Wednesday morning and Thursday morning, PAGASA forecast light to moderate with intermittent to occasional heavy rains over Western Visayas, Mindoro Provinces, the northern portion of Palawan (including Calamian and Cuyo Islands), Zambales and Bataan, this time due to the southwest monsoon or habagat.