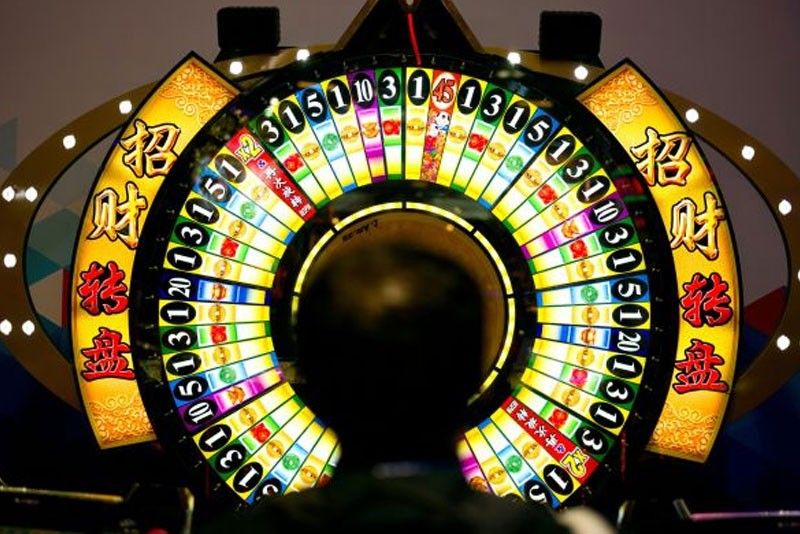 The Chinese Foreign Ministry said offshore gaming is "the most dangerous tumor in modern society."
AFP
China urges Philippines: Ban all online gambling
MANILA, Philippines — China has urged the Philippines to ban all online gambling as Beijing welcomed the suspension of the issuance of new licenses for Philippine offshore gaming operations (POGO).
The Chinese Foreign Ministry said offshore gaming is "the most dangerous tumor in modern society."
"We have also taken note of the Philippine government's announcement and appreciate it. We hope the Philippines will go further and ban all online gambling," Chinese Foreign Ministry spokesperson Geng Shuang said at a press conference on Tuesday in Beijing.
"We hope it will further strengthen law enforcement with China and jointly tackle criminal activities including online gambling and cyber fraud. This will help create an enabling environment for the development of bilateral relations and peace and stability in the region," he said.
Presidential spokesman Salvador Panelo told reporters yesterday a total ban on POGO would be up to Duterte.
"We have to ask the President on this policy or issue. Hindi natin alam kung may possibility or wala," Panelo said yesterday.
He said that online gambling is legal in the Philippines.
The Philippine Amusement and Gaming Corp. (Pagcor) announced it would temporarily stop accepting applications for Chinese-manned POGO licenses amid concerns raised over the online gambling firms.
Pagcor chair and chief executive officer Andrea Domingo said POGO license applications have been suspended effective immediately.
The moratorium, Domingo said, will last through at least the end of the year.
Currently, there are 58 POGOs licensed by Pagcor to operate in the country.
Domingo said Pagcor would only accommodate three pending applications, which may bring the number up to a maximum of 61.
Aside from the Philippines, Cambodian Prime Minister Hun Sen had also recently issued an order to stop the issuance of online gambling licenses in Cambodia.
Geng said China highly appreciates Cambodia's decision to ban online gambling.
"We believe it will help protect both Cambodian and Chinese people's interests. It will also strengthen our law enforcement cooperation and friendly relations," Geng said.
He said this year China and Cambodia would work and cooperate to take effective measures to deepen law enforcement and security cooperation "to the benefit of our peoples."
The notice came less than two weeks after the Chinese embassy in Manila said that online gaming networks targeting citizens in countries where gambling is illegal must be punished.
The embassy also expressed grave concern over a proposal of Pagcor to transfer Chinese nationals working in POGOs to "self-contained" communities or hubs.
In a statement, the embassy said the move by Pagcor may infringe on the basic legal rights of the Chinese citizens concerned.
The embassy strongly urged the Philippine to effectively protect the legitimate rights and interests of Chinese citizens in the Philippines.
Any form of gambling by Chinese citizens, including online gambling, gambling overseas, opening casinos overseas to attract citizens of China as primary customers, is illegal under Chinese laws and regulations.
But a large number of Chinese citizens have been illegally recruited and hired for the POGOs and also for Philippine casinos.
The embassy said many of the Chinese citizens working illegally in Philippine casinos or POGOs and other forms of gambling entities are subjected to what media described as modern slavery due to severe limitation of their personal freedom.
PNP satellite offices
The Philippine National Police (PNP) has set up a satellite office near casinos and POGO hubs in Parañaque City following a a spate of gambling-related kidnapping incidents involving Chinese nationals.
PNP Anti-Kidnapping Group (AKG) spokesman Lt. Col. Elmer Cereno said the satellite office was set up about two weeks ago.
It is strategically situated near casinos and gaming hubs not only in Parañaque but also in Pasay City to ensure a faster response in case of reports of kidnapping in the area.
The satellite office is operational 24 hours a day and manned by 10 police officers.
"The casino operators could just call that office and our personnel will respond quickly," Cereno said.
Aside from putting a satellite office, the PNP has also deployed intelligence operatives inside casinos.
The AKG documented 19 casino-related kidnapping incidents from January to August this year, higher compared to 16 cases during the same period last year.
A total of 39 Chinese were arrested for kidnapping their fellow Chinese, compared to 17 suspects last year.
The number of Chinese victims this year is 15, slightly lower compared to 17 the previous year.
Since 2017, the AKG has documented 53 casino-related kidnappings and 120 Chinese nationals were arrested.
The presence of thousands of Chinese workers in POGOs close to key military camps might not only cause security problems but also social problems later.
Defense Secretary Delfin Lorenzana said thousands of these Chinese nationals, whom he described as millennials, have swarmed close to key military facilities.
"There are so many of them here already… their number is by the thousands and aside from some concerns that they might engage in espionage operations, social problems might crop up while they're in the vicinity of the camps," Lorenzana said.
One military official said that in some instances, these Chinese workers are so loud and boisterous which might lead to conflict with the locals.
Lorenzana said that he intends to bring this concern up with Pagcor and the government economic cluster, as POGO operations are bringing substantial income to the country.
He also agreed with President Duterte's assessment that moving POGOs far from key military establishments will not deter the Chinese from conducting espionage operations if indeed some of these workers are also employed by Beijing's defense and security agencies.
However, to avoid social problems that may happen in the future, these Chinese workers are better off if their working places are not close to key military facilities.
"Because of the technology, they can still spy even if they are from afar… but it's better that they are away than very near or proximate to our camps," the defense chief said. – With Emmanuel Tupas, Jaime Laude