State workers may get new pay hike next year
August 22, 2019 | 12:00am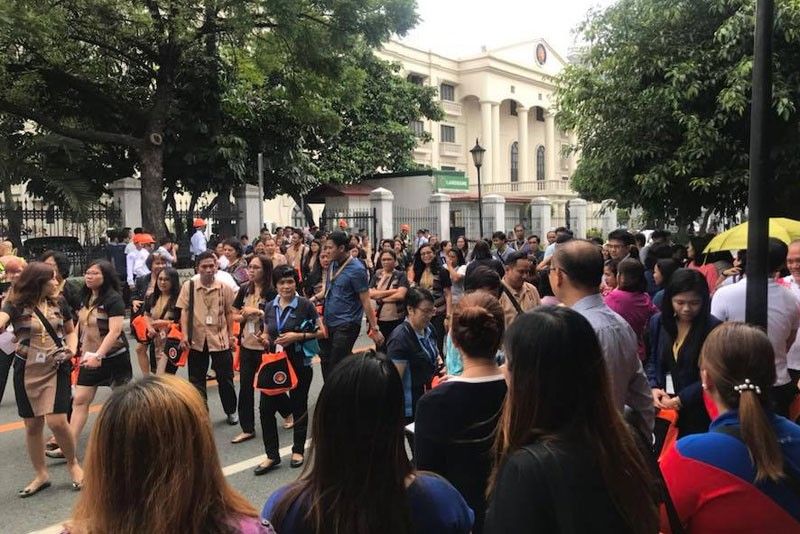 MANILA, Philippines — More than one million government officials and employees, including President Duterte, may get a new round of salary increase next year.
If the pay hike materializes, state workers will have received annual increases for five consecutive years.
And if such legislation were enacted, it would most likely be known as Salary Standardization Law (SSL) 5.
The latest four-year compensation adjustment program gave a substantial increase to officials, starting from lower and mid-level bureaucrats up to the President.
Former president Benigno Aquino III, who issued Executive Order No. 201 in 2016—modifying the salary schedule for civilian government personnel and authoring the grant of additional benefits for both civilian and military and uniformed personnel—did not benefit from the EO. His monthly salary was P120,000. It was his successor, Duterte, who benefitted, his pay going up to P166,000 in 2016, P222,000 in 2017, P298,000 in 2018, and almost P400,000 this year.
Aquino issued the order after the House and the Senate failed to approve the then proposed SSL-4 due to disagreement on whether the pay hike would cover military and police retirees. EO 201 thus became the equivalent of SSL-4.
Davao City Rep. Isidro Ungab, who chairs the House of Representatives committee on appropriations, yesterday said the proposed P4.1-trillion national budget for next year, which Duterte submitted to Congress on Tuesday, includes P31 billion for salary adjustments.
He said he would discuss with acting Budget Secretary Wendel Avisado tomorrow the details of the appropriation.
"Do they intend to have an across-the-board salary increase, meaning for all officials and employees? If yes, how do we do it, through a law passed by Congress or an executive order issued by the President? These are some of the things I would like to know," Ungab said.
He added that if a law is needed, the Department of Budget and Management could submit a proposal to the House, or his committee could draft a bill in consultation with DBM.
Government personnel are still receiving their last annual pay hike this year under the latest four-year salary increase program in the bureaucracy.
Cabinet Secretary Karlo Nograles confirmed the proposed SSL-5 will apply not only to public school teachers and government nurses but also include the highest pay grade, the Office of the President.
Nograles told the weekly Kapihan sa Manila Bay that President Duterte, who promised the pay hike to public school teachers and state nurses, would likely follow the example of his predecessors and not receive the pay hike while in office until June 30, 2022.
The salary of senators and congressmen, Cabinet members and those holding equivalent rank, justices of the Supreme Court, and constitutional commission officers jumped from P128,000 in 2016 to P295,000 this year.
In contrast, the lowest-paid state employee received a P1,590 pay hike over four years, with his salary increasing from P9,478 to P11,068.
Teachers, who comprise the single biggest group of personnel in the bureaucracy, and government nurses got a P1,677 adjustment over the same four-year period, from P19,077 to P20,754.
The President has repeatedly promised to increase the salary of teachers and nurses after he doubled the monthly pay of soldiers and policemen.
Meanwhile, the Alliance of Concerned Teachers (ACT), citing the 2020 proposed budget submitted to Congress, said that if it was divided among 1.2 million government employees, including the more than 700,000 public school teachers, this would amount to a "measly P1,845 monthly increase or P61 per day." – With Christina Mendez