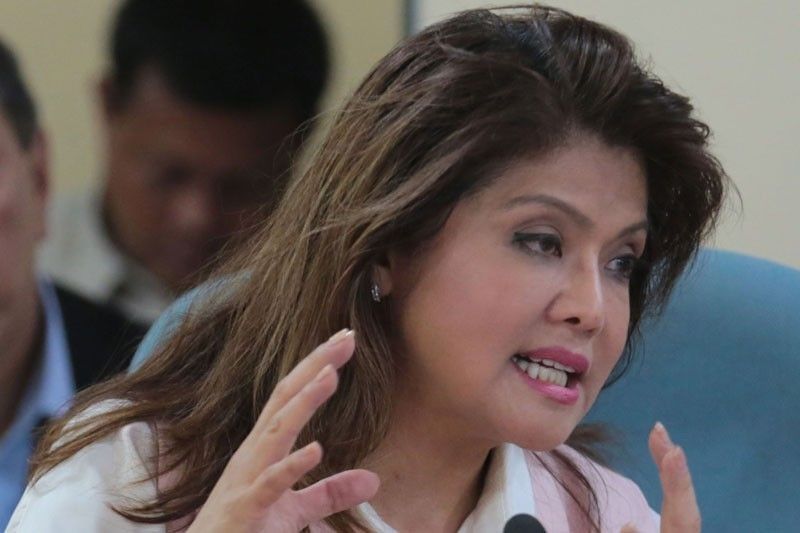 "The Anti-Subversion Act is a relic of the Cold War era," Sen. Imee Marcos said.
Michael Varcas/File
Imee Marcos bucks revival of anti-subversion law
Paolo Romero
(The Philippine Star) - August 21, 2019 - 12:00am
MANILA, Philippines — Her father had hundreds arrested and jailed for subversion. Now Sen. Imee Marcos thinks the santi-subversion law is a "relic" that does not need to be revived.
Instead, the eldest daughter of dictator Ferdinand Marcos is pushing for an update of the counterterrorism law or Human Security Act.
The 12-year-old Human Security Act (HSA) must be updated to cope with the "digital, transnational, and evolving nature of terrorism" and include other crimes that may be used to sow terror, Marcos said yesterday.
Marcos stressed the HSA must be "rebooted" to confront crimes in furtherance of ideology, religion, politics or economic gains rather than resurrecting the anti-subversion law.
"The Anti-Subversion Act is a relic of the Cold War era," Marcos said.
"It is not ideology but criminal acts that should be punished," Marcos said, explaining that updating and upgrading the country's anti-terrorism law would provide a "stronger legal instrument" than the Anti-Subversion Act of 1957.
In filing Senate Bill 630, Marcos said the new modes of terrorism, and what used to be mere predicate crimes are now main offenses punishable with life imprisonment or a possible death penalty.
She pushed for the approval of the bill to give more teeth to the HSA enacted in 2007.
"Terrorist activity in Philippine territory has become frequent and commonplace," Marcos said.
She cited the first recorded case of a Filipino suicide bomber in Sulu last July, and the conviction of two terror suspects, one of them Indonesian, earlier this year.
Unmentioned in the HSA are cyber attacks on computer systems which are considered punishable terrorist acts in the bill and would compel system providers to give custom information to law enforcers.
Recruiting terrorists and glorifying violent acts that sow fear and panic among the public or threaten the government or public services, whether done personally or through media, are also in the bill's roster of terrorist acts.
"Neither religion, ideology, politics, nor economic goals can excuse acts of violent extremism," Marcos said.
Naming the violent use of chemical, biological, radiological and nuclear material as terrorist acts will also harmonize national law with international agreements, she added.
Educational institutions found involved in terrorist indoctrination will have their licenses revoked, their officials made liable, and be immediately shut down.
The measure also provides for hold-departure orders on terror suspects and swifter access to their bank accounts by giving the Anti-Terrorism Council the authority to seek on its own a court order to open them. – Artemio Dumlao, Emmanuel Tupas