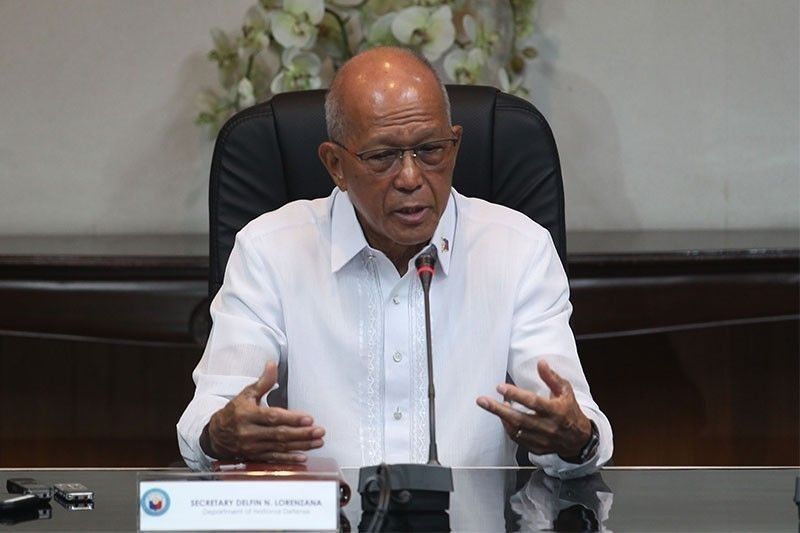 Department of National Defense Secretary Delfin Lorenzana earlier explained that he does not consider Philippine offshore gaming operations' presence as a threat but just alarmed by its proximity to military camps.
File
Lorenzana calls Chinese envoy's remark on OFWs 'spying' in China 'preposterous'
MANILA, Philippines — Defense Secretary Delfin Lorenzana on Sunday responded to the statement of China Ambassador Zhao Jianhua who asked how Filipinos would feel if the Chinese government would also be wary of the presence of Filipino workers there.
The Chinese ambassador made the statement after security officials and lawmakers raised concerns about spying amid the influx of undocumented Chinese workers in the country.
Zhao then responded and asked how Filipinos would feel about being viewed as spies.
Lorenzana, however, stressed that "POGO (Philippine offshore gaming operations) workers here are not comparable to Overseas Filipino Workers in China."
According to Lorenzana, Zhao's remark was the "most preposterous" statement he heard in a long while.
In his statement, Lorenzana enumerated the difference between POGO workers in the country and OFWs in China.
"POGO workers came over for a different purpose, e.g. likely just tourism, but eventually got visas to work in an activity at the POGO centers operating gambling operations which is prohibited in China," Lorenzana said.
"The OFWs go to China for specific work that's legitimate there with Chinese visas," he added.
Lorenzana also pointed out that "Filipinos are widely dispersed in China, working in homes and schools that are far from military camps."
"There are no POGO-like centers in China that can be operated purely by Filipinos near Chinese military camps," Lorenzana said.
"The POGO centers here, meanwhile, are very near military camps and naval bases."
Despite these differences, Lorenzana said the proximity of Chinese-dominated online gaming operations could be "just coincidental" as these were the only facilities offered for POGO operations.
He also believes POGO workers are in the country to work but he still expressed fear that they might be used for intelligence gathering.
Lorenzana said he is supporting the relocation of POGO centers to ecozones far from military bases.
"Knowing that Chinese Companies are mandated by the Chinese government to assist in intel collection for their government, it is not farfetched that individuals, likewise, could be compelled to do so," the DND chief said.
"What I am alarmed is the potential that they could be tapped for info gathering purposes," he added.
The Palace earlier downplayed security concerns raised by Lorenzana.
Presidential spokesman and Chief Presidential Legal Counsel Salvador Panelo said the problem is we are "too security conscious."
Panelo said the government would rather consider the position of National Security Adviser Hermogenes Esperon who said it would be better to know where the Chinese workers are than just letting them stay where they please.