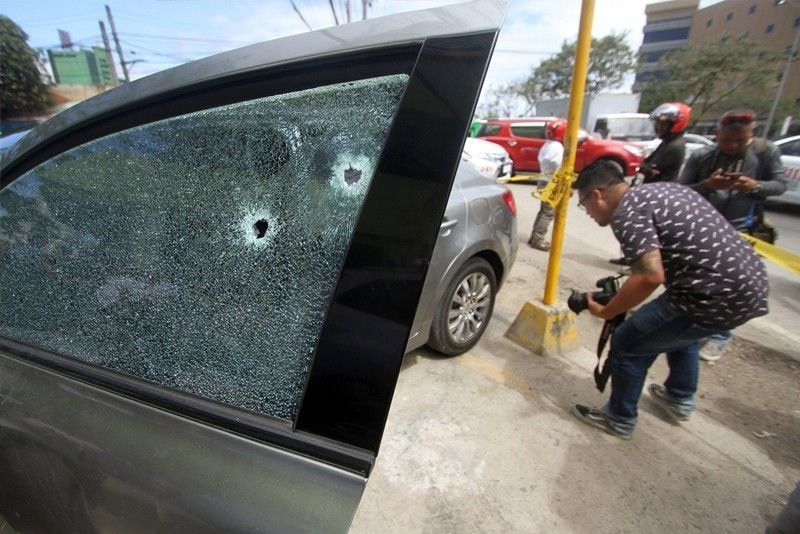 The victims were rushed to the Makati Medical Center and declared in stable condition.
File
2 BOC officers survive Makati ambush
MANILA, Philippines — Two Bureau of Customs officials were wounded after they were shot by unidentified men Friday night in Makati City.
Maj. George Ines, chief of the Makati police station investigation unit, said Maricon Manalo, 56, officer-in-charge of BOC's Formal Entry Division, was driving her gray Toyota Altis car with license plates DAH 1406, with Marietta Lasac, 60, principal appraiser of the Formal Entry Division, and office worker Cherelene Salazar as passengers, when they were shot by the suspects along Lapu-Lapu Avenue in Barangay Magallanes.
Ines said Manalo sustained gunshot wound in the left finger and Lasac in the body. Salazar was unharmed.
The victims were rushed to the Makati Medical Center and declared in stable condition.
Police have yet to identify the suspects or the motive for the shooting.
BOC Commissioner Rey Leonardo Guerrero has condemned the shooting and vowed to exhaust all legal remedies to ensure the arrest and prosecution of the suspects.
"The agency will extend the necessary support and assistance to its personnel. We enjoin all BOC employees to remain focused on our mission and pray for the speedy recovery of our colleagues," Guerrero said.
He said BOC's Intelligence and Investigation Service (CIIS) will closely coordinate with the Makati City police station in the investigation.
Probers said Manalo, Lasac, and Salazar were on their way home from the BOC office when the suspects' Toyota Wigo car blocked their vehicle along Lapu-Lapu Avenue.
Four suspects alighted from their vehicle and surrounded the victims' car.
Investigators said the suspects ordered them to get out of their car, but they refused. One of the gunmen tried to break the car's glass window at the side of Manalo.
Manalo backed the car in an attempt to escape, but the suspects opened fire at them.
The victims were able to ask for help at a nearby barangay outpost but the suspects had already fled. – With Robertzon Ramirez