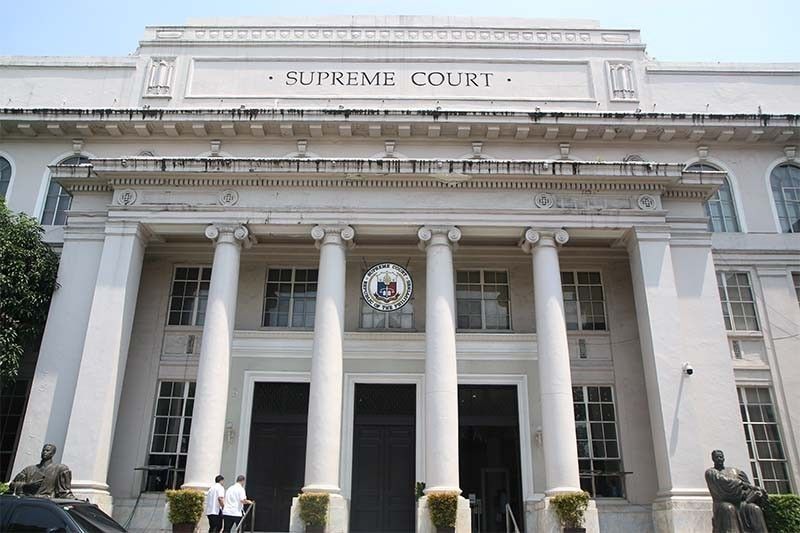 File photo shows Supreme Court building in Manila.
File
Supreme Court orders gov't to comment on Rappler petition vs Duterte coverage ban
(Philstar.com) - August 14, 2019 - 12:50pm
MANILA, Philippines — The Supreme Court has ordered the Office of the President and other government agencies to comment on the petition to lift President Rodrigo Duterte's ban against reporters of online news site Rappler.
In a notice of resolution dated August 14, the tribunal directed the Office of the President, Office of the Executive Secretary, Presidential Communications Operations Office, Presidential Security Group and Office of the Solicitor General to file their comments on the petition filed by Rappler and its reporters.
Last April, Rappler reporters filed a petition for certiorari before the high court to assail the chief executive's order to prohibit the news organization and its reporters from covering his public events.
The petitioners argued the ban is unconstitutional for violating the right to due process.
"Without prior notice or hearing, the president imposed the ban with no clear scope," they said.
The ban started on Feb. 20, 2018 when a member of the PSG barred reporter Pia Ranada from entering Malacañang complex.
On March 1, 2018, Duterte said in a speech that he is banning Rappler reporters. The announcement came a day after former presidential aide Christopher "Bong" Go, now a senator, said the news site delivers "fake news"—a comment often used for reports seen as critical of the administration.
Rappler stressed the petition is not just about the organization but "about every journalist's mandate to cover without prior restraint or threat of punishment the Office of the President and scrutinize the tremendous power it holds."
Interventions
The Supreme Court also allowed journalists from various media organizations to intervene in Rappler's plea to end the president's directive.
In their petition-in-intervention, the 41 journalists said Duterte's ban or Rappler reporters would also cover journalists who might publish stories which the president deems to be "fake news." They asked the SC to hold an oral argument on the case.
"Press freedom is a preferred right that stands on a higher level than substantive economic freedom or other liberties. As such, any attempt to restrict it must pass a high standard of constitutional scrutiny," the journalists said.
Among the petitioners include Melinda de Jesus, Vergel Santos and Luis Teodoro of Center for Media Freedom and Responsibility, broadcasters Tina Monzon-Palma, Solita Monson, Lourd de Veyra and columnists John Nery and Ceres Doyo.
The high court also granted the separate petition for intervention filed by media advocates led by artist-activist Bart Guingona, convenor of Media Nation. — Gaea Katreena Cabico with report from Kristine Joy Patag