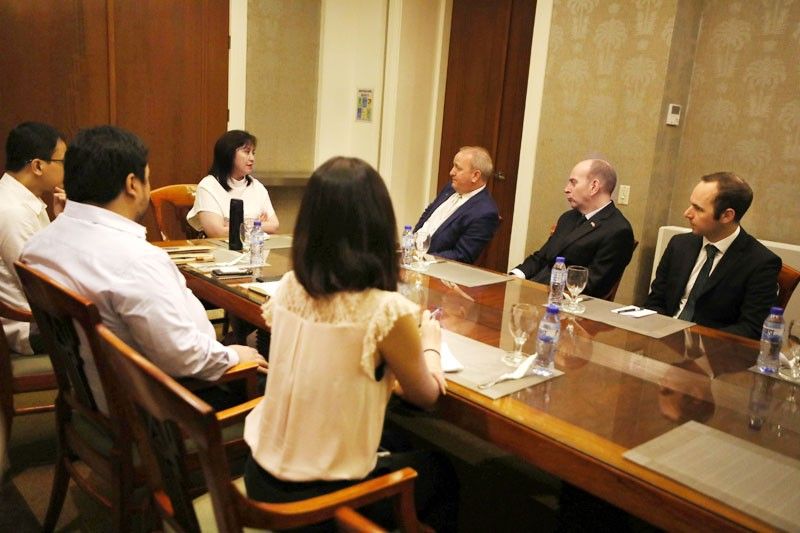 Vice President Leni Robredo speaks with Mark Pritchard, member of the United Kingdom Parliament for The Wrekin, UK Ambassador Daniel Pruce and Secretary Martin Norman of the British embassy in Manila during a courtesy call at her Quezon City reception house yesterday.
File
Leni keeps options open for 2022
Helen Flores
(The Philippine Star) - August 14, 2019 - 12:00am
MANILA, Philippines — Vice President Leni Robredo reiterated yesterday she is keeping her options open regarding the 2022 presidential race.
"If you ask me now, I have no plans, but I am leaving everything open," Robredo said in an interview with Bloomberg Television's Haslinda Amin.
"I wouldn't have run for the vice presidency if I didn't feel I was ready for the presidency," she said.
The 54-year-old lawyer entered politics as a congresswoman in 2013, a year after her husband, former interior secretary Jesse Robredo died in a plane crash.
Robredo at present is facing an electoral protest filed by former senator Ferdinand Marcos Jr., the son and namesake of the late dictator Ferdinand Marcos.
She defeated Marcos by more than 200,000 votes in the 2016 vice presidential elections.
Robredo, along with other opposition figures, is facing a sedition complaint filed by the Philippine National Police-Criminal Investigation and Detection Group.
The complaint was based on the allegations of Peter Joemel Advincula alias "Bikoy," who implicated members of the Duterte family in the illegal drug trade in the so-called narcolist videos.
In a June interview, Robredo maintained that the presidency is a matter of destiny.
"Everything is possible. But it's not something that is planned, I think it's destiny," she said.
"The presidential elections is still very far. In a year many things could happen, much more in three years," she said, citing her last-minute run for Congress in 2013 and the vice presidency in 2016.
Marcos had asked the Supreme Court (SC), sitting as the Presidential Electoral Tribunal (PET), to order the hearing commissioners to set the preliminary conference on the case.
Marcos filed the manifestation last Aug. 9, but a copy was only obtained by the media yesterday, an "extremely urgent motion to set this election protest for preliminary conference" that asked the "Honorable Tribunal to grant the foregoing motion, direct the designated hearing commissioners to immediately set the preliminary conference in the above-entitled case; and to duly note this submission."
Marcos said since the PET had already terminated the revision proceedings for the pilot provinces of Camarines Sur, Iloilo and Negros Oriental and the revision reports have been submitted, PET rules state that the PET may delegate the reception of evidence to a hearing commissioner who is a member of the Bar.
The petitioner said that while PET rules dictate the hearing commissioners should have set a preliminary conference together with the parties, no schedule has been set for this.
"Unfortunately, despite the lapse of more than five months since the termination of the revision proceedings for the pilot provinces in the election protest, the designated hearing commissioners of this Honorable Tribunal have yet to set the preliminary conference in this case for the purpose of fixing the date for the reception of evidence and the submission of the affidavits of the witnesses," the Marcos camp said. – With Evelyn Macairan