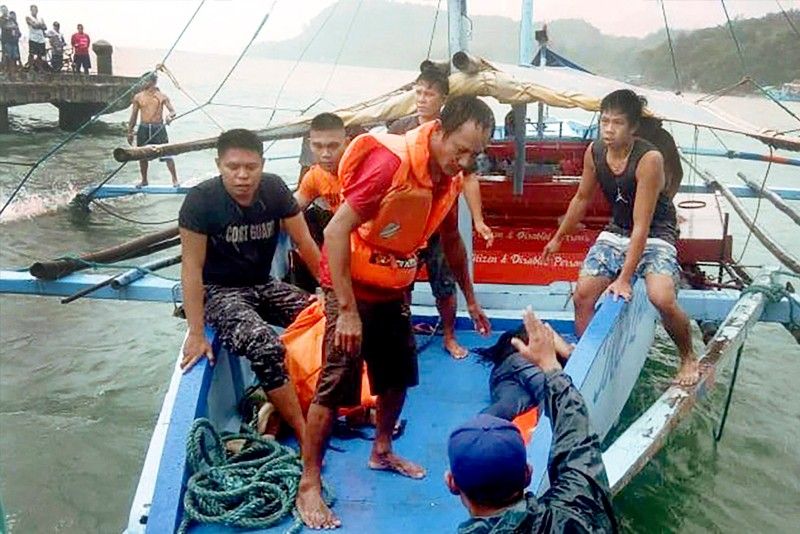 Photo provided by the Coast Guard shows rescuers preparing to unload a victim after being retrieved from the waters off Guimaras, Iloilo yesterday. More bodies have been plucked from the rough seas where three pump boats capsized.
Death toll in Iloilo sea tragedy hits 31
MANILA, Philippines — The death toll from three boats that sank off Iloilo last weekend has surged to 31 as rescuers continue to search for the missing, the Philippine Coast Guard (PCG) said.
PCG Western Visayas District commander Commodore Allan dela Vega yesterday said of the 96 total number of passengers and crew on board the three motorized boats, 62 survived and three remain missing.
Squalls tipped over the three wooden-hulled outriggers in the Iloilo-Guimaras Strait on Saturday as the rest of the country was battered by rains induced by the southwest monsoon.
The M/B Chi-Chi and M/B Keziah collided and capsized after they were hit by a squall and big waves caused by monsoon winds. The third boat, M/B Jenny Vince figured in a separate accident and also capsized.
The boats came from Iloilo City en route to Guimaras when they were hit by big waves in the Iloilo-Guimaras Strait on Saturday.
Dela Vega said there were only five crewmen onboard the Keziah when it was hit by a squall.
On the other hand, Chi-Chi had four crewmen and 43 passengers when it sailed. Out of the 47 occupants, 11 perished, 35 managed to survive but one remained missing.
As for Jenny Vince, it was carrying a total of 44 people consisting of four crew and 40 passengers when it departed port. The PCG said there were 22 survivors, 20 casualties and two still missing.
The PCG in Iloilo reported retrieving 10 bodies under the capsized Jenny Vince. Another body was fished out off Dumangas town.
Five of the 11 victims were still donning their life jackets, the PCG said.
The National Disaster Risk Reduction and Management Council (NDRRMC) said it is still validating information on the actual number of fatalities coming from other agencies, including the PCG and the Western Visayas police.
Maj. Joem Javier, spokesperson for the Western Visayas police, earlier said 25 people perished from the collision of Chi-Chi and Keziah.
He said 13 of the dead were from Keziah while 12 were passengers of the other boat. There were 55 survivors while six are still missing, Javier said.
A total of 55 other passengers and crew were rescued.
Javier said Jenny Vince was not carrying any passenger but its four crewmen survived.
Records from the Iloilo City Disaster Risk Reduction and Management Office showed there were a total of 87 passengers but only 75 were listed on the manifesto of the boats.
Survivors recounted how the sky suddenly turned dark midway on their trip followed by strong wind and rain that battered their ferries.
Authorities wondered why the third ferry, the Jenny Vince, was allowed to sail about three hours after two other ferries overturned almost at the same time at noon in bad weather.
Dela Vega explained their initial investigation revealed the boats sailed under good weather.
"When the boats left port, there was good weather," he said.
Dela Vega said the boats capsized because of a squall, caused by a sudden gust of wind that led to the collision of the two boats.
Officials said a good number of those who perished were visitors to Guimaras Island.
There were victims from Mandurriao, Iloilo City who went with family members for a gathering in Guimaras.
The fatalities from Jenny Vince, on the other hand, were mostly visitors and students.
Maria Nieves Grandiza survived the incident that claimed the lives of her three-year-old son Arnie and her fiancé, Romeo Baguio.
Grandiza, who hails from Guimaras province, visited her family along with several relatives of Romeo that asked her hand for marriage.
Around 10 of them were scheduled to travel back to Cebu.
Three were confirmed dead while five remained missing.
Another group of 10 visitors were also passengers of Jenny Vince.
Patrick Perales, 37, of Puerto Princesa City, Palawan, visited his wife in Buenavista, Guimaras.
His wife, Eden Perales, just arrived from Abu Dhabi, UAE where she worked as a teacher.
Eden did not survive, along with their two companions who hailed from other provinces.
Patrick said the trip had long been planned when his wife was still abroad.
They visited Iloilo and had been to Boracay before they visited Guimaras.
They were planning to cross Negros island before the incident happened.
"We were also planning to even tour Mindanao before this," Patrick said. – Jennifer Rendon, Michael Punongbayan, Emmanuel Tupas