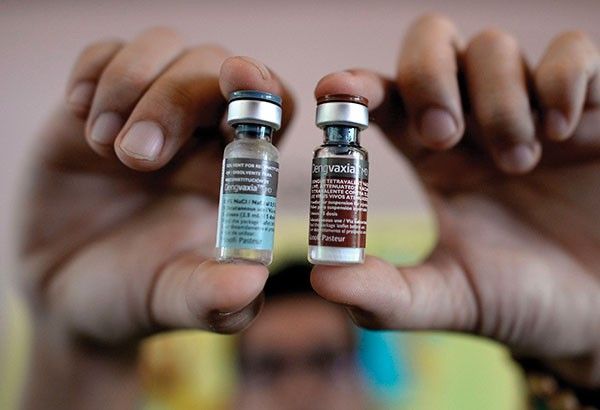 Presidential spokesperson Salvador Panelo said the dengue outbreak may be included in the agenda of Monday's Cabinet meeting in Malacañang.
AFP, File
Palace says Duterte to listen to DOH recommendation on Dengvaxia
MANILA, Philippines — President Rodrigo Duterte would listen to the recommendation of the Health department on calls to bring back the Dengvaxia vaccine program to address the dengue outbreak in the country, Malacañang said Sunday.
Presidential spokesman Salvador Panelo said there is a need to study the safety of the vaccine so the government could identify solutions to the rising dengue cases.
"He (Duterte) said this requires study because experts are not yet sure about (the safety of Dengvaxia). But he said he would listen to the recommendation of the Secretary of Health, he would listen to the doctors," Panelo said in a radio interview.
READ: Palace to set aside politics on Dengvaxia revival
Former health secretary and now Iloilo Rep. Janette Garin and doctors' group Doctors for Truth and Public Welfare have asked the government to make Dengvaxia available to physicians so they can offer it to patients.
The Duterte administration discontinued the P3.5 billion vaccination program after its manufacturer Sanofi found that Dengvaxia could raise the health risks of those who have not contracted the dengue virus. Health Undersecretary Eric Domingo previously said Dengvaxia's certificate of product of registration has been revoked permanently due to non-compliance with regulatory requirements.
Asked what the government would do to solve the dengue problem while the safety of Dengvaxia is being studied, Panelo replied: "Number one is prevention, Number two, for those who are sick, we will treat them."
READ: Beyond the Dengvaxia scare: Complacency, devolution of health system also account for measles outbreak
Panelo said there is a need for a test that would determine whether a patient had been sick of dengue.
"Dengvaxia can be used for patients who had dengue fever. That will surely help. The problem is how do we know if one had dengue or not? We need to have a test. If we have that, there's no problem. We can use that for those who have contracted dengue," the presidential spokesman said.
Panelo said the dengue outbreak may be included in the agenda of Monday's Cabinet meeting in Malacañang.
READ: How the Dengvaxia scare helped erode decades of public trust in vaccines
The Health department has recorded more than 106,000 dengue cases this year.