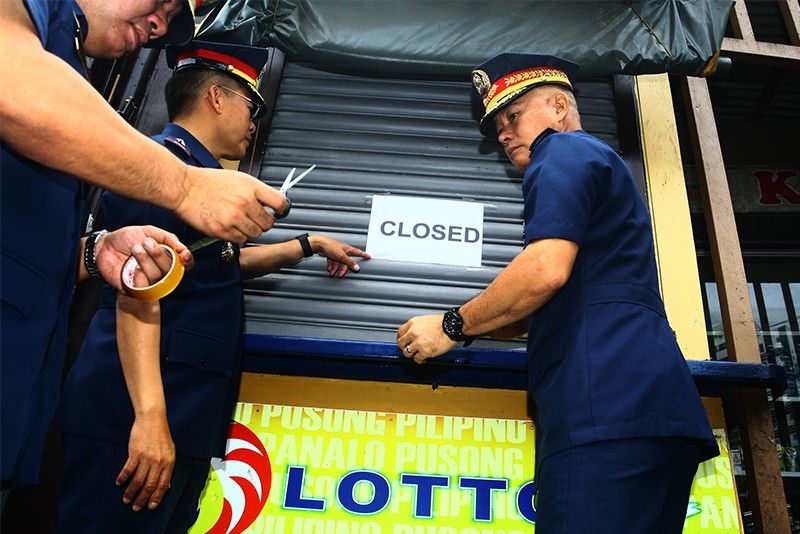 Philippine National Police chief Gen. Oscar Albayalde leads the closure of at least 12 lotto outlets and STL operator's offices in Baguio City on Saturday until noon as authorities around the country shut down STL, Lotto and other Philippine Charity Sweepstakes Office (PCSO)-sanctioned gaming operations with President Rodrigo Duterte's order the immediate half of all gaming schemes operated, licensed and franchised by the PCSO.
The STAR/Artemio Dumlao
PCSO shutdown: Breaking down key findings from COA report
(Philstar.com) - July 30, 2019 - 4:00pm
MANILA, Philippines — Even before President Rodrigo Duterte ordered the suspension of all gaming activities run by the Philippine Charity Sweepstakes Office due to "massive corruption," the Commission on Audit had flagged several irregularities within the agency.
In a videotaped message, Duterte gave the police and military 24 hours to remove PCSO-operated lotteries and games from public spaces.
Malacañang later said the presidential directive stemmed from the discovery of a "grand conspiracy" to "cheat the government of its rightful shares."
"The chief executive will identify the culprits in due time and the full force of the law will come crushing down on them," the Palace said.
Unremitted earnings, billions of shortfalls
The PCSO is the principal agency for raising funds for health programs.
PCSO generated a total of P63.5 billion revenue last year, up 20% from P52.9 billion in 2017. Bulk of the earnings came from its most patronized games — the Lotto and the Digit games — which gained 14% to P31.9 billion.
Forty percent of the charity fund and mandatory contributions of PCSO will be used to partly finance the expansion of universal healthcare in Philippines — which Duterte signed into law last February.
Here are some of COA's findings in its 2018 report:
Unpaid dues to national government - COA called out the PCSO for not paying the national government its share out of the agency's annual net earnings from 1994 to 2016.
State auditors said the arrears amount to P8.4 billion.
Under the law, all state-controlled corporations should declare and remit at least 50% of their annual net earnings to the national government as cash, stock or property dividends.
Deficit in required monthly STL proceeds - COA also discovered a shortfall amounting to P4.6 billion in the presumptive amount of monthly sales that authorized small town lottery (STL) agents are required to meet.
The deficit remained unsettled as of end-December 2018.
State auditors said had the shortfall in presumptive monthly retail receipts (PMRR) of STLs been promptly remitted to the PCSO, it could have been utilized to finance various charity programs.
P684.3 million yet to be transferred to charity fund – In the same report, COA found that a total of P684.3 million — which consists of forfeited prizes from Keno games from 2015 to 2017, as well as unutilized operating fund in 2017 — were not yet transferred to PCSO's charity fund.
Under the PCSO charter, unclaimed prizes should be used to augment the agency's fund for various charity programs.
Non-compliant STL agents still operate – According to COA, there were three authorized agents that were allowed to operate STLs in 2018 despite their failure to fully settle the required cash bond cumulatively worth P106.3 million.
The non-compliant STL operators also had a total PMRR shortfall of P1 billion as of end-December 2018.
Had their cash bonds deficiencies been fully settled, the money could at least cover whatever PMRR shortfalls the STL agents would incur in the event of a default on remittance, COA said.
Failure to submit contracts to COA in time – State auditors said they did not receive copies and supporting documents of 25 contracts by PCSO in 2017 and 2018 within five working days upon execution thereof, preventing COA from conducting a timely review of the contracts.
Claims with questionable supporting documents – COA said 101 cases amounting to P2.2 million claims from PCSO were not supported with valid identification cards of the patients and representatives.
Duterte vs COA
Duterte — whose campaign promises include fighting corruption — had repeatedly lashed out at COA, which plays a critical role in safeguarding public funds.
In September last year, Duterte slammed COA after then Ilocos Norte Gov. Imee Marcos told him that the agency was making it hard for the provincial government to release cash advances intended for the procurement of construction materials for typhoon rehabilitation projects.
Duterte then asked local officials to defy COA's "cock-eyed" circulars. The president even told Marcos to push the state auditor down the stairs.
Last January, Duterte sparked outrage anew for joking about kidnapping and torturing state auditors who find fault in government projects.
While the COA has chosen to ignore Duterte's tirade against its state auditors, United Nations Undersecretary-general Heidi Mendoza — a former COA commissioner — hit the president over his supposed ignorance of the commission's mandate.
READ: Latest Duterte joke: 'Kidnap, torture COA auditors'
— Ian Nicolas Cigaral