60-day deadline for mayors to clear roads starts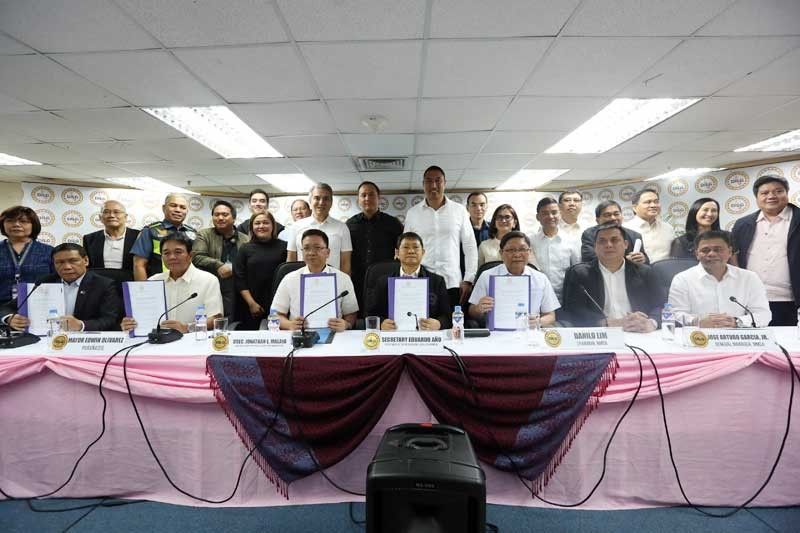 MANILA, Philippines — Time is ticking to clear the roads of all kinds of obstructions as the 60-day deadline given to local executives has started.
The Department of the Interior and Local Government (DILG) issued Memorandum Circular 2019-121, which gave all local government units 60 calendar days starting yesterday to reclaim public roads from private use.
Under the circular, local executives were ordered to achieve "significant results" in clearing their streets of obstruction, including those portions used as parking spaces for vehicles, basketball courts, vendor stalls and, in some cases, barangay halls.
Interior Secretary Eduardo Año said the circular gives teeth to President Duterte's order issued during his fourth State of the Nation Address (SONA) as this will impose sanctions on non-compliant local executives.
Officers who fail to comply could be slapped with administrative charges that include dereliction of duty and negligence. They could also be meted with at least two months' preventive suspension pending investigation.
While the government is prioritizing the clearing of principal and secondary roads within the 60-day period, it will subsequently target tertiary roads and residential areas.
Duterte, during his SONA, called out local governments to "reclaim public roads" that have been used for private purposes in a bid to ease traffic congestion.
A 45-day deadline was originally set but some Metro Manila mayors asked for more time to clear their roads.
Año said the extended deadline would provide for uniform implementation and give LGUs reasonable time to act on the clearing operations and rehabilitate the recovered public roads.
Cities were also directed to prepare a road inventory in their respective jurisdictions.
In response, Quezon City Mayor Joy Belmonte formed a task force to comply with the directive. She also met with the heads of the city's 142 barangays to direct them to comply with the deadline.
She asked for their help as she reminded them of sanctions if they fail to deliver on the responsibility to do their part in the clearing operations.
"I am not confident at all, I am very nervous. But it is an assignment given to me. I cannot make excuses. I have to be very confident that we will be able to deliver. We have to show that we have the political will that any order given, we will do our best to make it happen," Belmonte said.
She admitted that she was the one who pleaded for the 60-day deadline, instead of the initial 45-day countdown, as she reasoned that a longer time would allow her to clear the streets with a more all-of-government approach to not only address traffic congestion but other issues as well.
Caloocan City Mayor Oscar Malapitan also tasked public safety and traffic management head Gilberto Bernardo to clear the streets – especially those in the Bagong Silang, Tala, Malaria, Camarin, Maligaya, Vicas and Bagumbong areas – of illegal vendors, illegal terminals and illegal parking.
Metropolitan Manila Development Authority (MMDA) general manager Jose Arturo Garcia said about 30 percent of the roads in the National Capital Region were obstructed.
Police Maj. Gen. Guillermo Eleazar said they are ready to provide police assistance during clearing operations. – With Marc Jayson Cayabyab