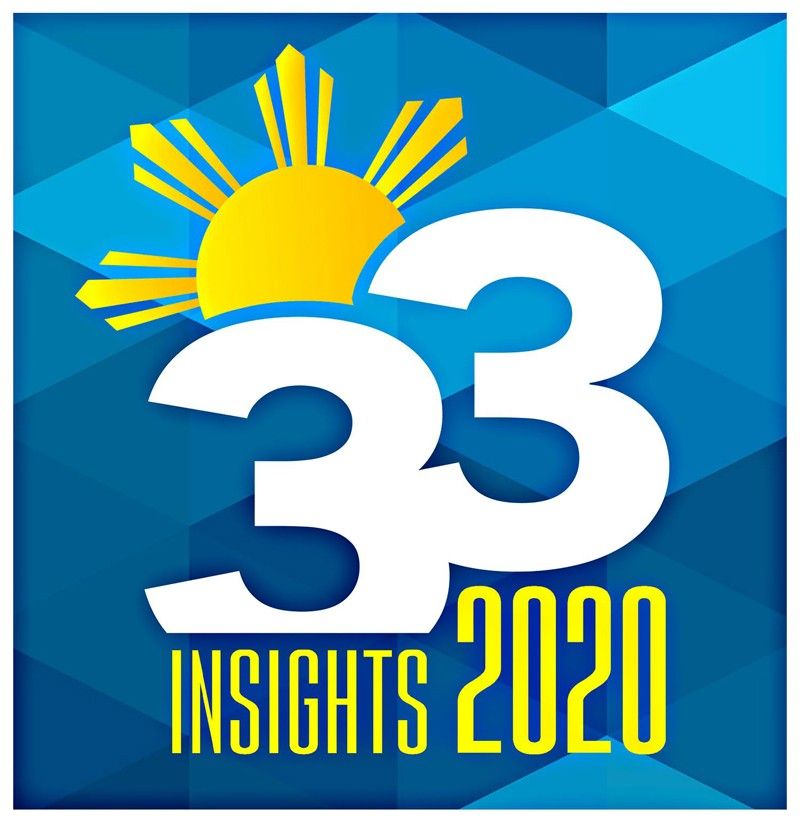 As a vanguard of and conduit in nation-building, Insights 2020 examines the facets that make the country of greats not necessarily a great nation.
STAR at 33: Insights 2020
MANILA, Philippines — Human visual acuity is simply known as 20/20. This vision allows one to see objects in all their clarity and sharpness.
It is with the same clarity of vision and sharpness of insight that The Philippine STAR heralds 2020.
"Insights 2020" is the theme of The STAR's 33rd anniversary as it presents stories and thought pieces in its 176-page commemorative issue today, penned by over 60 writers (including two National Artists and a Cabinet secretary) to tackle greatness, mediocrity and everything in between.
As a vanguard of and conduit in nation-building, Insights 2020 examines the facets that make the country of greats not necessarily a great nation. After all, the dawning of a new decade is a good time to assess the progress and derail taking place in the country.
With the clarity of his vision, National Artist for Literature F. Sionil Jose cuts through the Filipino psyche and presents a tapestry of our national identity made loose and firm by the travesty of the past, the complacency of the present and the projected growth of the future.
"Five hundred years ago, as the Spaniards found out, we were already a divided people fighting one another. And today that divide still exists. We are still fighting one another, sometimes as ferociously as our ancestors had," Sionil writes.
He adds, "All the problems of growing up bedevil us now. They are sometimes compounded by difficulties beyond our control. But we have shown unity in our aspiration for freedom and justice. Previous generations have shed blood for the survival of this republic. We will perhaps continue to suffer for it, but as our history has shown, we are a people that endures and prevails."
The Filipino spirit prevails because it is pliant. This is seen in the smallest unit of society, the family. In a household that sees tears and joys mixed in one breath – especially when a family member needs to leave to seek opportunity overseas – the family remains digitally connected albeit fragmented.
"The integration of digital communication technologies into the everyday lives of the transnational Filipino household has paved the way for new practices and strategies to reclaim family life despite physical separation," writes Earvin Charles Cabalquinto.
If there are over 10 million OFWs who help fuel the economy of the country, there is also a billionaires' row that concerns itself with nation-building. Iris Gonzales reports that these top conglomerates, whose diverse interests span industries, push their business agenda alongside national development.
For public servants, political will with 20/20 vision is needed to make this country great again.
Pinning their hopes on good leadership coupled with political will, Filipinos continue to dream. In five cities of Metro Manila alone, "reformists" are at the helm, their intent to serve the people and their city with 20/20 vision.
In her story "The Dream Team," Allure editor and PeopleAsia editor-in-chief Joanne Rae Ramirez dissects how the mid-term elections in May "saw established politicians vanquished by so-called 'young Turks'."
The five city mayors – Francis Zamora (San Juan), Isko Moreno (Manila), Joy Belmonte (Quezon City), Vico Sotto (Pasig) and Abby Binay (Makati) – walk their talk. And the good news is, there are more public servants doing their jobs – public service, that is. Tourism Secretary Berna Romulo-Puyat is of this mold.
Puyat, in the article she wrote for this issue, proves that there's more to tourism that spurs development of rural areas and the countryside; that sustainable tourism is key to progress.
"Tourism isn't just about marketing our spectacular landscapes and driving up the number of international arrivals. It's also about making difficult decisions that may be unpopular in the short term but with far-reaching benefits," she writes.
To close Boracay, a super magnet for tourism tabs, for six months for its much-needed rehabilitation took political will. Now that the paradisiacal island is back in business, the template is set. Indeed, "It's more fun in the Philippines."
It will be more fun if we embrace the greatest paradigm shift, which, according to chair and CEO of First Gen Corp. Federico Lopez, is "winning the war on climate change." His piece on innovation and sustainability presents mitigating measures to preserve the planet, and that includes the country's natural resources that we are all asked to be stewards of.
Still on the subject of innovation and sustainability, Ayala Corp. chair and CEO Jaime Augusto Zobel de Ayala contributes an article about the ethical role of the business sector that goes beyond job creation, payment of taxes and the often-heard CSR. To achieve an authentic and meaningful impact on nation-building, he espouses the concept of "shared value."
"The 'shared value' model suggests that corporate longevity and success is intrinsically linked to and mutually dependent on the welfare of a company's host community," he writes.
And failure to recognize this threatens the relevance of the company as it negates the very essence of innovation and sustainability.
Inclusive growth is primordial to success. What for would be the riches of the world if the vast communities within it are left behind?
A farmer needs to taste the fruits of his labor. Many farmers till the land but they have no farm of their own. The common sight of a teacher not being able to send his or her own son to college is a picture so real it smears the 20/20 vision. And this irony happens many times amidst Internet Generation (iGen) learners who, in the report of Ma. Antoinette Montealegre, are so tech-savvy and tech dependent they regard technology as essential as air and water.
Tell the hungry that the country's economy has grown at a rate of above six percent in the last seven years, making it one of Asia's fastest growing economies, and you'll be met with a blank stare.
But yes, according to the article of Czeriza Valencia, there's economic growth. The data will not lie. There's even optimism in the economic outlook despite huge challenges.
As the world marches on to a new decade, we face the proverbial crossroad – a reckoning as a nation. Do we take decisive steps or do we once again miss the boat? Is it going to be as elusive as the country's quest for our first Olympic gold? Will Hidilyn Diaz finally snatch it in Tokyo 2020? Joaquin Henson writes a stirring report on the long road towards the country's sports supremacy.
To assure continued growth, writes National Artist for Music Ryan Cayabyab in his article, is to be truly proud of our national identity. "It is now time to start writing the songs that the world will sing," he says.
Music is the language of the soul. Perhaps it will rouse nationalism in us. Perhaps it will spur productive inclusivity of growth, that progress will cascade to those at the seams. Perhaps it will inspire better the economic stakeholders and the country's leaders to perform their duties of shared value. Perhaps.
In a country of great people, we ought to be a great country.
These, and more, are The STAR's clear visions in "Insights 2020."