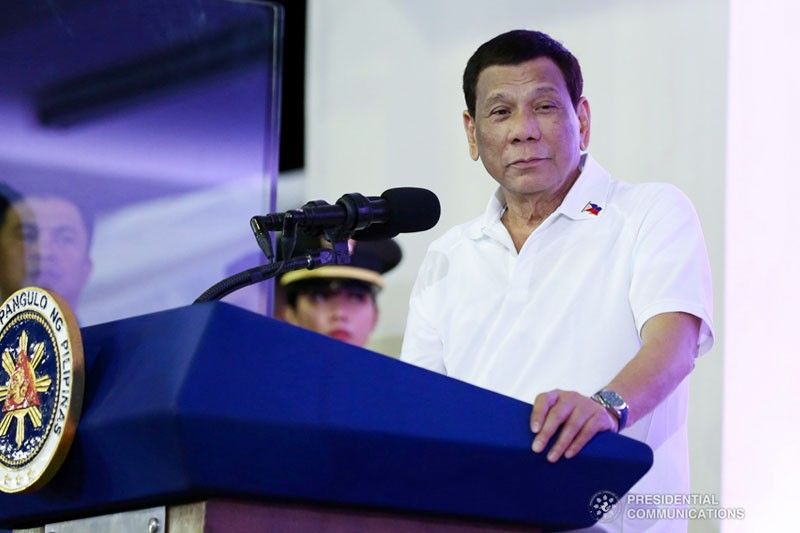 President Duterte said he would not face any review of the United Nations Human Rights Council (UNHRC) on the rights situation in the Philippines since the justice system in the country is "working."
Duterte: Face international trial? You must be stupid
MANILA, Philippines — He's a Filipino and he will only face Philippine courts.
President Duterte said he would not face any review of the United Nations Human Rights Council (UNHRC) on the rights situation in the Philippines since the justice system in the country is "working."
"You must be stupid. Who are you? I am a Filipino, we have our courts here," Duterte said in a TV interview hosted by Pastor Apollo Quiboloy before dawn yesterday.
Duterte said he is open to being tried in local courts and does not care if the death penalty is reimposed.
"Look, as I have told you before, ladies and gentlemen of the world, including all the governments there, I will only… be tried or face trial in a Philippine court, presided by a… Filipino judge, prosecuted by a Filipino," he said. "And maybe they can reimpose (the) death penalty, then die in Filipino hands."
Duterte maintained that the justice system is working in the country so there is no need for any international investigative body to intervene in Philippine affairs.
"I have my country. It's working, I know it's working, justice is working here," he said.
The 74-year-old President described those who want to question him as "stupid," and said he will never answer probing questions from a foreigner, especially a Caucasian, indicating he would not allow himself to be subjected to scrutiny by Western nations.
"I will not answer a Caucasian asking (a) question, or white man there. You must be stupid. Who are you? I am a Filipino, we have our courts here. Why would you have to bring me somewhere else? I would not like that," he said.
Unfazed, Duterte said the drug war would continue while he carries out his mandate to serve and protect the nation.
No breakdown of justice system
A longtime prosecutor before he became mayor and then President, Duterte said foreign bodies such as the UN can only intervene if there is a "total breakdown of justice in a country that nobody is willing to prosecute."
"You just don't know the real situation. You better study. Then you force me to defend myself before you? Who are you?" he asked.
The President said he is ready to school the body on international law. "If you do that, I'll give you a lecture on the finer points of international law," he said.
Duterte also said he is ready to debate with the political opposition who were allegedly "itching to go to trial."
Show that justice, law systems work
Sen. Panfilo Lacson said while he strongly disagrees with the observations of countries that voted for the international review on the country's human rights situation as pushed by Iceland, there was nothing wrong with submitting a comprehensive report to show that Philippine judicial and law enforcement institutions are functioning as they should.
"There's nothing wrong (in submitting a report) because we're not hiding anything. And if there were excesses, we've done some appropriate actions, so what's to worry?" the senator said.
He, however, said the government must also be prepared if the report were to be found lacking, in which case Malacañang must put its foot down and not allow interference from the UNHRC if the body decides to conduct an investigation in the country.
Lacson said the report should not only be statistics, but actions taken by the government in addressing extrajudicial killings (EJKs). He cited the Senate investigations into EJKs that resulted in the filing of charges against police officers involved.
Lacson, however, acknowledged that the Philippine National Police and other law enforcement agencies must quickly put in corrective measures to reduce EJKs.
Killed during shoot-outs
Duterte justified the drug-related deaths, noting that these were results of legitimate operations between police and drug suspects.
"But if they think that 700 or 7,000 (drug suspects were killed)… a lot of my soldiers, they number about 2,000, 3,000 (were) killed also," he said.
Duterte called out Foreign Affairs Secretary Teodoro Locsin Jr., after he said that the Philippines will not sever ties with Iceland.
The Chief Executive said he remains the chief architect of foreign policy of the country, giving him the last say on the matter. Duterte said he is "seriously considering" cutting diplomatic relations with Iceland.
"Teddy Boy Locsin said no, he's not cutting. Ako naman (for me), I said, I am seriously considering it. He is the spokesman, but the Office of the President is the sole entity, that includes the foreign affairs. Kasi mga Cabinet members lang man sila (because they are only Cabinet members)," Duterte said.
Locsin yesterday said the Philippines will not cut ties with Iceland for initiating the resolution as he insulted the Nordic country anew.
"I am not interested in explaining to an ice cube in the North Atlantic," the secretary said, describing the UNHRC vote as "small" and "harmless."
Mocking Croatia
Locsin then turned his ire on Croatia, one of 18 countries that voted for the Iceland-backed resolution, saying it was a vote against the only country with an "unmatched" record of receiving refugees.
"Croatia voted for the Iceland resolution against the only country with an unmatched record of receiving any and all refugees since even Spanish times: white Russians, Basques, Jews fleeing Germans, Vietnam boat people and most recently Chinese online gamers," Locsin posted on his Twitter account, as he shared a link to The Guardian report on President Kolinda Grabar-Kitarovi? admitting that Croatian police are involved in violent pushbacks of migrants and asylum seekers apprehended inside the country.
International non-government organization Human Rights Watch called on Croatia to end the illegal practice of forcing people back over the Bosnian border.
Locsin continued his tweet, "And two successive Philippine presidents who dislike each other offered unlimited unconditional asylum to any and all Rohingya who were abandoned by the British in Burma after importing them as slave labor. Nice work Croatia – which sounds like a pastry. O (sic) sorry, that's cronuts."
A cronut is a popular pastry which is a cross between a croissant and a donut.
Partners for military hardware
This September, Defense Secretary Delfin Lorenzana is slated to visit France, Spain, the United Kingdom, the Czech Republic and Portugal – all North Atlantic Treaty Organization (NATO)-member states in Europe – to scout for military items needed by the Philippine military's three armed services.
The UK, Spain and the Czech Republic all voted in support of Iceland's UNHRC resolution, with France and Portugal co-sponsoring.
Despite this, Lorenzana said that these five countries have standing offers or "big ticket" items that the defense wants to see and evaluate.
"They have many offers, but we will evaluate them first," Lorenzana said.
The visit is in line with the Armed Forces of the Philippines' modernization program, with the defense department scouring the globe for the best offers on military hardware such as surface and sub-surface assets, radars and missiles.
Hitting Iceland anew
Before he went on mocking Iceland once more, Duterte said he is taking into consideration the fate of the 2,000 Filipino workers now in Iceland. But the President said he is not backing out of the fight.
"They (Iceland) might not like the way we behave towards them, and so it would prompt them to take measures. I hope they do not have to do it because I will not also take it sitting down," he said.
He explained his belief that Iceland may not have understood the socio-economic and political realities faced by a tropical country like the Philippines.
"And for a country who does not have a night – it's always like four o'clock in the afternoon all day long, wala naman silang problema (they don't have any problems). Kung mauhaw ang tao, maraming ice (If people get thirsty, there's lots of ice)," Duterte said.
The President remains baffled why that country suddenly had an interest on alleged extrajudicial killings in the Philippines.
"Wait until the drug menace reaches their shores," he said. – With Edith Regalado, Pia Lee-Brago, Jaime Laude, Paolo Romero