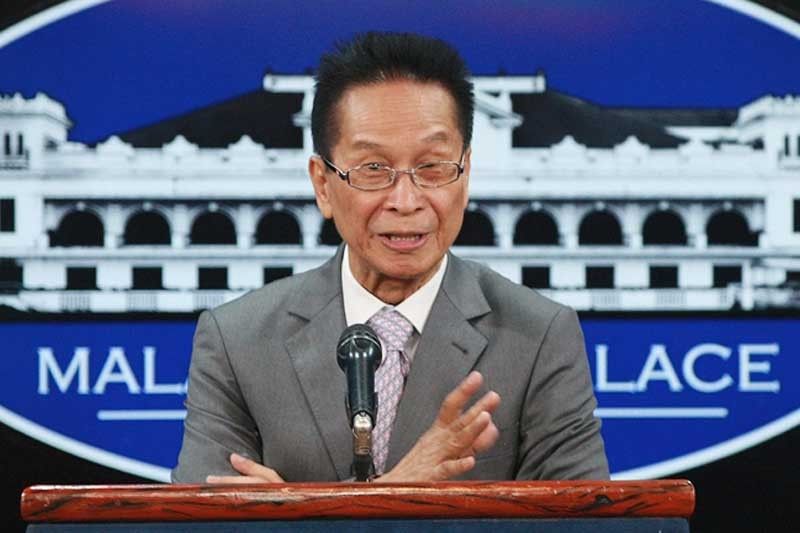 Presidential spokesman Salvador Panelo took a dig yesterday at "the President's ardent critics and detractors," who are "once again having a field day by politicizing news reports saying that there would be a resolution coming from the United Nations which will call for an investigation on the extrajudicial deaths in the Philippines."
Joven Cagande
Palace to countries seeking probe: Respect Philippines sovereignty
MANILA, Philippines — Malacañang again dismissed allegations that President Duterte's war on illegal drugs violates human rights in light of reports that over two dozen countries have called for a United Nations investigation into the drug-related killings in the Philippines.
Presidential spokesman Salvador Panelo took a dig yesterday at "the President's ardent critics and detractors," who are "once again having a field day by politicizing news reports saying that there would be a resolution coming from the United Nations which will call for an investigation on the extrajudicial deaths in the Philippines."
He decried any attempt by other countries to interfere in the way the Philippines maintains peace and order.
"Our response to such calls is unchanged. No government of any nation knows the actual and real state of our country's domestic affairs better than this government," he added.
"To those foreign governments which have been misled by false news and untruthful narratives about the President's war against illegal narcotics, we reiterate that drug-related deaths arising therefrom are neither state-initiated nor sponsored," Panelo said.
Panelo said these drug-related deaths are "consequences of police operations when the subjects violently resist arrest that endanger the lives of the law enforcers who act on self-defense, which is sanctioned by law."
While the administration is unlikely to submit to any UN probe, Panelo said the Philippine National Police (PNP) has a record of about 5,000 drug-related killings but these are results of legitimate police operations.
"Almost a hundred policemen have died in the process of these police operations while 700-plus of them… seriously injured," he said.
"These are inevitable results when a government is sincere about ridding illegal drugs in its country and when a President has the political will to provide a safe and secure environment for his constituents," he said.
Panelo said the administration respects human rights contrary to the claims of critics. "The fact that the Philippines during the term of PRRD has been elected to the UN Human Rights Council (UNHRC) with 165 out of 192 votes at the UN General Assembly, bespeaks the growing appreciation of the international community on our policies with respect to human rights," he said, using the President's initials.
"Even as we expect this latest demonization attempt against the President and this administration to fail, we ask some state-members of the UN to be more circumspect in evaluating reports concerning the domestic affairs of other countries in order that they may demonstrate respect to the latter's sovereignty and independence," Panelo said.
No need for UN probe
Reacting to the reports of the UNHRC investigation, Justice Secretary Menardo Guevarra said yesterday there is no need for it.
"With all due respect, our government need not be told by anyone, including the UN or any of its agencies, to stop so-called 'extrajudicial executions' in our war on drugs because it has never been the policy of the government to tolerate the killing of illegal drug suspects who submit themselves peacefully to our law enforcement authorities," he said.
PNP spokesman Col. Bernard Banac also issued a statement in response. "We can only express opinion that any foreign body that will conduct an investigation here of local crime incidents may be unnecessary."
However, Sen. Francis Pangilinan yesterday welcomed the UNHRC's push to investigate the thousands of drug-related killings in the country.
Bagong Alyansang Makabayan secretary-general Renato Reyes said the drug war has been described as a failure because despite thousands of deaths from collateral damage and alleged EJKs, the drug problem persists.
Meanwhile, Philippine Drug Enforcement Agency (PDEA) director general Aaron Aquino urged the Department of Education (DepEd) to include the effects of illegal drugs in its curriculum to protect students.
"The curriculum on the education on illegal drugs should be included in schools. I have been telling that again and again to the DepEd," Aquino said a speech during the signing of a memorandum of agreement between PDEA and Arellano University for scholarship grants to children of anti-narcotics agents killed in action. – With Rhodina Villanueva, Emmanuel Tupas, Evelyn Macairan, Paolo Romero