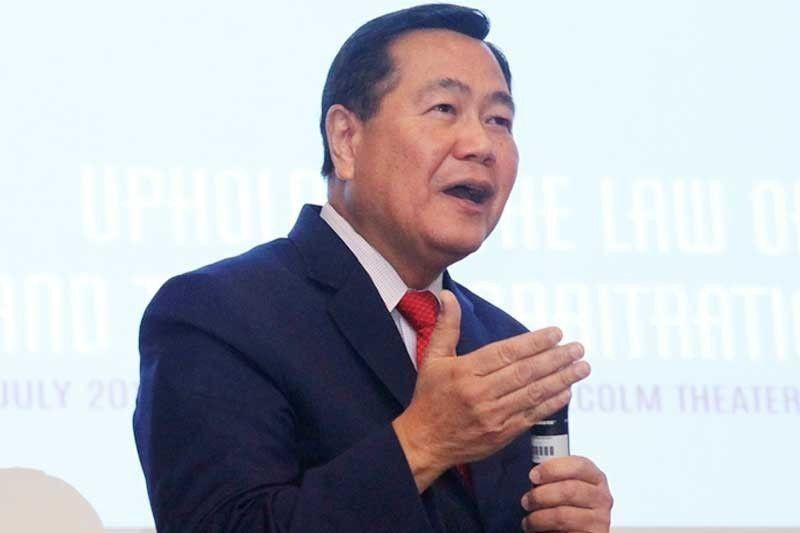 Senior Associate Justice Antonio Carpio is part of the Philippines' legal team that won the 2016 landmark ruling on the West Philippine Sea.
File photo
Carpio: Gov't should reject 'lopsided', unconstitutional Duterte-Xi fishing deal
(Philstar.com) - July 3, 2019 - 10:10pm
MANILA, Philippines — The Philippine government should reject a supposed verbal agreement to allow Chinese vessels to fish in the Recto Bank in the West Philippine Sea in exchange for China allowing Filipinos to fish near Scarborough Shoal, a traditional fishing ground off Zambales, Supreme Court Senior Assosiciate Justice Antonio Carpio said Thursday.
Carpio, in a message to reporters Thursday, agreed with Foreign Affairs Secretary Teodoro Locsin Jr's position that there is no government policy to allow Chinese vessels to fish in the Recto Bank, which is also called the Reed Bank.
This, despite the Palace's insistence that the verbal agreement is valid and already in force.
"Secretary Locsin knows that there is no recorded minutes of the so-called verbal agreement between President Xi and President Duterte allowing the Chinese to fish in Reed Bank in exchange for Filipinos fishing in Scarborough Shoal," Carpio said in a message to reporters.
"Any such verbal agreement, if confirmed by the Philippine government, will bind the Philippines to allow the Chinese to fish in Reed Bank for as long as China allows Filipinos to fish in Scarborough Shoal," he also said.
Locsin, in a TV interview earlier this week, called the supposed verbal agreement pointless since there is no document to show that it exists.
He said that he was not briefed on the supposed agreement when he took over as Foreign Affairs secretary. "Which goes to show that this was not written down. Otherwise, I would be briefed upon taking the position," he said on ANC's "Headstart".
READ: Fish in our time: Duterte and Xi's 'undocumented' deal on sea row
'Lopsided deal'
Carpio, who has been a vocal critic of government policy in the West Phiippine Sea, pointed out that Recto Bank's area of 8,660 square kilometers dwarfs that of Scarborough Shoal, which is only 150 sq.km.
"Filipinos can fish only outside the lagoon of Scarborough Shoal, not inside the lagoon which is the rich fishing area," he also said.
Aside from the larger area covered by the Recto Bank, Carpio said China has a large fleet of modern fishing vessels against the wooden boats most Filipino fisherfolk use. "The Chinese can deplete the fish in Reed Bank very quickly," he said.
"This verbal agreement, aside from being clearly against the Constitution, is so lopsided it should be rejected by the Philippine government," he said as he stressed that the area is within the Philippines' exclusive economic zone.
"Under the Constitution, the use and enjoyment of the fish and other natural resources within Philippine EEZ is reserved exclusively for Filipinos," he also said.
Presidential spokesperson Salvador Panelo has insisted that the verbal deal, which does not have concurrence from the Senate, is already in force and that Filipinos can no fish at Scarborough.
Senate President Vicente "Tito" Sotto III has indicated that he does not believe Senate concurrence is needed for the supposed verbal deal.
Scarborough, also called Panatag Shoal and Bajo de Masinloc, is a traditional fishing ground off Zambales that Chinese vessels used to blockade. Warmer relations between the Philippines and China have been credited with getting the Chinese to allow Filipino fisherfolk near Scarborough.
Panelo pointed out that neither Locsin nor Cabinet Secretary Karlo Nograles, who also said the verbal agreement is not yet policy, were in the Cabinet when the supposed agreement was reached in 2016.
"That is the position of the president, not my position. I am just echoing as spokesman of the president. If you cannot agree with that, we cannot do anything about that," Panelo said in a press briefing Thursday.
RELATED: Palace insists on Duterte's stand on 'legally binding' fishing deal