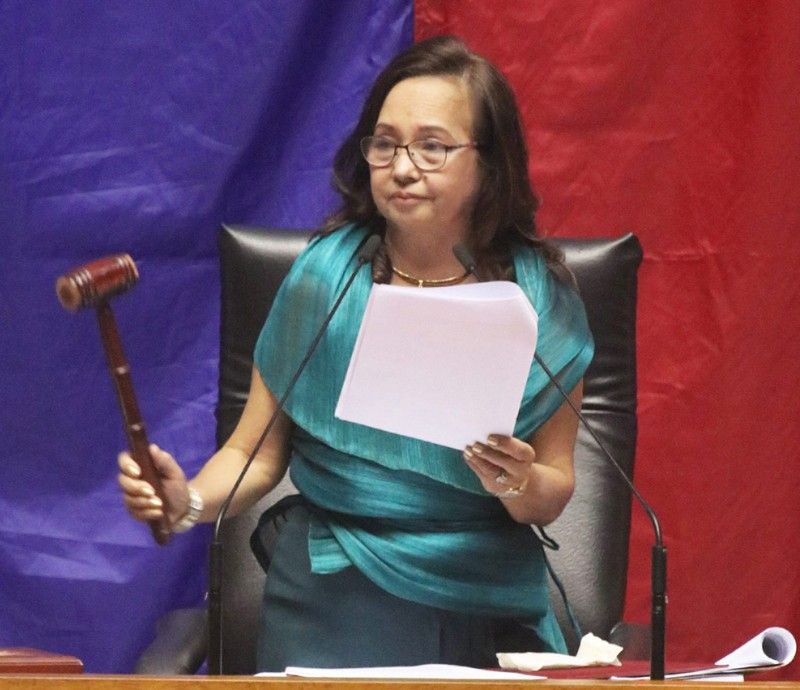 Speaker Gloria Macapagal-Arroyo thanks the members of the House of Representatives for their tireless work and dedication in a speech prior to adjournment of sessions in the 17th Congress earlier this month.
GMA ends term, delivers Duterte's legislative agenda
Jess Diaz
(The Philippine Star) - June 30, 2019 - 12:00am
MANILA, Philippines — Former president Gloria Macapagal-Arroyo ends her term as a lawmaker today, delivering President Duterte's legislative agenda as Speaker in a record time of 11 months.
From the time she took over the leadership of the House of Representatives on July 23 last year shortly after the President delivered his third State of the Nation Address (SONA), it was crystal clear to her what her role and goal were.
"Early on, I defined our principal objective in no uncertain terms as to push for the legislative agenda of President Duterte. Our House focused on the passage of priority bills, especially those he highlighted in his 2018 SONA," she told her colleagues on June 4, when the outgoing 17th Congress adjourned its third and last regular session.
"My concern has not been on my legacy as Speaker – my concern as Speaker was to support President Duterte's legacy in the year that I had as the head of this House," she said.
Indeed, under her stewardship, the House speedily approved one after another the priority measures the Chief Executive enumerated in his SONA. It passed the then proposed Bangsamoro Organic Law (BOL) a day after the President's annual address.
"The Bangsamoro law is at the forefront of the game-changing legislation that we have helped to enact. It provides a clear and strong hope that decades of poverty and conflict in Mindanao can finally be addressed, making way for a more peaceful, intimate and unified community," she said.
The BOL's approval was followed by the passage of the other SONA measures, including those on ending the notorious endo (end of contract) or labor contracting practice, establishing a coconut farmers' trust fund, creation of a department of disaster management, replacing rice importation quotas with tariffs, the second part of the administration's tax reform package and reforms on mining, alcohol and tobacco taxation and property valuation, and a tax amnesty program.
Other bills the House passed were those on expanded health services, a national identification system, personal property security, secondary school career guidance counseling, protection and benefits for first-time jobseekers, creation of a department of human settlements and urban development, telecommuting as an alterative work arrangement for private sector employees, strengthening the fight against HIV-AIDS, protection for children caught in armed conflicts, energy efficiency, cancer control and changes in the law creating the Bangko Sentral ng Pilipinas.
"We passed many other priority bills of the President, including those not mentioned in his 2018 SONA," Arroyo said.
On May 21, two weeks before Congress closed its last session, Arroyo wrote Senate President Vicente Sotto III calling attention to 12 SONA priority bills the House had approved and which were pending with the Senate.
Of those proposed laws, senators passed only one – the bill increasing excise taxes on cigarettes and other tobacco products.
The House approved a total of 880 measures, 250 of which had been enacted into law. Some 2,500 bills and resolutions were processed, or an average of 45 a day.
"It was a testament to the tough work ethic of the members of the House," the Speaker said.
She herself is a workaholic. She saw to it that she attended important committee meetings, even arriving on time ahead of committee members, many of whom were embarrassed seeing their leader already seated and quietly poring over documents or tinkering with her iPad.
Arroyo takes particular pride in the enactment of measures intended to boost the country's finances.
"I am biased when it comes to fiscal health… A healthy fiscal position and increased infrastructure, those were my core economic policies as president and they are among the core economic policies of this administration as well," she said, adding that such policies enabled her administration to reduce the level of poverty in the country from 39 percent to 26 percent.
She considers stabilizing the nation's financial condition as her legacy as president.
"I think my legacy will center around restoring our fiscal stability after a storm of financial crisis here and abroad. Our fiscal reforms expanded resources for infrastructure and development," Arroyo said.
With the many laws Congress has passed, she said the remaining three years of the Duterte administration should be devoted to seeing those pieces of legislation implemented and enforced.
Indeed, the only blot in the sterling legislative record of the House under her was the delayed enactment of the 2019 national budget, which some of the President's economic managers blame for lower economic growth in the first quarter.
Arroyo is ending her term as a lawmaker today together with more than 70 other House members.
The new batch of legislators is starting its three-year tenure at noon today. They will, however, convene as a lawmaking body on July 22, when the President delivers his fourth SONA before a joint session of the House and the Senate.