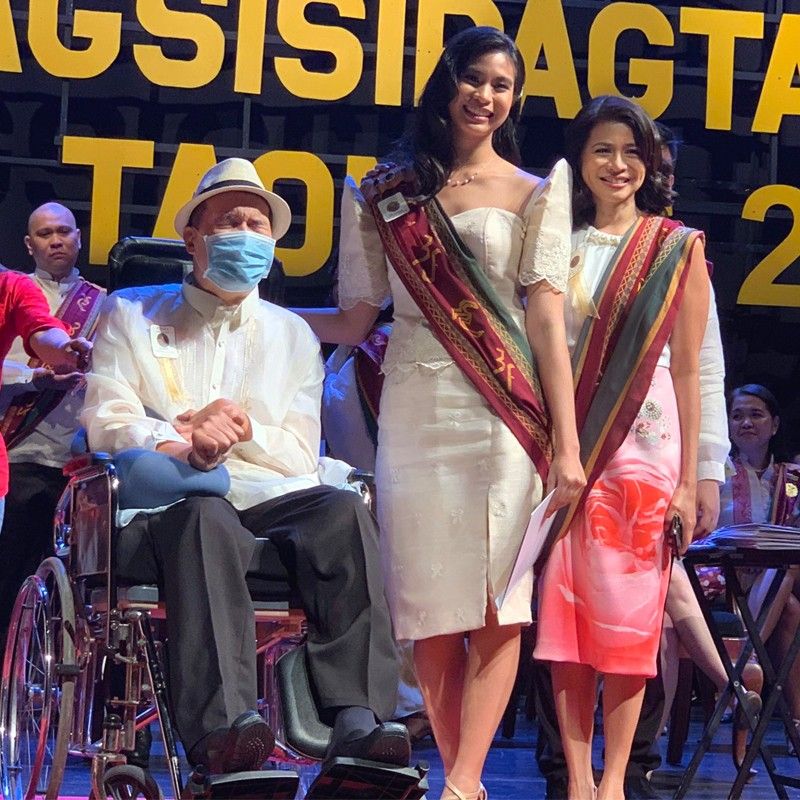 Basketball legend Avelino 'Samboy' Lim Jr. is seen with daughter Jamie Christine, valedictorian of the University of the Philippines College of Science, during recognition rites of her college in Diliman yesterday in this photo from the official Twitter page of Abner Mercado of ABS-CBN.
Samboy Lim's girl rises in UP, pays tribute to parents
Janvic Mateo
(The Philippine Star) - June 30, 2019 - 12:00am
MANILA, Philippines — More than anything, it was her father's presence that completed the special day of 22-year-old Jamie Christine Lim, the valedictorian of the University of the Philippines College of Science this year.
Jamie, who graduated summa cum laude with a degree of Bachelor of Science in Mathematics, paid tribute to her parents – basketball legend Samboy "Skywalker" Lim and former Pag-IBIG chief Darlene Berberabe – during the recognition rites of her college at UP Diliman yesterday.
All the things she did, according to her, were for them.
Wheelchair-bound Samboy, who has been bedridden and has lost his sight and ability to speak following a cardiac arrest in 2014, attended the recognition rites where his daughter delivered the valedictory remarks.
"I am very happy because mom made it happen. I feel complete," Jamie told reporters prior to the program.
With his ability to communicate limited, Berberabe said they made the decision for Samboy to attend the recognition rites.
"I know him. Jamie is the person he loves most. He would not miss this for the world," she said, adding, "He would want to be here so we're bringing him here."
Inspiration
For Jamie, her parents have been the primary inspiration to always push forward as she recalled their challenges when Samboy suffered a cardiac arrest and initially fell into a coma in 2014.
"That was before my high school graduation, before I turned 18 and when I received my blackbelt," she said.
Berberabe, who at the time was already separated from the PBA legend, took charge. The couple has stayed on good terms.
"She really helped me," said Jamie, referring to her mother. "She was my pillar. She was very strong, she handled everything."
Although she was living with her mother when the incident happened, Jamie said she had a very close relationship with her father, who would meet her and take her out once a week.
After the cardiac arrest, which left his brain with no oxygen for over 20 minutes, Samboy's faculties were greatly affected, leaving him with a limited ability to communicate, such as by closing his eyes and moving his thumb.
In an earlier interview, Berberabe said Samboy also shows signs of emotion, such as smiling or crying.
And how did he react when he learned of her daughter's achievement?
Samboy, like other parents who witness their children succeed, shed tears of happiness.
"Thank you for being able to hold on," Jamie said when asked for a message for her father. "I'm thankful that he's here. I'm sure that he is proud of me."
Like her parents
Jamie, who obtained a weighted average grade of 1.073, was the valedictorian of the 503 graduates from the College of Science this year.
She is one of the 55 summa cum laude graduates from UP Diliman, ranking fourth overall, and recognized as the most outstanding undergraduate student of the College of Science.
Her intelligence, it seems, was something she got from her mother, who also graduated summa cum laude and was valedictorian of the UP College of Social Sciences and Philosophy with a degree of Bachelor of Arts in Philosophy 30 years ago.
"This is very sentimental for us," the former Pag-IBIG chief said. "We are so thrilled and thankful."
Jamie, however, got her athleticism from her father. Prior to entering UP, she obtained a black belt in karate and was reaping awards from different competitions.
"I tried to continue competing, but it was difficult during college so I stopped karate for four years," she said in Filipino a separate interview with The STAR.
What she learned from karate, however, stayed with her despite the hiatus.
"I credit my success to the values that I got from karate: the dedication, grit, determination and hard work," she said.
Last May, she took part in her first competition in years, winning a gold, as expected. Over the next year, she plans to continue training with the national team, with the hope of representing the country in international events.
Choosing the course she wanted to pursue was not difficult for her as she enrolled in the university's math program. Math was a subject that she really enjoyed back in high school.
But even with her stellar academic achievements, she said she also experienced challenges during her college years.
"The biggest challenge is having to be consistent. It's easy to get an 'uno' (one) from a class or perform well in a semester, but I think the challenge is doing it everyday, every sem," Jamie noted.
Ever since her first year at the university, Jamie said it was her goal to graduate summa cum laude, not so much due to pressure from her parents but more of something that she imposed on herself – although she was not really that "grade conscious."
"Everything that I did in the past four years were for my parents. I'm super happy because everything is for them," she said.
As a UP graduate, Jamie also stressed the importance of giving back to the country as she intends to, starting next semester, become a math instructor at the UP College of Science.
"You have to give back," she said. "When we graduate we have to return what we got to our country."
Jamie also plans to pursue graduate studies on data science next year.