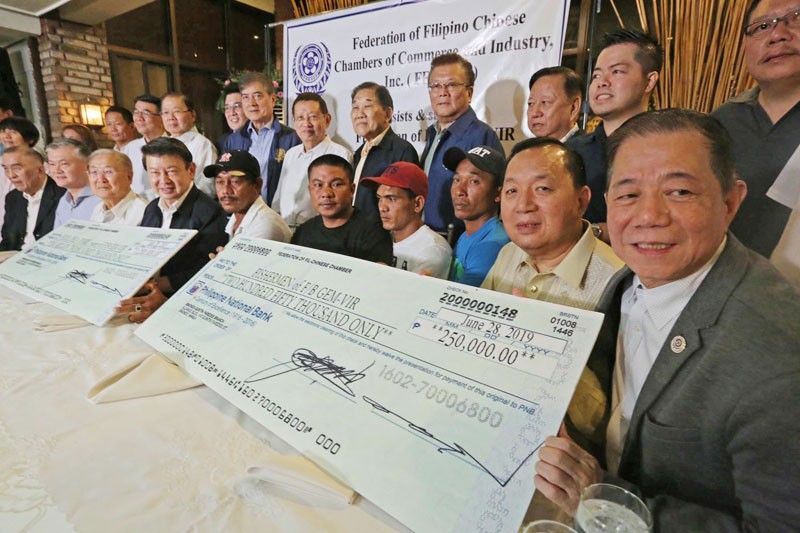 Members of the Federation of Filipino-Chinese Chambers of Commerce and Industry Inc. led by president Henry Lim Bon Liong donate cash and pledge a school building in Occidental Mindoro to the 22 fishermen during a press conference in Quezon City yesterday.
Boy Santos
Recto Bank fishermen clam up on boat collision
Jess Diaz
(The Philippine Star) - June 29, 2019 - 12:00am
MANILA, Philippines — Mindoro fishermen have clammed up on the ordeal they endured at sea on June 9 when a Chinese vessel hit their boat within the Philippines' exclusive economic zone (EEZ) near Recto Bank off Palawan.
They refused to answer any question from journalists yesterday after they received financial assistance from the Federation of Filipino-Chinese Chambers of Commerce and Industry Inc. (FFCCCII) at a restaurant in Quezon City.
No amount of prodding from newshounds elicited even a word from boat captain Junel Insigne and his fellow fishermen from Occidental Mindoro, who claimed after being rescued by a Vietnamese fishing crew that they believed the Chinese vessel intentionally crashed into their boat.
Such alleged intention has prompted Foreign Affairs Secretary Teodoro Locsin Jr. and Mindoro Occidental Rep. Josephine Sato to call the incident an "allision," which means the crashing of one ship against another vessel that is stationary, as distinguished from "collision."
The government should never allow it to happen again, Sato stressed.
The fishermen changed their story after Energy Secretary Alfonso Cusi and Agriculture Secretary Emmanuel Piñol met with them. Piñol even brought with him to Mindoro a fully equipped police crowd dispersal team, as if anticipating trouble.
Emerging from their closed-door meeting with Piñol, Insigne and his colleagues said they were not sure if they were intentionally rammed.
The Chinese abandoned them after the alleged collision, which President Duterte has described as a "little maritime incident."
Transportation Arthur Tugade has said the concerned agencies have already finished their investigation and have submitted a report.
Sato urged Tugade and Malacañang to disclose the report.
"Where is it? We believe that it is to the interest of the Filipino people that we see that report, especially the findings and recommendations of the Maritime Industry Authority and the Coast Guard," Sato said. "What really happened? We need to know. Furthermore, we call for the active patrolling and protection of our territory, especially in the EEZ, so as to prevent any similar incident from happening again," she said.
Each of Filipino-Chinese businessmen gave P250,000 to the 22 fishermen as livelihood assistance, plus one sack of rice each, and P1.2 million to their boat's owner to have the vessel fixed.
"We express our sincere concern for their welfare and our solidarity with them," the FFCCCII said in a statement.
The business group will also donate two public school buildings to San Jose, the hometown of the fishermen.
Insigne said the incident jeopardized their "livelihood and future." He thanked the traders for their help.
He said the assistance would help them in their daily needs as the repair of their boat is expected to take four months. – With Romina Cabrera